US, Russia talks on Ukraine hit impasse on NATO expansion
by
John Vandiver
Stars and Stripes
January 10, 2022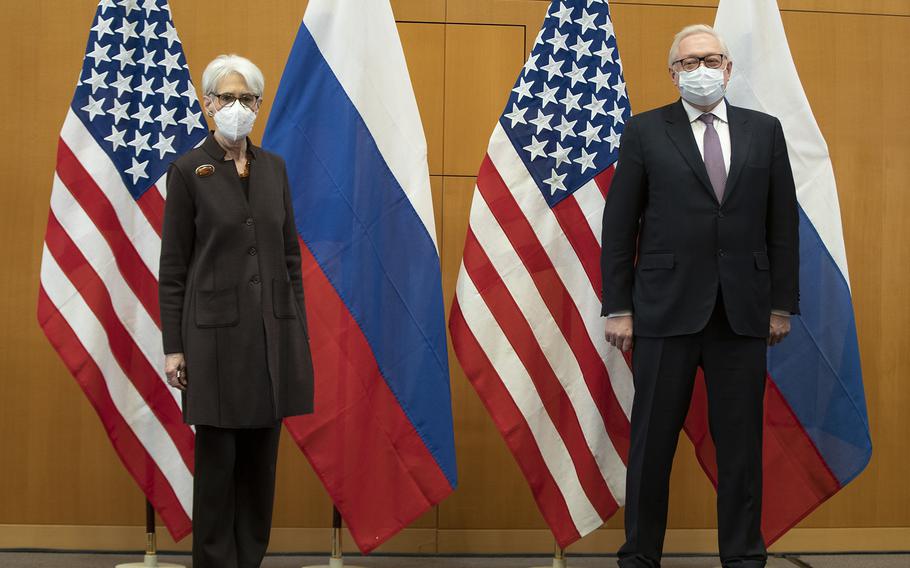 STUTTGART, Germany — The U.S. is ready to discuss arms control measures, missile placement and more transparency on military exercises in Europe, but limits on NATO's expansion are off the table, a top U.S. diplomat said Monday after talks with Russia aimed at averting a new military invasion in Ukraine.
"We were firm however in pushing back on security proposals that are simply nonstarters for the United States. We will not allow anyone to slam closed NATO's open-door policy that has always been central to the NATO alliance," Deputy Secretary of State Wendy Sherman said after eight hours of deliberations with Russian officials in Geneva.
Sherman said she also told her Russian counterparts that consequences of a new Russian incursion will result in sanctions that go "well beyond" those imposed on Moscow after its initial military intervention in Ukraine in 2014. The U.S. also is ready to step up military support for Kyiv, she said.
For Moscow to deescalate the situation on Ukraine's border, Russia needs to send the thousands of troops massed on Ukraine's border "back to their barracks," Sherman said. Any agreement on issues such as more transparency on exercises would have to be reciprocal, she said.
For Russia, top priorities coming into the meeting centered on getting allies to end military cooperation with Ukraine along with winning a pledge from the U.S. to end NATO's expansion and pull American troops back from Eastern Europe.
As expected, all such demands were rejected in Geneva by the U.S., Sherman said, while the issue of U.S. troop levels in Europe did not emerge during talks.
Sherman said the U.S. and Russia plan to hold further sessions soon after the Geneva meeting. Meanwhile, NATO later in the week will hold similar talks with Russia at alliance headquarters in Brussels. It will be the first meeting of the NATO-Russia Council in more than two years, but overall prospects for progress appear dim.
Ahead of talks, U.S. Secretary of State Antony Blinken offered a bleak assessment about the prospects of a swift agreement with Russia.
"I don't think we're going to see any breakthroughs in the coming week," Blinken said during an appearance on CNN.
Meanwhile, NATO Secretary-General Jens Stoltenberg said allies are united in their commitment to maintaining an open door policy to prospective members. He added that the alliance should be ready for the Ukraine situation to worsen.
"We need to be prepared for that the talks break down and that diplomacy will fail," Stoltenberg said on Friday.
From Moscow's vantage point, much of the ongoing dispute about Ukraine — where Russia has massed about 100,000 troops along the country's borders — revolves around Russian President Vladimir Putin's angst over NATO's expansion eastward after the fall of the Soviet Union.
In 2008, NATO opened the door to Ukraine regarding potential membership. In the years since, Kyiv has sought closer ties with the West.
While some Western security analysts contend that Russia's real concern is the political threat posed by the example of an independent and democratic Ukraine on its border, Moscow has insisted that NATO expansion or even cooperation with Ukraine directly threatens its security.
Before talks in Geneva, Sergey Ryabkov, Russia's deputy foreign minister, ruled out the idea of putting limits on how it moves troops within its territory.
He said Moscow wants a security buffer that includes NATO members pulling back from Ukraine.
To some extent, Moscow has already gotten its wish that Ukraine not become part of NATO.
In the years since NATO said it would consider Ukrainian membership, no concrete steps have been taken. And within NATO, there is deep ambivalence over the idea of bringing Ukraine into the fold, including from Germany.
Russia's annexation of the Crimean Peninsula in 2014 and its backing of separatists at war in Ukraine's east also makes Ukraine's membership untenable, given NATO's policy of not admitting countries involved in territorial disputes.
"On the reality of where we (in the West) are in terms of willingness to grant Ukraine membership, our rhetoric is pretty far ahead of reality," said Samuel Charap, a senior political scientist at Rand Corp., a research institution.
But Putin's call for a guarantee has created a "vicious cycle" in which allies find themselves forced to defend Ukraine's right to join, Charap said. Otherwise, it could be seen as giving Putin power over alliance decision-making, he said.
Separate from the back and forth over NATO and U.S. military moves in Europe, the prospect of severe economic sanctions could end up being more of a factor into Moscow's calculus.
The New York Times on Saturday reported that the U.S. and European allies are assembling sanctions that would hit Russia's finance, technology and military sectors and would go into effect within hours of an invasion of Ukraine.
The moves would cut Russia's banks out of global transactions and impose an embargo on U.S.-designed technology needed for its defense and consumer industries, the report said.
Pressure also would be on Germany to halt cooperation with Russia on a massive underwater gas pipeline project, known as Nord Stream 2. The project, opposed by the U.S., has long been a sticking point between Germany, which needs energy, and NATO member states that wanted the pipeline to be canceled.
"It's also not about making concessions," Blinken said Sunday. "It's about seeing whether, in the context of dialogue and diplomacy, there are things that both sides, all sides can do to reduce tensions."
---
---
---
---