'Lockdown for the unvaccinated': Rheinland-Pfalz tightens rules during COVID-19 surge
by
Alexander W. Riedel
Stars and Stripes
November 22, 2021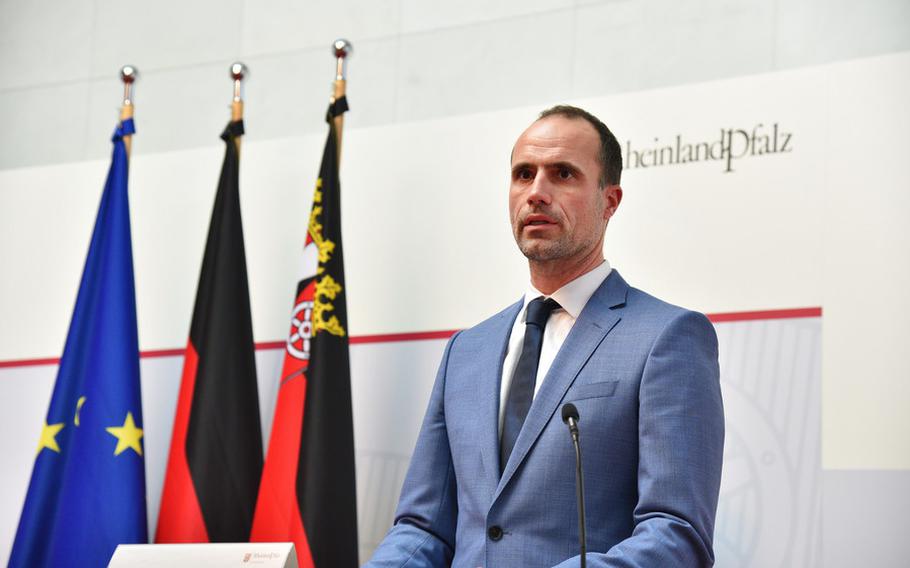 KAISERSLAUTERN, Germany — The state of Rheinland-Pfalz, home to tens of thousands of U.S. service members, will allow access to many businesses and public spaces only to those who are vaccinated or recently recovered from COVID-19 starting Wednesday, with exceptions for children.
The rules proposed Monday no longer allow unvaccinated adults to go to restaurants, department stores and other venues by showing a recent negative coronavirus test, Health Minister Clemens Hoch told reporters.
Children under 12 years old will be exempt from showing proof of vaccination. Those ages 12-17 will be required to show a recent negative test result in lieu of vaccination.
The state parliament approved the measure Tuesday.
"The situation is very serious in Rheinland-Pfalz," Hoch said Monday in Mainz. "We continue to see dynamically growing infection numbers and … starting this Wednesday will, in our regulation, consequently realize the lockdown for the unvaccinated."
The changes come as Germany reels from record numbers of new coronavirus cases and much of Europe is seeing increases in hospitalizations and deaths. Neighboring Austria has imposed a lockdown for everyone, with limited exceptions for essential travel.
The Rheinland-Pfalz measures still allow the unvaccinated access to public transportation, groceries, pharmacies, gas stations and other essential facilities.
Unvaccinated people who recently tested negative may still go to work at the discretion of their employers, Hoch said. Tighter restrictions will apply in the health care sector, he said.
Outdoor Christmas markets may be able to admit unvaccinated attendees with negative test results, according to the proposal. The updated rules reinstitute a statewide mask mandate indoors and during outdoor mass gatherings, including Christmas markets.
Hoch also announced that booster vaccinations will be made available faster and in more locations.
In addition to vaccine buses traveling throughout the state, select vaccination centers will reopen for first, second and booster doses.
People may get the booster shot five months after their second dose, which would cut the waiting period by one month. After Dec. 1, the registration period for the booster will speed up even further to only four months after full vaccination.
Americans over 18 are welcome to get booster shots, German health officials told Stars and Stripes last week. Several Americans received the shots from the state's traveling bus after waiting for hours in line at a Ramstein village supermarket location Tuesday.
Boosters were still limited to priority tiers at Ramstein Air Base and Landstuhl Regional Medical Center, the Army's largest hospital in Europe, on Monday. The Army doesn't expect to make boosters available to its general population until early next year, military health officials said.
Rheinland-Pfalz reported 857 new COVID-19 cases over 24 hours, according to Monday data from the Robert Koch Institute, Germany's disease control agency. The state has averaged 229 new cases per 100,000 people over the past seven days, while the country is at 386.5 new cases per 100,000 people.
Rheinland-Pfalz includes Ramstein Air Base and numerous U.S. Army installations. It contains the largest U.S. military community in Europe, with more than 50,000 personnel and family members spread between Kaiserslautern, Baumholder and elsewhere.
---
---
---