Flooding is not new to Naval Air Station Sigonella
by
Alison Bath
Stars and Stripes
October 31, 2021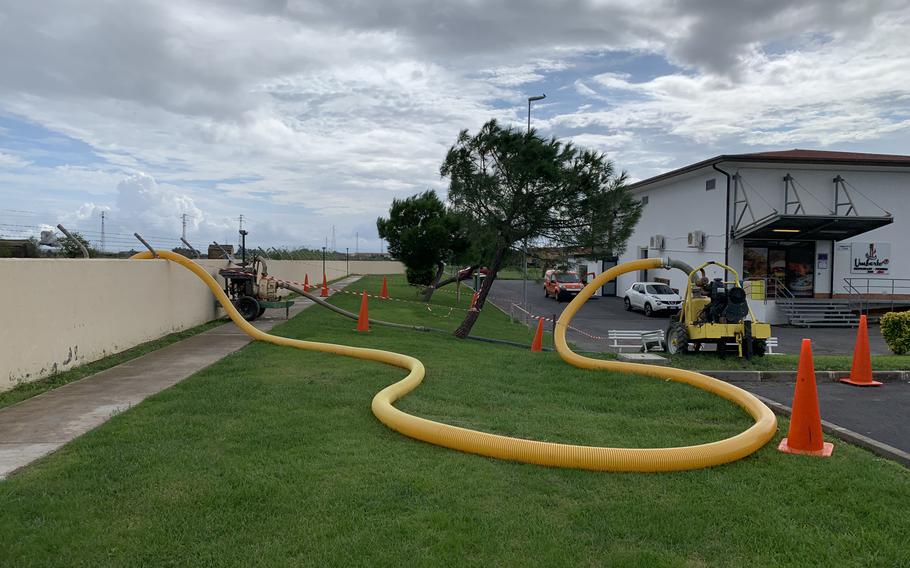 CATANIA, Italy — Flooding isn't new to Naval Air Station Sigonella in Sicily.
Its location on the low-lying, flat Plain of Catania is ideal for an airfield. But the September through December rainy season means there's a good chance of localized flooding, especially with two rivers nearby.
That's what happened in December 2005 when the Dittaino River crested, sending 6 feet of water into the base's Marinai housing complex, said Capt. Kevin Pickard, NAS Sigonella's commanding officer.
Flooding also happened in 2018 and 2020 at the base's airfield site, which is just south of Marinai.  
"This is not necessarily something that is unexpected or abnormal," Pickard said. "It is something that has been a challenge for us since the base was created in 1959."
When NAS Sigonella officials learned from the Navy's weather service that heavy rain was heading their way Oct. 24, they believed the base was prepared because of elements like the lift pumps at Marinai, regular maintenance of stormwater drainage systems and a coordinated emergency response. 
No one expected the low-pressure, cyclonic storm would dump more than 20 inches of rain on Catania in 36 hours, he said.  
"What we had was an inundation of rain that was far in excess of any system designed to be able to exit the water off of any installation or any base," Pickard said. "It essentially overwhelmed the systems we have on the base."
When the rain started on the evening of Oct. 24, pumps designed to push floodwater over levees and out of the Marinai complex were quickly overwhelmed, said the base's public works officer Cmdr. Jason Christensen.
That happened in part because water on the other side of the berms was as high as the water in Marinai, making it difficult for the pumps to push water out. Quickly rising floodwater overtook the pump's power station and generator, causing the pumps to stop working, Christensen said.  
"The pumps are designed to pump into free air," he said. "When there is additional pressure pushing from the other direction, pushing into the pumps, it just slows everything down. You're way behind the power curve."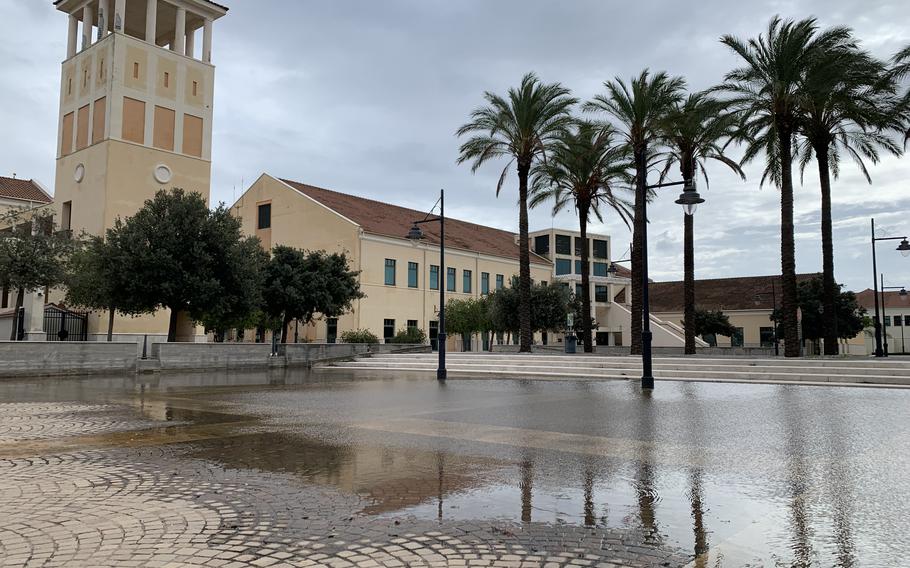 The problems cascaded. A power station supplying electricity to homes went down. Debris picked up by floodwater clogged the stormwater system. Streets flooded and water crept into homes and cars on the complex's lower, eastern side.
Workers shut down the complex's water supply to protect it from potential contamination. This would later require a cautionary boil water order even though the system was never breached, officials said.
Residents were left in the dark without water or sewage.
Water on roadways, estimated to be as high as 5 feet in some cases, cut the housing complex and NAS Sigonella's two other sites off from each other.
Concerned about the safety of emergency responders, Pickard said he ordered them and other personnel to "hunker down" unless there was a "life and limb" emergency. That led to some confusion when residents called the base's emergency services for help, he said.  
"That lasted until 8 or 9 in the morning (Oct. 25) until we could have free access to the installations," Pickard said.
By then, as much as 2 ½ feet of water had entered 61 homes at the complex, leaving 92 residents displaced. Another seven unoccupied units also were damaged. On the base's airfield site, a mini-mart was damaged by floodwaters.
Powered by a new generator installed overnight by the complex's landlord, Marinai's pumps would eventually push out an estimated 7.5 million gallons of floodwater over 12 hours, said Lt. Drake Greer, a NAS Sigonella spokesman.
Most of Marinai would be dry by early afternoon Oct. 25, Pickard said.
Electricity was restored to all but about 200 homes by the afternoon of Oct. 25. Power was restored by 1 p.m. the following day to the remaining homes after repairs to two substations were made. 
Residents were able to use the water on Oct. 26 after water quality tests came back, officials said. 
Pickard, a native of New Orleans, said he understands the devastating impact floods can have. While some personal items can't be replaced, he said the base is committed to ensuring homes are completely renovated and residents' concerns and needs are addressed.
This week the base will move forward on the remediation process, but also will turn its attention toward reviewing flood mitigation efforts to see if improvements can be made.
Previous floods have resulted in changes to the way the base addresses flooding, such as the completion of the levee system at Marinai in 2006 and working with Italian officials in 2020 to ensure stormwater drainage systems on Italy's side of the airfield are clear and working efficiently.
"It goes to the idea of preparedness and what we are doing, and how we are are not sitting on our hands admiring the problem," Pickard said.
Correction
This story has been updated to clarify that power was restored to most homes at the Marinai housing complex Oct. 25. Electricity to about 200 remaining homes was restored by 1 p.m. Oct. 26.
---
---
---