CDC wants Afghan evacuees at US overseas bases to quarantine for three weeks after getting measles shot
by
Jennifer H. Svan
Stars and Stripes
September 21, 2021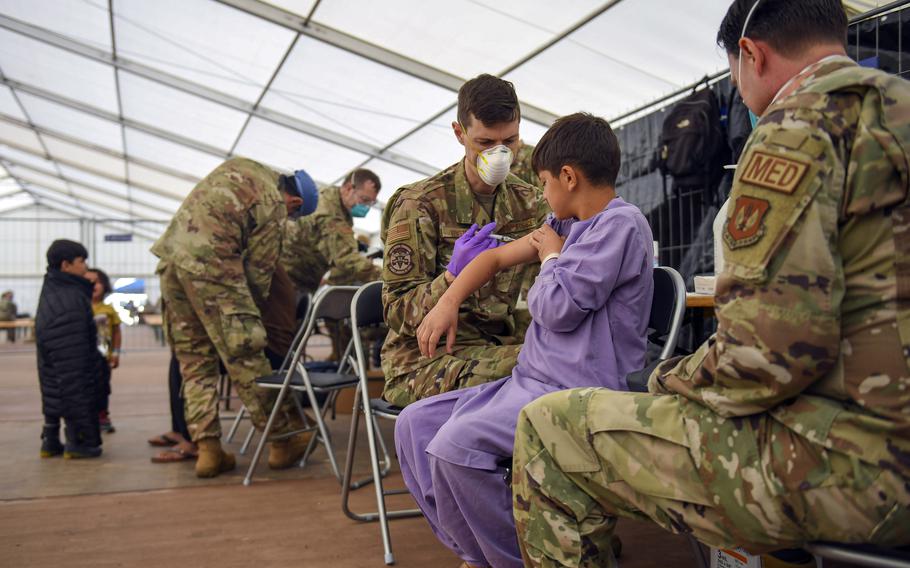 KAISERSLAUTERN, Germany — The U.S. Centers for Disease Control and Prevention wants thousands of Afghan evacuees who were just inoculated against measles at U.S. military bases overseas to delay travel to the United States and be quarantined for three weeks.
In an advisory issued Monday to medical personnel caring for evacuees, the CDC said it had requested the quarantine period to allow the vaccine to take effect. That guidance includes evacuees at both domestic and overseas U.S. bases.
More than 9,000 evacuees are temporarily housed at Ramstein Air Base and Rhine Ordnance Barracks while they wait for evacuation flights to the United States. Those flights were halted more than a week ago after four measles cases were discovered among U.S. arrivals from overseas bases.
Officials from the 86th Airlift Wing and a spokesman for the U.S. Embassy in Berlin said they had no updates on the timing for resumption of evacuation flights to the United States.
"We'll continue to follow CDC guidance and public health expert guidance during this temporary CDC pause," Sandra Archer, a spokeswoman for the wing, said Tuesday in a statement to Stars and Stripes.
About 20 people at the two German installations declined the vaccines, the wing said. It's uncertain where they will be relocated once flights resume.
"All actions will be taken consistent with U.S. law and our treaty obligations, including the protections against returning individuals to locations where it is more likely than not they will be tortured," the embassy spokesman said in a statement. "At this point, we are not removing individuals to Afghanistan."
As of Monday, the CDC said it knows of 16 confirmed cases of measles and four cases of mumps among Afghan nationals and U.S. citizens recently arriving from Afghanistan. One case of measles was confirmed last week among the evacuee population at Ramstein and ROB, the Air Force said.
More than 8,800 evacuees at Ramstein and ROB have been inoculated against measles, mumps, rubella and chickenpox, according to the 86th Airlift Wing. The vaccinations happened over three days and were completed Sunday.
Afghan evacuees and Americans who fled Afghanistan after the Taliban returned to power last month are required to either receive the MMR and chickenpox inoculations or show proof of prior vaccinations to enter the United States, U.S. officials have said.
The CDC says MMR vaccines should not be administered to women known to be pregnant or attempting to become pregnant.
Pregnancy tests were optional for those between the ages of 12 and 50 prior to inoculation at Ramstein and ROB, Archer said. Pregnant women did not receive the vaccine, she said.
Immunity to measles usually develops within 10 to 14 days after the first dose, according to the Mayo Clinic. Studies have found that 93% of recipients receive full immunity with the first dose, the clinic says.
The CDC said that besides measles and mumps, it's aware of cases of varicella, tuberculosis, malaria, leishmaniasis, hepatitis A and COVID-19 among evacuees.
The number of coronavirus infections, however, has been notably low among the evacuee population, the agency said.
Wahidullah Fahim, 47, said he and his family were happy to get vaccinated for the first time against measles on Sunday at ROB.
But Fahim, a driver for an international law and advocacy organization in Afghanistan for 10 years, said they are weary of being homeless. They were in Qatar for 16 days and have been at ROB for 15 days, he said Monday.
"Every day I ask, 'When is our flight?' he said. "There's no information. My children are so tired; my wife is so tired."