Thousands of Afghans at US bases in Europe receive measles and chickenpox vaccines
by
Jennifer H. Svan
Stars and Stripes
September 16, 2021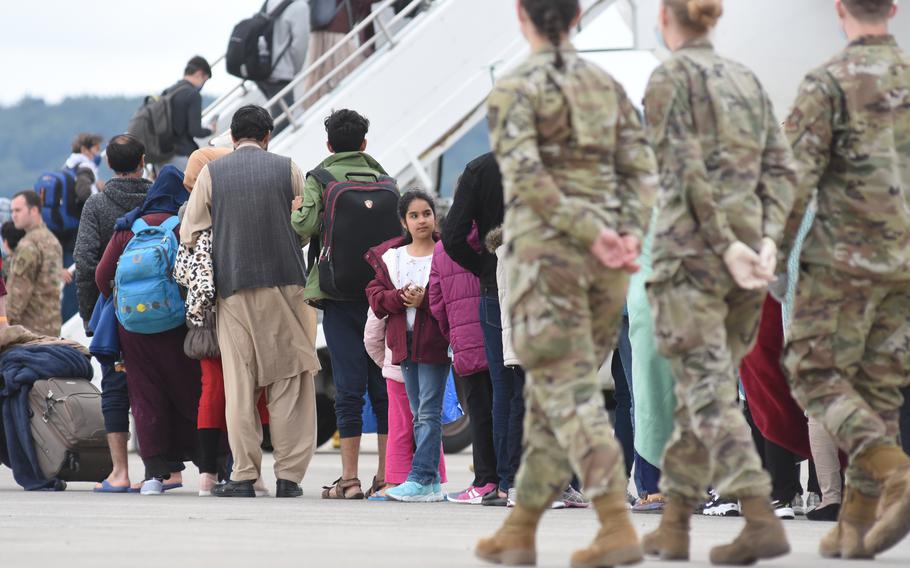 KAISERSLAUTERN, Germany — The Air Force has administered more than 7,000 vaccine doses for measles and chickenpox to Afghan evacuees at Ramstein Air Base and Rhine Ordnance Barracks, a spokesman said Sunday.
The vaccinations for the 9,000 Afghans waiting for flights to the United States were expected to be completed by the end of the day, Lt. Col. Will Powell, a spokesman for the 86th Airlift Wing, said in a statement.
About 20 had declined the vaccines, he said.
"We documented that information, let them rejoin their family, and provided the information to the State Department," Powell said. "They will handle it from that point on."
Evacuees are receiving a shot for the chickenpox and another shot for measles, mumps and rubella at the request of the U.S. Centers for Disease Control and Prevention, the Air Force said.
The Afghans are required to either receive both inoculations or show proof of prior vaccinations to enter the United States, the wing said Thursday. Few Afghans are likely to have documented proof, since most fled Kabul with few or no possessions.
"These vaccines offer them the ability to have extra protection," Lt. Col. Jaime Rojas, 86th Medical Group chief of aerospace medicine, said in a statement. "With the extra protection of the vaccines, wherever we end up sending them, there is protection for both the individual and for the people at the end destination as well."
Evacuee flights were halted Sept. 10 after four cases of measles were discovered among U.S. arrivals from overseas bases. Most evacuees are transiting through U.S. military bases in Europe and the Middle East before heading to stateside bases.
One case of measles was confirmed Thursday among the evacuee population at Ramstein and ROB, wing officials said. The patient and family are being treated and have been isolated for the past three days, Ramstein officials said.
As soon as someone shows symptoms of illness, "they are immediately isolated, screened and tested … to ensure the safety of the community and the rest of the evacuee population," the wing said in response to an email query.
The Virginia Department of Health announced Tuesday that five people who had recently traveled from Afghanistan were diagnosed with measles. It was unclear Thursday if that number included the four cases the White House announced Sept. 10.
Ramstein public health officials took blood samples from 70 randomly selected evacuees last week and found that 94% had antibodies, indicating a past measles infection and recovery or a prior vaccination, wing officials said.
The Air Force did not say Sunday when flights to the United States would resume. Last week, the White House said the flights will remain suspended for at least another week.
The Air Force said it will take several days to complete the vaccinations.
"We understand the evacuees have been on a difficult journey, and we are committed to ensuring their health, safety and security during this short-term delay," the wing said in its statement.
U.S. Navy officials said Friday that there had been no confirmed cases of measles at two bases in Europe temporarily housing Afghan evacuees. There are 100 Afghans at Naval Station Sigonella in Sicily and 500 at Naval Station Rota in Spain, said U.S. Navy Capt. Tamara Lawrence. 
"All eligible evacuees at NAS Sigonella and NS Rota received measles, mumps, rubella, and varicella (chickenpox) vaccinations for their onward movement to the U.S.," Lawrence said. 
Earlier this month, officials reported that 1,900 evacuees from NAS Sigonella and another 750 from NS Rota had left for the United States.
Stars and Stripes reporter Alison Bath contributed to this report.