Blinken thanks Germany for giving Afghan evacuees a safe place to 'catch their breath'
by
Jennifer H. Svan
Stars and Stripes
September 8, 2021
RAMSTEIN AIR BASE, Germany — Secretary of State Antony Blinken got an up-close look Wednesday at Ramstein's role in one of the largest air evacuation efforts in U.S. history, meeting with American military personnel and a couple of dozen Afghan evacuees. 
Blinken toured evacuee operations on base, and in an interview with Stars and Stripes, called the "small city on the tarmac … quite extraordinary."
During remarks at the officers' club with German Foreign Minister Heiko Maas, Blinken thanked Germany for its pivotal role in facilitating the evacuation of 124,000 people from Afghanistan in recent weeks. Of that number, more than 34,000 transited through Ramstein on to the United States and other destinations.
"The fact that Germany generously stepped up and offered to serve as a temporary transit location for Afghans at risk is a remarkable gesture of compassion and statesmanship," Blinken said. "They found a safe place to catch their breath and many people eager to help them."
Evacuees expressed "gratitude for what we've done to get them out of Afghanistan and support them on their way to a new life," he said.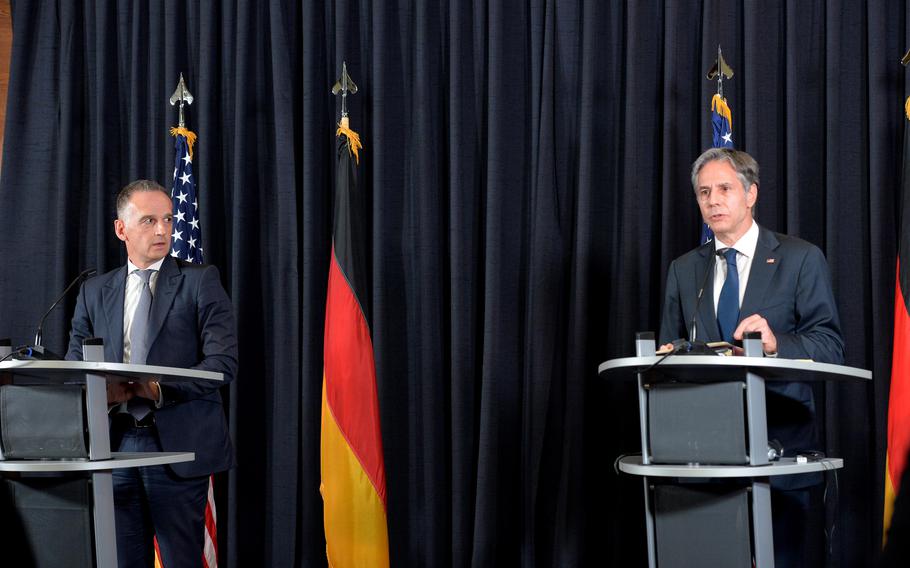 Some evacuees at Ramstein have asked Germany for asylum. Maas said the number was less than 1% of those transiting through Ramstein. 
Some applicants have relatives in Germany, he said. It's not clear whether they'll be allowed to stay in Germany while their cases are reviewed.
Besides the Ramstein tour, Blinken joined a virtual meeting of officials from 22 countries as well as NATO, the European Union and the United Nations, to discuss the way forward with the Taliban. 
On Tuesday, the Taliban announced a new interim cabinet, and the selections did not fulfill the group's vow to install a more moderate and inclusive government this time around. Maas said the makeup of the interim cabinet "does not make us optimistic."
Blinken said judgment will be based on the cabinet members and their actions.
"The Afghan people deserve an inclusive government … one that's more broadly representative of the Afghan people," he said.
Future dealings, including the need to provide Afghanistan with humanitarian aid, are complicated by the installation of an all-male interim government with no outside political or ethnic minority representation.
Without a more representative government, the country risks "increased tension and violence and even civil war," Blinken said.
Both Blinken and Maas said the humanitarian situation in Afghanistan is dire and must be addressed. About 50% of the Afghan population is in need of some form of assistance, Blinken said, citing information from the U.N.
In the interview with Stars and Stripes, Blinken said assistance can be delivered directly to those in need by nongovernmental organizations and U.N. agencies, not through the government. 
During remarks with Maas, Blinken also called on the Taliban to stop blocking charter flights with Americans trying to leave Afghanistan. There have been reports that planes carrying Americans have been stuck at the airport in Mazar-i-Sharif. 
The Taliban have claimed that some of the passengers don't have the required documentation to depart.
Blinken said the U.S. is working to solve the issue but has limited options "without personnel on the ground, without an airport with normal security procedures in place."