Navy sends destroyer through Taiwan Strait alongside Canadian warship
By
Stars and Stripes
September 21, 2022
---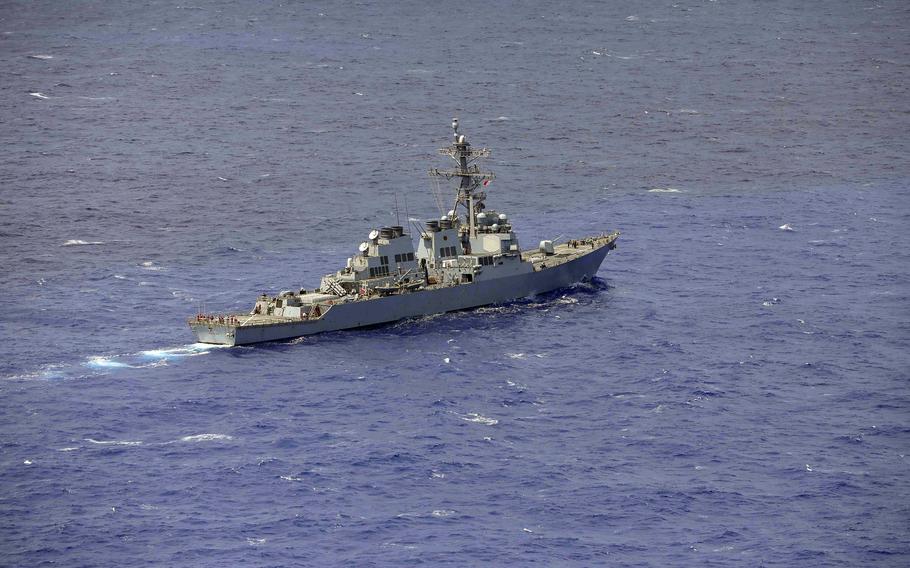 A U.S. Navy guided-missile destroyer and a Canadian patrol frigate steamed through the Taiwan Strait on Tuesday, the first combined transit by the two countries in nearly a year.
The destroyer USS Higgins and the Canadian frigate HMCS Vancouver passed northeast from the South China Sea into the East China Sea over 16 hours, 7th Fleet spokesman Lt. Mark Langford told Stars and Stripes by email Wednesday.
"The ships transited through a corridor in the strait that is beyond the territorial sea of any coastal state," Langford said in a Wednesday news release. "Higgins' and Vancouver's transit through the Taiwan Strait demonstrates the commitment of the United States and our allies and partners to a free and open Indo-Pacific."
The transit was not in response to any particular event, according to Langford, who added that the strait has been used by U.S. Navy ships to travel between the two seas "for many years."
However, the two ships moved through the strait just days after President Joe Biden for the second time this year said U.S. troops would help defend Taiwan in case of a Chinese invasion or "unprecedented attack." He made the comments during an interview broadcast Sunday by "60 Minutes."
Beijing considers Taiwan, a self-governing democracy since it split from China in 1949, a breakaway province that must be reunified with the mainland, by force if necessary.
The Navy has sent warships through the 110-mile channel that separates Taiwan from mainland China roughly once a month over the past two years, actions that regularly draw criticism from Beijing.
Chinese naval and air forces monitored "the entire process," according to a news release Tuesday from China's Ministry of Defense.
"The troops in the theater are always on high alert, resolutely counteract all threats and provocations, and resolutely defend national sovereignty and territorial integrity," Col. Shi Yi, spokesman for China's Eastern Theater Command, said in the release.
Langford provided no specifics but, in his email, said U.S. vessels and aircraft "routinely interact with foreign warships" in the region and that all interactions with foreign military forces were "consistent with international standards" and didn't impact the operation.
The trip was the second joint operation between U.S. and Canadian warships since October 2021, when the guided-missile destroyer USS Dewey and the Canadian frigate HMCS Winnipeg made the transit, Langford told Stars and Stripes. It was the first such trip for the Higgins in "recent history," he said.
The Navy last sent warships — the guided-missile cruisers USS Antietam and USS Chancellorsville — through the strait on Aug. 28. The 7th Fleet typically sends a single destroyer through the waterway, so the two cruisers' transit was a first in recent history, 7th Fleet told Stars and Stripes at the time.
---
---
---
---