Biden on '60 Minutes' doubles down on promise to defend Taiwan
By
Stars and Stripes
September 19, 2022
---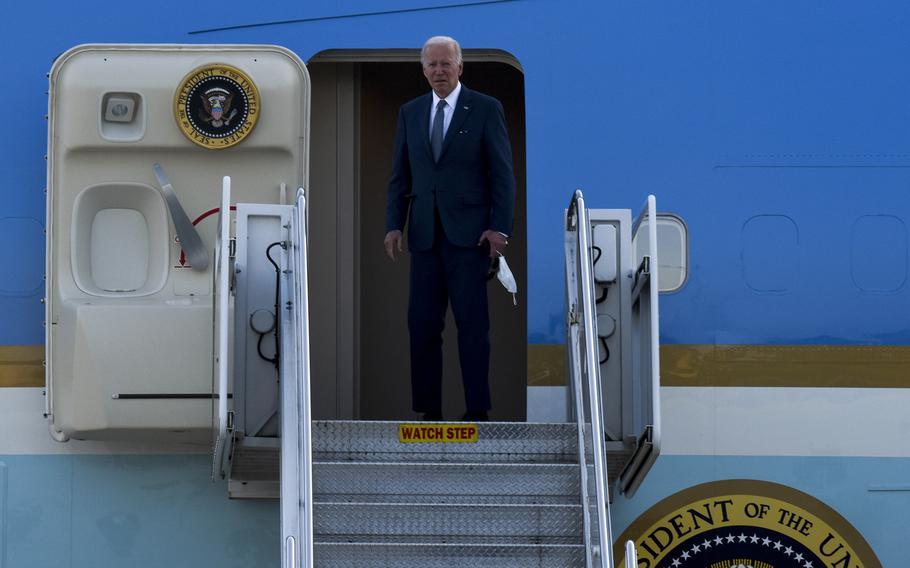 President Joe Biden on Sunday for the second time this year said U.S. troops would help defend Taiwan in case of a Chinese invasion, further casting doubt on the United States' policy of "strategic ambiguity" regarding the island democracy.
Biden in an interview broadcast on CBS' "60 Minutes" said the U.S. remains committed to the "One China" policy that acknowledges Beijing's claim over Taiwan but considers the island's status unresolved.
However, in the case of an "unprecedented attack," U.S. troops would intervene, the president said.
An unnamed White House spokesman later said official U.S. policy toward China and Taiwan has not changed, CNBC reported Monday.
Biden's statement mirrored a similar one he made during his first presidential visit to Japan in May, when he told a reporter that the U.S. would militarily defend Taiwan. A White House official at the time also said that official policy toward the island had not changed.
Beijing considers Taiwan, which split from China in 1949, a breakaway province that must be reunified with the mainland. Chinese officials, in a white paper released in August, said they would not "renounce the use of force" to reclaim Taiwan and that the option of using "all necessary measures" is reserved.
Taiwan's Ministry of Foreign Affairs responded Monday to Biden's comments and thanked the U.S. government for its "rock-solid security commitment to Taiwan." China had not responded to the Biden interview as of Monday afternoon.
His remarks come just over a month after U.S. House Speaker Nancy Pelosi on Aug. 3 became the highest-ranking U.S. official to visit Taiwan in a quarter century, a visit that prompted Beijing to launch a weeklong series of military drills that effectively encircled the island.
Tensions have remained high between China and Taiwan since then, with near-daily incursions by Chinese aircraft and ships into the waters and airspace near Taiwan, according to reports from the island's Ministry of National Defense.
Biden's recent comments may indicate a "steady shift" from the strategic ambiguity policy that's meant to deter China and Taiwan from escalating the conflict by leaving the possibility of U.S. intervention uncertain, according to James Brown, an international affairs expert at Temple University's Japan campus.
"The U.S. leadership has decided that greater clarity is needed to deter an attack by [China] on Taiwan," Brown wrote Monday in an email to Stars and Stripes. "Yet, at the same time, Washington wants to minimize criticism that it is itself proving a crisis."
Conversely, Biden's statements in May and on Sunday could be an attempt to reinforce ambiguity, according to Jeff Kingston, a professor of history and Asian studies at Temple.
"America's position on Taiwan has always been 'strategic ambiguity,' and the White House seems to be going this one step further to clarifying but then re-blurring [its position]," he told Stars and Stripes in an email Monday.
Kingston compared Biden's statements to China's practice of entering the territorial waters of disputed island chains in the South China Sea, which he said are attempts to "normalize" that particular action.
"In a way, you can say that Biden and his counterparts in Japan have made similar efforts to make it clear that Taiwan is a red line," he said, referring to former Prime Minister Shinzo Abe's comments in December that a Chinese invasion of Taiwan could prompt a military response from Japan.
---
---
---
---