Japan's record-high defense budget request of $40.4 billion still lags its G-7 peers
By
Stars and Stripes
August 31, 2022
---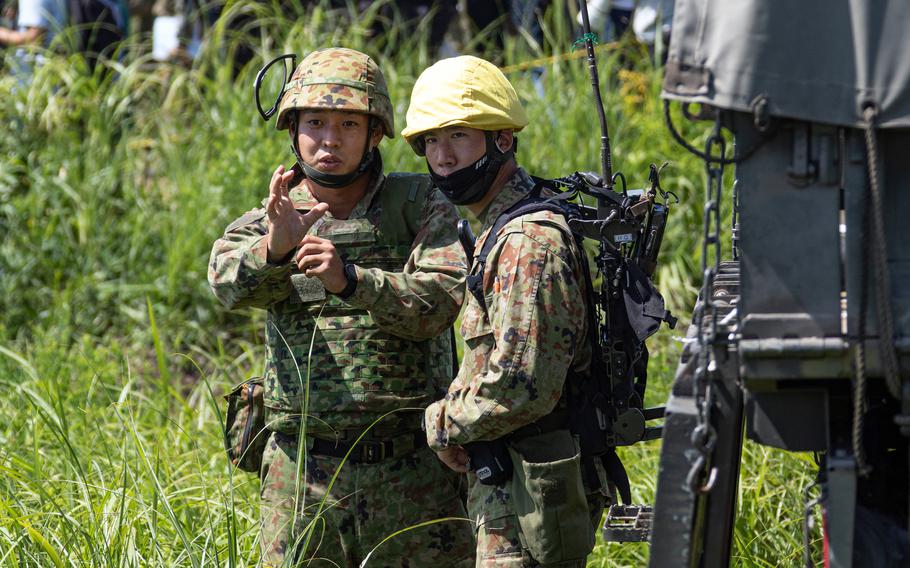 TOKYO — Japan's Defense Ministry unveiled a record-high spending request for the next fiscal year that is likely to increase further before it's approved.
Even so, the proposal still leaves Japan behind its G-7 peer nations in terms of the ratio of defense spending to GDP.
The ministry proposed a fiscal 2023 budget of 5.59 trillion yen, more than $40.4 billion, which exceeds its highest-ever, a $39.5 billion for fiscal 2021. About $38.5 billion was approved for that year.
The 2023 proposal, however, leaves out specific amounts for a number of projects that will add to the final total. These include mass production of surface-to-ship missiles and high-speed glide bombs to be used for island defense and the construction of new destroyers equipped with improved missile interception capability and the Aegis Combat System with expanded capability to shoot down hypersonic glide vehicles.
Those spending requests will be finalized after discussions on national security and defense by the end of this year, according to the ministry's budget proposal.
Once those omitted funds are finalized, the defense budget could blow up to 6 trillion yen, about $43.2 billion, the Mainichi newspaper reported Aug. 4.
The ministry rarely submits a budget request without specifying its program costs, aside from expenses related to hosting U.S. military forces in Japan, the Asahi newspaper reported Aug. 21.
The Defense Ministry's spending plan shows its intent to fundamentally enhance Japan's defense capabilities in the next five years, according to the budget proposal.
It will strengthen standoff defense capabilities and comprehensive air- and missile-defense capabilities to deter an invasion of Japan, strengthen the ability of its military branches to work in concert and improve defense capabilities using unmanned assets, the proposal states.
Standoff defense capabilities would allow Japan to strike from beyond the range of an adversary's weapons to protect its own personnel, according to the spending plan.
Japan also plans to begin mass production of extended-range cruise missiles, the proposal states.
The ministry is working to increase the range of its Type 12 surface-to-ship missiles from about 62 miles to 620 miles, which would allow them to reach North Korea and China's coastline.
The ministry also seeks to start mass production of high-speed glide bombs to be used for island defense and to deploy them at an early stage, according to the budget request. It also proposes spending on research for unmanned air combat drones.
"By drastically enhancing the defense power, it will be possible to suppress invasion itself as well as take measures in case deterrence collapses," the proposal states.
Japan aims to bolster its defense as its security environment becomes more severe following the Russian invasion of Ukraine, China's efforts to alter the regional status quo by force and North Korea's reported preparations for a seventh nuclear test, according to the budget request.
"Based on these issues, what is happening in Europe could happen in the Indo-Pacific," the proposal states. "Security problems our country faces are becoming more severe."
During a meeting with President Joe Biden in May, Japanese Prime Minister Fumio Kishida committed to fundamentally strengthening the nation's defense and increasing its defense budget.
Although Japan has gradually increased its defense spending in recent years, it has the lowest ratio of defense expenditures to GDP among its G-7 partners the United States, Canada, France, Germany and Italy, as well as Australia and South Korea, according to Japan's defense white paper.
Australia, South Korea, the U.K., France and Germany all spend two to three times as much on defense per person compared to Japan.
---
---
---
---