US Army fires Javelin anti-tank missile in Japan for first time
By
Stars and Stripes
August 30, 2022
---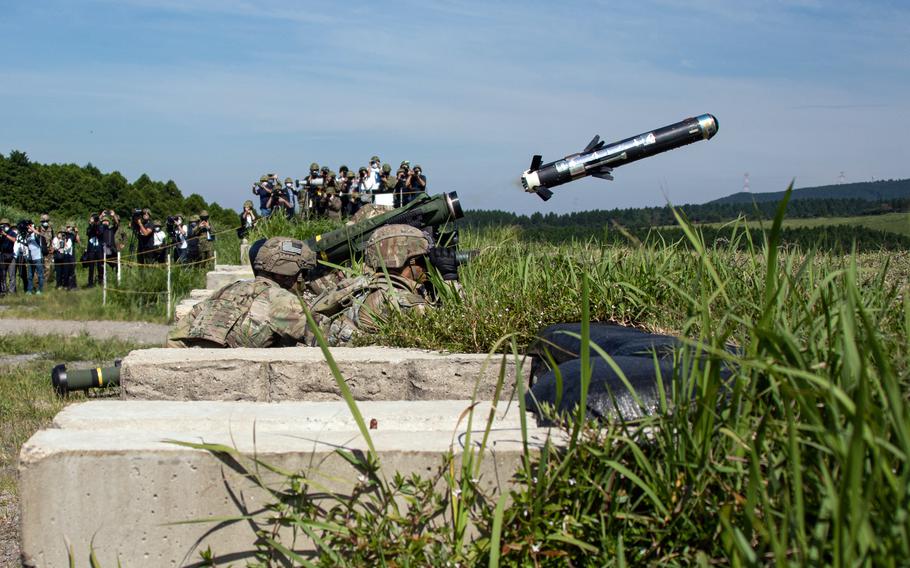 The U.S. Army launched a Javelin missile in Japan for the first time as part of the recent opening drills for a combined exercise with the Japanese soldiers.
Soldiers from the 11th Airborne Division out of Fort Wainwright, Alaska, fired the portable anti-tank missile at Oyanhora Training Area in Kumamoto, U.S. Army Japan tweeted on Sunday.
The Javelin drill signaled the start of Orient Shield 22, the largest field training exercise the U.S. Army and Japan Ground Self-Defense Force conduct together, according to an Army news release. The exercise, now in its 37th year, is taking place around Japan through Saturday. It includes anti-tank, sniper, infantry combat and air-assault drills.
The Ground Self-Defense Force launched four of its own portable anti-tank missiles, the Type 01 LMAT 01, during Sunday's drills, the Asahi newspaper reported Monday.
The Javelin gained notoriety through its use by Ukrainian armed forces to stop Russian tanks during the opening phases of the now 6-month-old invasion of Ukraine.
Manufactured by U.S. defense contractors Lockheed Martin and Raytheon Missiles and Defense, the Javelin is a shoulder-fired or mounted missile with a 94% success rate, according to its makers. It's a mainstay weapon for brigade combat teams in the U.S. Army and Marine Corps.
The Marine Corps has trained with the Javelin at its Combined Arms Training Center near Mount Fuji, but Sunday's launch marked the first time the Army fired one in Japan, U.S. Army Japan spokesman Manuel Torres-Cortes told Stars and Stripes by phone Tuesday.
Last year, the Army for the first time in Japan launched a High Mobility Artillery Rocket System, or HIMARS, on Japan's northernmost prefecture of Hokkaido.
Orient Shield kicked off this year as tensions in the region hit their highest levels in years. China earlier this month conducted a series of military exercises that effectively surrounded Taiwan, a response to U.S. House Speaker Nancy Pelosi's visit to Taipei on Aug. 3.
During his opening remarks for the exercise on Sunday, U.S. Army Japan commander Maj. Gen. J.B. Vowell emphasized Japan's role as a "frontline ally with the U.S." in the region.
"Our partnership serves as the key to integrated deterrence and regional security here on the knife's edge of freedom," he said in the news release.
---
---
---
---