US Army fires HIMARS rocket system for first time in Japan during Orient Shield
by
Seth Robson
Stars and Stripes
July 7, 2021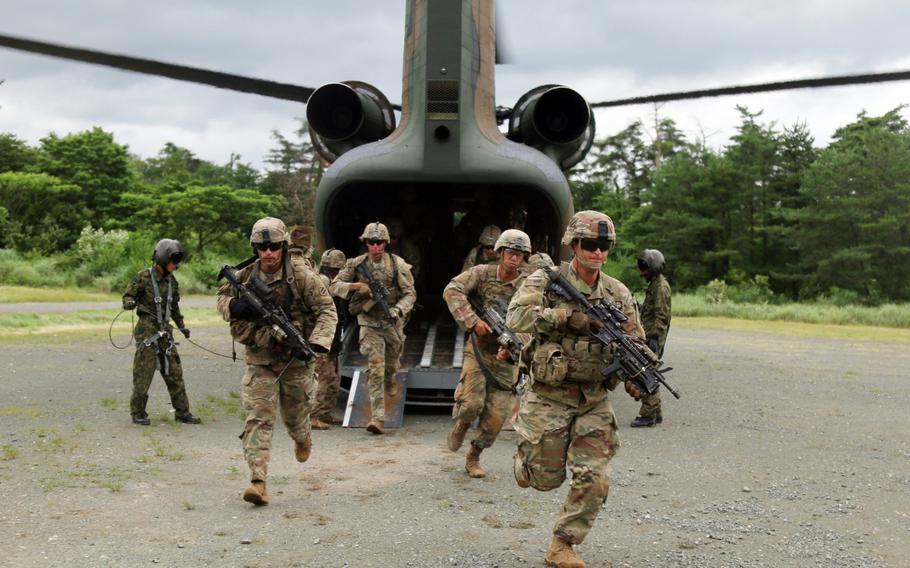 TOKYO – American soldiers fired a High Mobility Artillery Rocket System on the Japanese island of Hokkaido during a large-scale exercise that concluded Wednesday, according to a U.S. Army Japan spokesman.
The live fire, conducted June 28-30, was the first time the Army had operated the weapon known as HIMARS in Japan, Maj. Elias Chelala said in a telephone interview Wednesday.
It was part of Orient Shield, an annual bilateral drill that began June 24 and involved 3,000 U.S. and Japanese troops, Elias said at the end of the exercise.
Orient Shield marked a return to large-scale field training for U.S. Army Japan, which ran a scaled-down version of the drill last year in association with Keen Sword, an exercise that brought together the Japan Self-Defense Forces and U.S. Air Force, Army, Navy and Marine Corps.
The U.S. and Japan have been strengthening their alliance as China continues to expand its military with the stated goal of occupying Taiwan, a U.S.-armed democracy the communists regard as a rebellious province.
Japan and the U.S. would have to defend Taiwan in the event of a major problem, Japan's deputy prime minister, Taro Aso, said during a political fundraising event Monday, according to Kyodo News.
An invasion of the island by China could be seen as an existential threat, allowing Japan to exercise the right to collective self-defense, he said, according to the report.
Asked about the comments at a press conference Tuesday, Pentagon press secretary John Kirby told reporters U.S. policy on Taiwan remains unchanged.
"We continue to observe the One-China Policy," he said, referring to one acknowledging that Beijing believes it has sovereignty over Taiwan. The sides split during a civil war in 1949. China considers the island a breakaway province that should be brought under its control by force if necessary.
U.S. troops arriving for Orient Shield in Japan, where coronavirus cases are increasing ahead of the Olympic Games in Tokyo, quarantined for two weeks at Sagami General Depot in Kanagawa prefecture and Camp Fuji in Yamanashi prefecture, Chelala said.
The HIMARS, along with four AH-64 Apache attack helicopters, arrived at Marine Corps Air Station Iwakuni, Japan, on the logistics ship USNS Fisher, he said.
Troops from the 17th Field Artillery Brigade out of Joint Base Lewis-McChord, Wash., conducted the HIMARS training at Hokkaido's Yausubetsu Training Area alongside members of Japan's 4th Field Artillery Group, which fired multiple launch rocket systems.
"It was the first time the U.S. Army has fired its HIMARS in Japan," Chelala said.
The Marine Corps fired a HIMARS in early 2020 during Northern Viper, a bilateral exercise with Japanese troops on Hokkaido.
In summer 2019, the Okinawa-based 12th Marine Regiment fired rockets from three HIMARS launchers in Australia during the biennial Talisman Sabre drills involving 34,000 U.S. and Australian troops.
The Orient Shield training included cyber and space capabilities but for the most part it was about long-range fires, aviation, ground operations and movement of equipment by sea, Chelala said.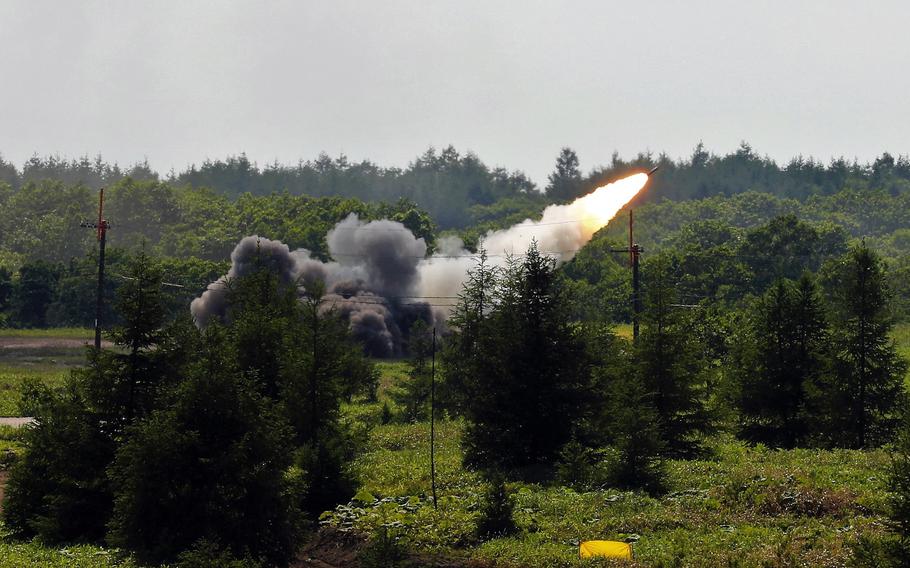 Meanwhile, the 1st Air Defense Artillery Battalion out of Kadena Air Base, Okinawa, sent an Advanced Capability-3 (PAC-3) ground-based missile defense system to Amami Island, south of Kyushu, he said.
On Amami, the U.S. troops worked alongside their Japanese counterparts operating a Chu-SAM surface-to-air missile system, Chelala said.
At Aibano Training Area, north of Kyoto, members of 1st Battalion, 28th Infantry Regiment "Black Lions," 3rd Infantry Division out of Fort Benning, Ga., maneuvered, trained on mortars and practiced evacuating casualties alongside the 14th Brigade of Japan's Middle Army, he said.
The ground troops were supported by the Apaches, flown by the Hawaii-based 2nd Battalion, 6th Cavalry Regiment, Chelala said.
Command and control of the exercise was handled by the California-based 40th Infantry Division, which established a bilateral headquarters with the Middle Army at Camp Itami near Osaka in Hyogo prefecture, he said.
The division's operations officer, Lt. Col. Matt Jonkey, 47, of Reno, Nev., said he was impressed to see the allies working toward a common goal.
"In an actual situation where Japan needed assistance from the U.S. it might involve 40th ID," he said in a phone interview from Camp Itami on Wednesday. "[Orient Shield] is a phenomenal operation for both U.S. forces and the Japan Ground Self-Defense Force to increase regional security throughout the Indo-Pacific."
---
---
---
---