'Open and available': US Navy and partners proceed with Black Sea drills over Russian objections
by
John Vandiver
Stars and Stripes
June 29, 2021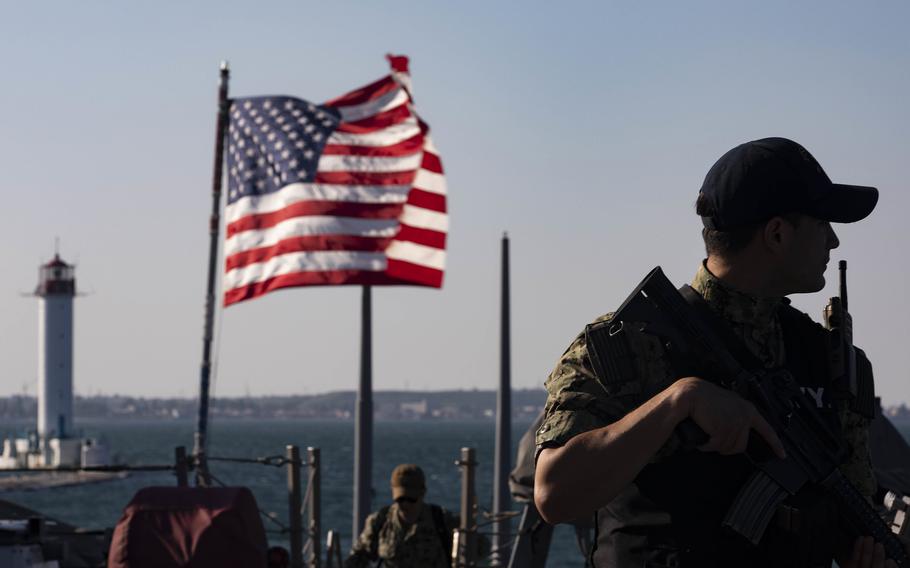 STUTTGART, Germany — U.S. forces will help clear a sunken Soviet vessel from a Ukrainian pier and conduct drills during an international exercise in the Black Sea, where Navy officials say they are sending a message that the strategic waterway can't be dominated by Russia.
"We are demonstrating to the world that the Black Sea is an international sea," Capt. Kyle Gantt, deputy commander of Task Force 65 based in Rota, Spain, said Tuesday. "It is open and available for the free transport of commerce, shipping, for all nations. It is not owned by any one nation."
The U.S. and Ukraine this week kicked off Sea Breeze 21, which involves 32 countries, 5,000 troops, 32 ships, 40 aircraft, and 18 special operations and dive teams.
The drill is the largest since the exercise series was launched with Ukraine 27 years ago. It also comes less than one week after a tense encounter between a British warship and the Russian military in the Black Sea, in which Moscow claimed it fired warning shots at HMS Defender as it sailed near the shore of Crimea.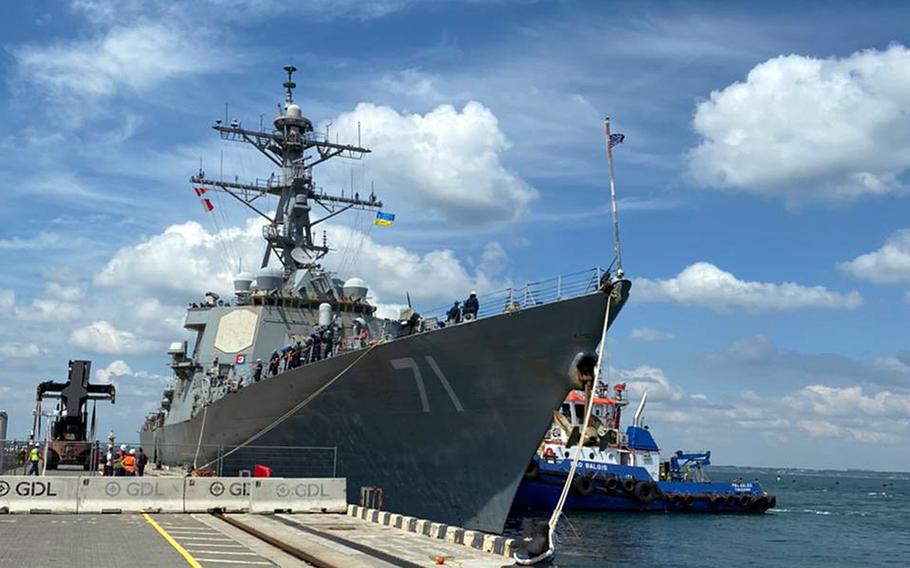 Russia said its actions forced the British destroyer to leave the area, but the U.K. disputed that claim, saying the vessel never altered course.
The tensions have put a spotlight on U.S. operations in the Black Sea and on Sea Breeze, which was planned well before the latest incident. While Moscow has called on the U.S. to cancel this year's iteration of Sea Breeze, the Navy is moving forward.
Gantt declined to describe what kind of maneuvers they have seen so far from the Russians, citing intelligence concerns. However, it is expected that the Russian military will pay close attention, he said.
"We see that Russia routinely observes our operations and it is their right to do so," Gantt said. But all nations must abide by the laws of the sea, including Russia, he added.
The Black Sea is bordered by six nations — Bulgaria, Romania, Turkey, Russia, Georgia and Ukraine. The first three are members of NATO, and Ukraine and Georgia are seeking to join the Western military pact.
Sea Breeze, which runs until July 10, involves forces rehearsing a range of tactics, with operations taking place on land, at sea and in the air.
The drill also will involve making improvements at a Ukrainian naval pier in Odessa, where U.S. and Ukrainian divers will clear away the old Soviet vessel that sunk years ago from neglect. The wreckage, which will be cut into pieces and hauled away, has created a blockage in the area, Navy officials said.
Twitter: @john_vandiver