Russia steps up efforts to sow confusion and fear of conflict ahead of naval exercise, analysts say 
by
Alison Bath
Stars and Stripes
June 25, 2021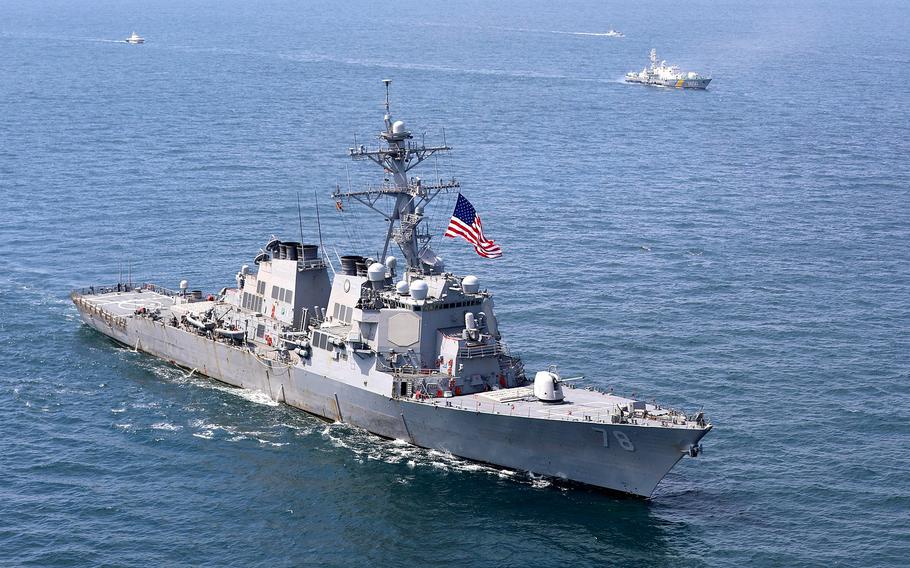 NAPLES, Italy – Spoofing the location of NATO ships, spreading disinformation on social media and threatening military repercussions are typical ploys from a well-worn Moscow playbook, analysts said ahead of an international naval exercise in the Black Sea co-hosted by the United States and Ukraine. 
The annual Exercise Sea Breeze comes ahead of Russian threats to potentially fire on participants if they intrude in their territorial waters, and following a heated dispute over the passage of a British destroyer through the Black Sea on Wednesday.
Jorge Benitez, an expert on European security with the Atlantic Council think tank, said the incident amounted to a "dangerous escalation" by Moscow. 
On Wednesday, the Russian military said it had fired warning shots at and dropped bombs in the path of HMS Defender, which sailed offshore of Sevastopol in Crimea.
Russia said the actions caused the destroyer to leave the area. London disputed that claim, denying that any shots were fired and saying the vessel was traveling through Ukrainian waters in accordance with international law.
"The combined harassment from several Russian fighter jets and ships proves that this aggression against the Royal Navy was not the decision of one zealous Russian officer, but required top-level approval," Benitez said.
The Kremlin's ultimate aim is to intimidate allies and frighten normal commercial shipping away from Ukrainian ports, he said. 
The U.S. and other allies taking part in Sea Breeze should continue as planned while expanding NATO ship patrols in the Black Sea in the future, Benitez said. 
"U.S. strength will be more effective in decreasing Russia's violent behavior than diplomatic meetings and promises ever will be." 
Still, some analysts viewed Russia's actions and threats as unlikely to be followed through.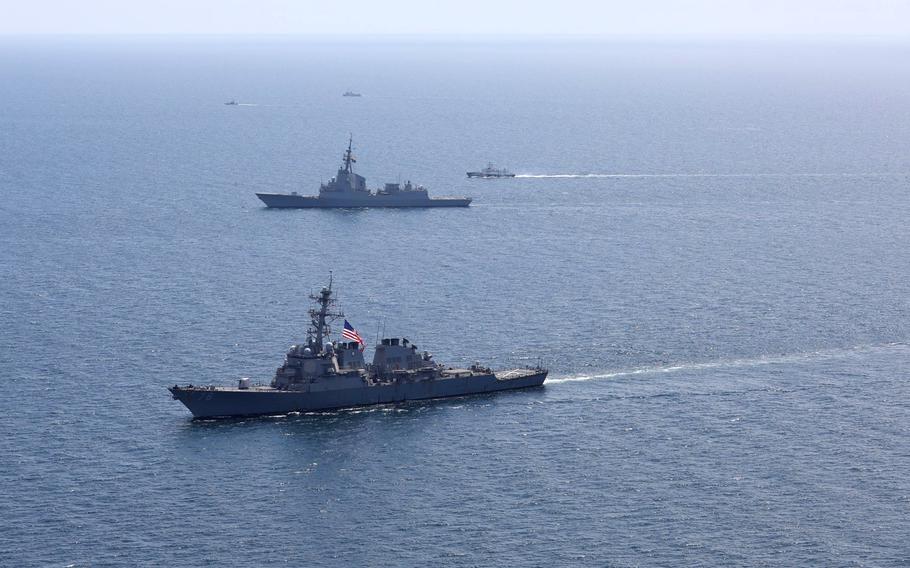 "Sea Breeze always brings heightened Russian attention, naval and air activity," said Michael Kofman, Russian studies program for CNA, a national security-focused think tank based in Arlington, Va.   
While there is some risk for a miscalculation as tensions rise and Russia continues to escalate, he described it as "low." 
"It can happen, especially when it comes to air encounters," he said. "Much is left to the skill and judgment of pilots. However, wars do not start from accidents, and are instead driven by political causes." 
In addition to the incident with HMS Defender, Russia has stepped up efforts to spread confusion and fear of military conflict on social media in order to hamper Sea Breeze and protect its disputed claim to territorial waters around the Crimean Peninsula.
Much of the world does not recognize Russia's claim to Crimea, which it occupied and annexed in 2014. 
Last weekend, the location tracking data of a British and a Dutch warship was altered to make it appear they also were near Sevastopol, while the ships were actually moored near Ukraine's port of Odessa. 
"Russians have put a premium on deception at least since Soviet days – they call it maskirovka – and they still excel at it," said James R. Holmes, the J.C. Wylie Chair of Maritime Strategy at the U.S. Naval War College in Newport, R.I. "Cellphones, social media, and on and on allow an opponent to reach directly into U.S. or allied military units to sow confusion or dissension, much as people are always trying to trick you with spam calls or email." 
But so far, Moscow's efforts seem to have had little effect, and the U.S. and its allies have continued preparations for Sea Breeze, one of whose aims is to send a firm message to Moscow that they won't be intimidated.  
"If Moscow believes we will stand together in wartime and have enough military might to fulfill our goals — in this case upholding Ukrainian sovereignty — then Russia will be deterred," Holmes said. "At the same time our allies, partners, and friends will take heart and feel confident enough to oppose Russian demands." 
This year's Sea Breeze drills will include 32 countries from six continents. Thirty-two ships, 40 aircraft and 5,000 servicemembers will take part," the U.S. 6th Fleet announced Monday.
"The continuation of this exercise program is a visible demonstration of our enduring commitment to work closely with our NATO allied and partner nations to enhance maritime security in the Black Sea," said Lt. Cmdr. Matthew Comer, 6th Fleet spokesman.
Kofman said he expects more Russian interference during the exercise, including "shadowing, intelligence collection, overflights and naval live-fire exercises."
To be prepared, the U.S. and its allies will need to retain operational professionalism, discipline and readiness, he said. 
Stars and Stripes reporter John Vandiver contributed to this report. 
Twitter: @TMSWatchdog