Family says air base in Japan denied spouse mental health referral before suicide
By
Stars and Stripes
June 20, 2022
---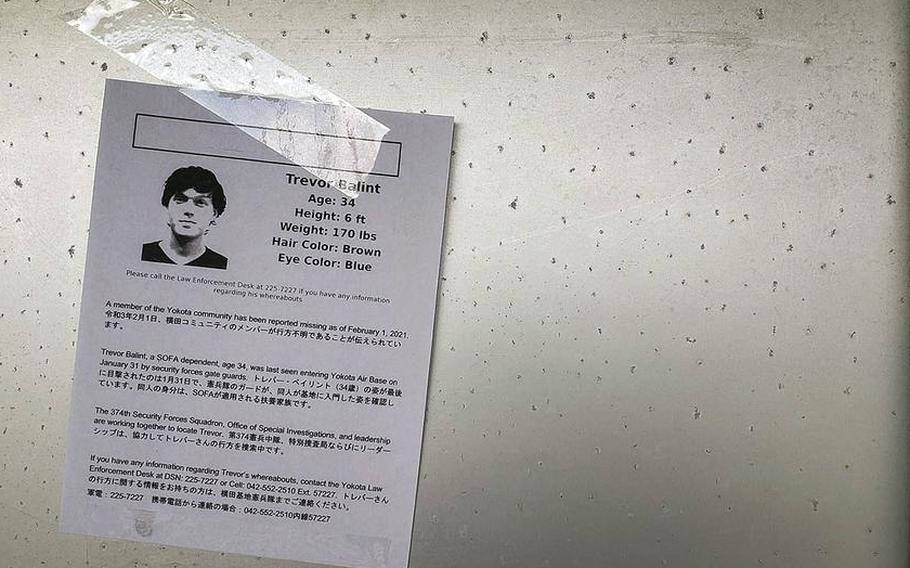 YOKOTA AIR BASE, Japan — A spouse who took his own life last year at this airlift hub in western Tokyo was denied a referral to the base mental health clinic despite a history of prior suicide attempts, according to his family.
An airman with base security on Feb. 16, 2021, discovered the body of Trevor Balint, 34, originally of Hubbard, Ohio, in a storage unit in the housing tower where he and his wife, Britni Balint, a Defense Department civilian programmer and analyst, lived on Yokota Air Base. Trevor Balint had been missing for two weeks.
Balint attempted suicide four times between 2010 and 2018, according to the death investigation by the Air Force Office of Special Investigations, which cited his medical and mental health records. His mother-in-law, Denise Simion Mott, of Brookfield, Ohio, disputed the report and said there was no 2018 attempt.
But those same records show that on April 7, 2020, Balint was considered an "intermediate risk," with passive thoughts of suicide, Mott told Stars and Stripes by Facebook Messenger on June 8.
A month later, on May 6, 2020, he sought mental health care at the 374th Medical Group but was turned away because the COVID-19 pandemic had restricted access to health care on base, Mott said.
"There should have been more Medical help available to Trevor especially because he outright asked for help," she wrote. "We all LOVED Trevor unconditionally and would never want anyone else to go thru such terrible tragedy."
A base spokesman said the 374th Medical Group at Yokota imposed safety measures during the COVID-19 pandemic to protect patients and staff, but never denied mental health services to anyone in need.
"During this time, the Mental Health Clinic worked hard to deliver appropriate services for all of our patients depending on their needs," 1st Lt. Danny Rangel wrote by email Friday to Stars and Stripes. "Services for individuals experiencing acute psychiatric distress, thoughts of suicide, or other safety concerns were never impacted or delayed."
The OSI report did not indicate whether Balint sought help immediately prior to his death, nor did it mention the April 2020 risk assessment that Mott described.
"(A)ccess to mental health services for acute safety concerns has never been limited by any beneficiary category," Rangel said Thursday by email.  
He said walk-in care was always available at the base mental health clinic during business hours or at the urgent care clinic after hours. Rangel said he was barred from discussing Balint's medical history by the federal law restricting release of medical information.
He said other options for mental health care include primary care, military and family life consultants, chaplains and embedded mental health programs across the base. The medical group has also partnered with off-base mental health clinics to support Yokota's population that is not on active duty, Rangel said.
Trevor Balint went missing Feb. 1, 2021, and a ground and air search of the base and surrounding area had turned up only his wallet, keys and phone scattered on a neighbor's doorstep, according to the OSI investigation.
A medical examiner ruled that Balint died by suicide sometime between Feb. 8 and 10, 2021, but the date could vary by two days because the examiner lacked information on the temperature and humidity in the storage unit, the report states.
Balint's wife said she's still troubled by the fact that authorities took so long to find her missing husband.
"It concerns me that nobody on base finds that to be a troubling display of base security," Britni Balint told Stars and Stripes by Facebook Messsenger on June 8. "With indications in his medical records, it feels particularly like there are so, so many places where [the] base could have done something to change the outcome of that situation. They had five to nine days to figure out that he was struggling and provide him with help, and they failed at that."
Balint in a 2017 email talked about suicide and "how he did not fit in with the world," according to the investigative report completed 12 days after body was found. The Youngstown, Ohio, Vindicator obtained the report through a Freedom of Information Act request and provided a copy to Stars and Stripes.
The Yokota investigators also examined a Facebook conversation with someone, the name redacted, from 2011 to 2018 on Balint's Acer laptop but found nothing about "suicidal ideation, depression or attempts to kill himself," the report states. The investigators were unable to obtain his phone records because his was not a criminal case, according to the OSI report.
Trevor Balint was a bright person and talented musician who earned a Ph.D. in physics in his 20s, but found himself without work or friends at Yokota, according to his mother and the report. The report states that he drank to cope with feelings of inadequacy.
"He had many, many friends all around the United States as well as in England, where they were stationed prior to Japan," his mother, Kathy Balint, of Hubbard, Ohio, said by Facebook Messenger on June 8. "Trevor was smart… talented… funny, kind, compassionate and his smile could light up a room."
Individuals who need urgent mental health care at Yokota may contact the mental health clinic directly at DSN 225-3566 or via the appointment line at DSN 225-8864. The urgent care department is open after normal business hours.
For further information about available mental health options, the AF Connect app has a full list of resources and contact information under the "Helping Agencies" tab.
---
---
---
---