Spouse missing for two weeks at US air base in Japan died by suicide, report says
By
Stars and Stripes
June 7, 2022
---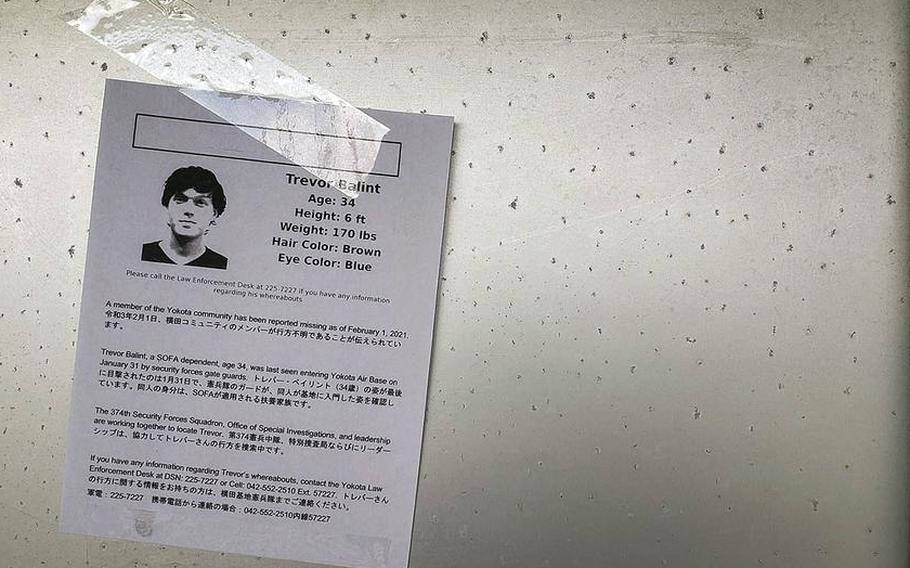 YOKOTA AIR BASE, Japan – An American civilian missing more than two weeks before his body was found in a housing tower on this base in western Tokyo took his own life, according to a report in an Ohio newspaper.
Trevor Balint, 34, of Hubbard, Ohio, disappeared suddenly on Feb. 1, 2021. He lived at Yokota with his spouse, Britni Balint, a Defense Department computer programmer and analyst also from Ohio.
Authorities searched Yokota from the ground and the air before discovering his body in a storage closet in the east side tower where the couple lived.
A medical examiner finalized a death certificate on the day Balint's body was found, stating he died by suicide, according to the Vindicator newspaper of Youngstown, Ohio.
The report was based on records released to the newspaper under the Freedom of Information Act.
Balint died between Feb. 8 and Feb. 10, but the timing could be off by as much as two days due to lack of information about the environmental conditions in the storage closet, according to the Vindicator report.
Health records showed Balint attempted suicide four times between 2010 and 2018 and had written about it in a 2017 email, the newspaper reported.
Balint's family did not respond to a message seeking comment Tuesday. The family was provided Balint's death certificate and an autopsy report, according to an Aug. 16 email to Stars and Stripes from Air Force Office of Special Investigations spokeswoman Linda Card.
Yokota spokesman 1st Lt. Danny Rangel in a phone call to Stars and Stripes on Tuesday said the 374th Airlift Wing had no comment on the report.
---
---
---
---