South Korean brass resume US base visits in Japan halted by COVID-19 pandemic
By
Stars and Stripes
June 3, 2022
---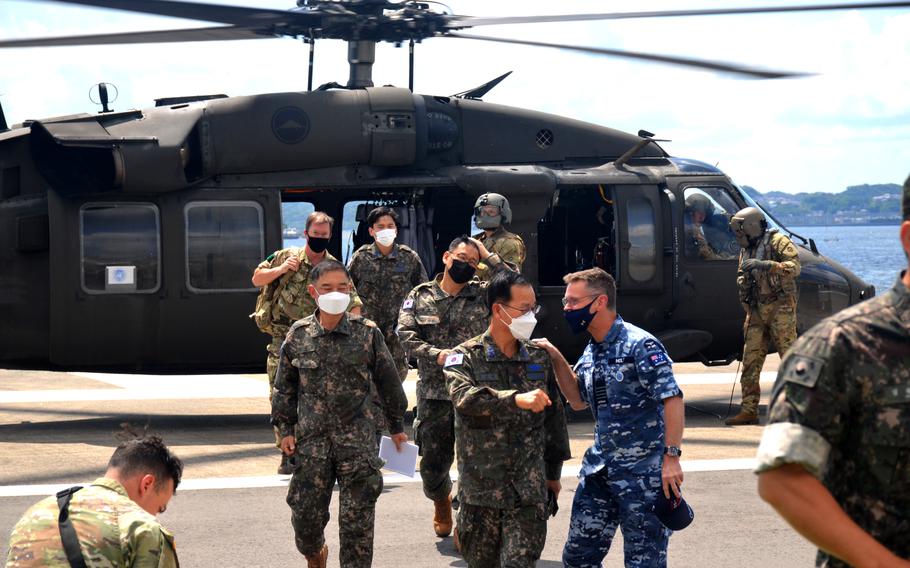 Stars and Stripes is making stories on the coronavirus pandemic available free of charge. See more stories here. Sign up for our daily coronavirus newsletter here. Please support our journalism with a subscription.
YOKOTA AIR BASE, Japan – A delegation of South Korean service members, including three general officers, toured U.S. bases in and around Tokyo from Tuesday to Friday, marking a resumption of visits that had been on hold during the coronavirus pandemic.
They stopped at three installations that support the U.N. Command's mission in South Korea: Yokota Air Base, headquarters of U.S. Forces Japan in western Tokyo; Camp Zama, headquarters of U.S. Army Japan; and Yokosuka Naval Base, homeport of the U.S. 7th Fleet.
U.N. Command-Rear, also based at Yokota, supports the movement of personnel, supplies and equipment for nine of 22 nations that have sent forces to South Korea since the Korean War. The member nations also monitor sanctions the U.N. imposed on North Korea to hinder its weapons programs.
The trip aimed to boost the South Koreans' understanding of the U.N. Command's work in Japan, British Army Lt. Gen. Andrew Harrison told Stars and Stripes in Tokyo on Thursday. Harrison, the U.N. deputy commander, is based at Camp Humphreys, South Korea.
"This used to be routine and so that understanding existed (but) there hasn't been an opportunity to meet face to face for a number of years," Harrison said. "We are re-instigating this and allowing South Korean generals and Japanese leaders to talk and understand the role of the U.N Command-Rear in Japan."
Last year 3,944 people, 16 ships and 22 aircraft from U.N. Command sending nations came into Japan to support the command's mission, said Royal Australian Air Force Group Capt. Lyle Holt, who leads the Yokota-based U.N. Command-Rear.
The four-day visit coincides with North Korea's increased pace of weapons development. The communist regime has conducted 16 missile tests so far this year.
The North is testing a range of missile capabilities, including intercontinental ballistic missiles, Harrison said.
"It's the most number ever (for a calendar year) and we are only halfway through the year," he said.
The U.S., Japan and South Korea will move rapidly to bolster security cooperation following President Joe Biden's visits to both countries in late May, Kim Hyun-wook, an American studies professor at Korea National Diplomatic Academy in Seoul, said in an email Wednesday.
The U.S. allies have a territorial dispute over a cluster of small islands and disagreements about compensation for forced labor and sexual slavery of South Koreans by Japanese Imperial forces during World War II.
It won't be easy to restore the relationship, even on security cooperation, since the Japanese government still wants South Korea to resolve historical issues first, Kim said.
But "there are clear signs of trilateral cooperation getting better," he said.
North Korean provocations are an incentive to cooperate, Kim said. The most likely progress will be trilateral meetings to discuss ways to deter the North, he said.
---
---
---
---