Army units in South Korea receive award for initial response to COVID-19 pandemic
By
Stars and Stripes
May 27, 2022
---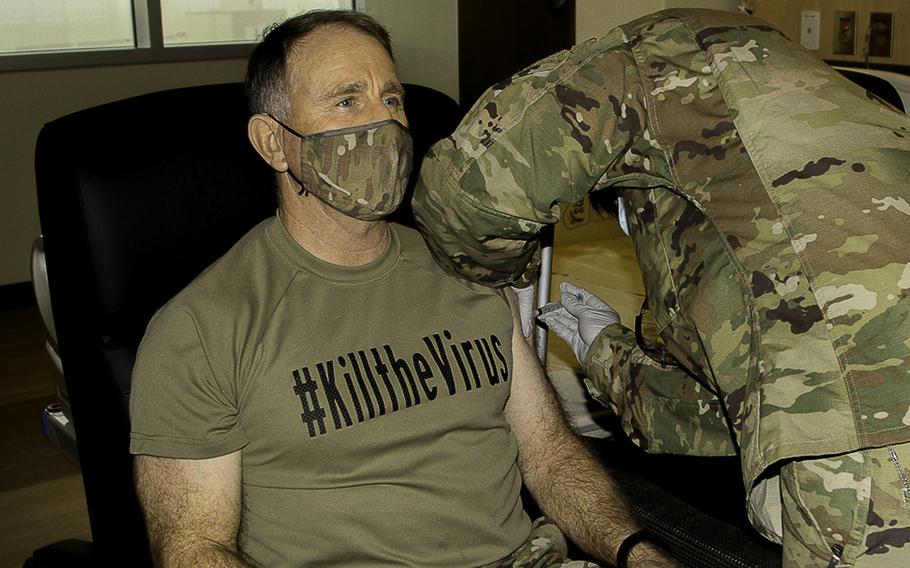 Stars and Stripes is making stories on the coronavirus pandemic available free of charge. See more stories here. Sign up for our daily coronavirus newsletter here. Please support our journalism with a subscription.
CAMP HUMPHREYS, South Korea — Eighth Army received the Army Superior Unit Award for its efforts in curbing the spread of COVID-19 during the onset of the pandemic in South Korea, according to a press release Thursday.
"Eighth Army and cited units displayed outstanding meritorious service through their response to the global pandemic cause by COVID-19, making their #1 priority to protect the force during these extraordinary circumstances," the award's citation said.
The citation from the Army's Human Resources Command added that Eighth Army's efforts "enabled the effective response to the pandemic not only on the Korean Peninsula but more importantly informed response operations worldwide."
Soldiers present for duty while being attached to Eighth Army or one of several units in South Korea between Jan. 28, 2020, to April 30, 2020, are eligible to wear the superior unit award permanently. Army civilian employees who served within the same timeframe are also eligible for the award.
South Korea became one of the first countries to report COVID-19 cases outside of China in January 2020. In Daegu, roughly 100 miles southeast of Camp Humphreys in Pyeongtaek, the U.S. military reported its first-ever COVID-19 case on Feb. 20, 2020.
U.S. Forces Korea, the command responsible for roughly 28,500 troops on the peninsula, and its individual garrison commanders initiated lockdowns as case numbers increased in the military community.
The Army's response in South Korea, which included the construction of several quarantine facilities and the reassignment of thousands of service members, became the testing ground for the military's worldwide pandemic response.
Col. Michael Tremblay, the former garrison commander at Camp Humphreys, did not leave the base for 102 consecutive days.
"Everybody's singular focus from then on was, 'How do we get this from getting inside,'" he said in June 2021. "We quickly ramped up the things that we were doing. For those three months, we did nothing but 24-hour operations, continuously coming up with new processes."
An Eighth Army spokesman said the command was "extremely proud of our soldiers, both past and present."
"Their professionalism allowed us to continue our mission of supporting our regional allies and deterring potential adversaries while simultaneously managing the effects of the global pandemic," Lt. Col. Neil Penttila said in an email to Stars and Stripes on Friday.
USFK counted 104 new infections in the week ending Monday, down from the 141 cases reported between May 10-16, according to a USFK update on Tuesday.
The command reported 98 infections May 3-9, down from the weekly record of 1,599 cases Jan. 4-10.
---
---
---
---