'Exactly what Camp Humphreys needed': Base says goodbye to leader who faced coronavirus pandemic early on 
by
David Choi
Stars and Stripes
June 15, 2021
CAMP HUMPHREYS, South Korea — The U.S. military's largest overseas base has bid farewell to a leader whose swift and strict response in the early days of the coronavirus pandemic reverberated to installations worldwide.
Col. Michael Tremblay's two-year tenure as Camp Humphreys' commander came to a close Tuesday during an emotional ceremony at a base fitness center. His next assignment is at Fort Benning, Ga., where he'll serve as chief of staff.
Humphreys, 40 miles south of Seoul, is home to about 35,500 personnel and headquarters for U.S. Forces Korea, Eighth Army and the 2nd Infantry Division.
The garrison's new commander, Col. Seth Graves, comes to the peninsula from Brussels, where he served as deputy chief of staff, support, for the U.S. military delegation to NATO.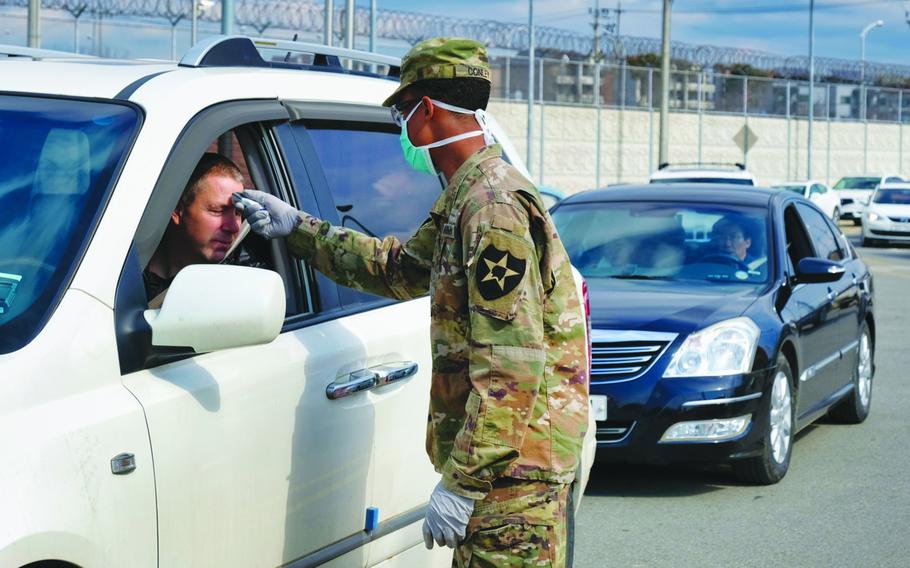 Tremblay's term began seven months before South Korea reported its first COVID-19 patient on Jan. 20, 2020. A month later, the U.S. military confirmed its first-ever positive case, a soldier assigned to Daegu Garrison, about 100 miles southeast of Humphreys.
"This might be a larger problem," Tremblay told Stars and Stripes on Friday, recounting conversations with other senior leaders at the pandemic's start. "When we first got a positive service member, which was the first in the world, we said, 'OK, it's really, really serious.'"
Tremblay oversaw Humphreys' lockdown as the garrison took unprecedented steps to mitigate the virus' spread.
In the early days of the pandemic, several quarantine facilities were built on base and thousands of soldiers' duties were reassigned to support the response. For example, about 1,000 troops manned the front gates to provide testing and redirect traffic.
"Everybody's singular focus from then on was, 'How do we get this from getting inside,'" Tremblay said. "We quickly ramped up the things that we were doing. For those three months, we did nothing but 24-hour operations, continuously coming up with new processes."
Tremblay said he did not leave Camp Humphreys for the first 102 days of the pandemic.
"We were just trying to keep up," he said.
Excluding military personnel who tested positive soon after arriving in South Korea, only 43 local cases at Camp Humphreys have been recorded so far, U.S. Forces Korea spokesperson Col. Lee Peters told Stars and Stripes in an email on Friday.
Tremblay's strict, early response reverberated beyond the peninsula. USFK, with Tremblay's help, drafted "The Playbook," a 70-page guide on limiting COVID-19's spread, which was later submitted to the Pentagon and distributed throughout Army installations in the United States.
Command Sgt. Maj. Benjamin Lemon Jr., in an email Saturday, said Tremblay's approach was "exactly what Camp Humphreys needed to get our service members, civilians, and families through the toughest part of this global event."
Graves, during Tuesday's ceremony, told Tremblay he had "much to be proud of" and that he's leaving "extremely large boots to fill."
"I look forward to continuing the great work that you and this garrison team have done," he said. "And rest assured, as you take your foot off the gas … I'll be right behind you to put mine on."
Twitter: @choibboy