Here's a look inside a US military quarantine center in South Korea
by
Kim Gamel
May 15, 2020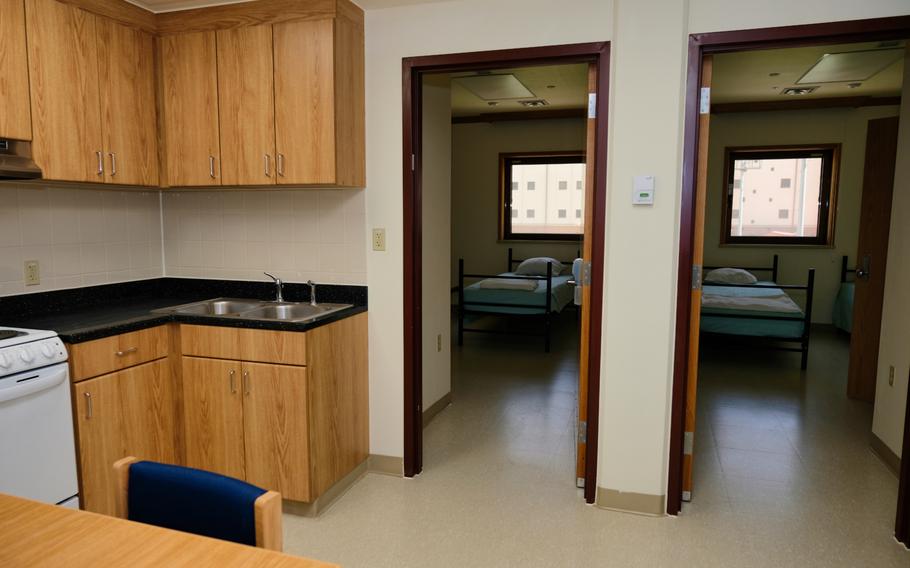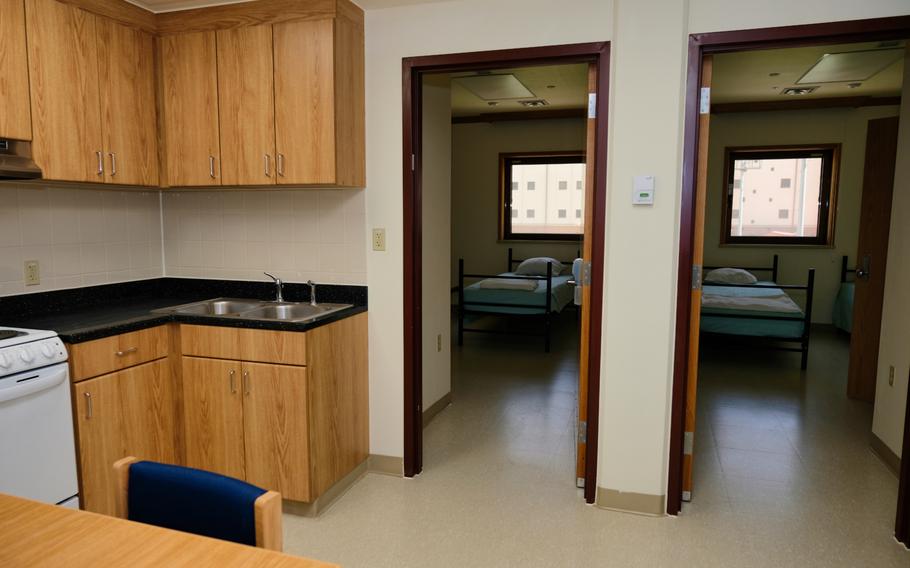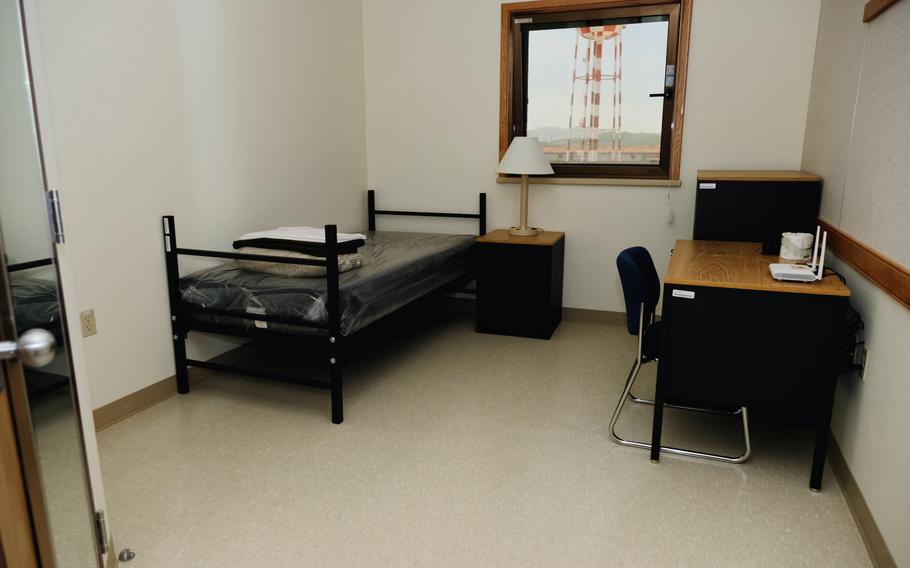 Stars and Stripes is making stories on the coronavirus pandemic available free of charge. See other free reports here. Sign up for our daily coronavirus newsletter here. Please support our journalism with a subscription.
CAMP HUMPHREYS, South Korea — With the coronavirus pandemic still going strong, the U.S. military is gearing up to quarantine a surge of troops and other personnel expected to arrive for new assignments this summer.
The Pentagon has banned most military moves through at least June 30 to curtail the spread of the virus, although high-priority troops and other personnel have been allowed to travel under an exception to policy.
So far, the need for quarantine space has been limited to those arrivals, people who may have had contact with infected patients and anybody showing symptoms and waiting for test results.
However, U.S. Forces Korea is preparing for a summertime influx to the peninsula after the ban is lifted, opening the floodgates for regularly scheduled arrivals and a backlog of people who have been in a holding pattern.
Officials have had a lot of practice since South Korea for weeks suffered the largest outbreak outside of China before the virus spread globally.
All travelers to South Korea, including those affiliated with USFK, must be tested and quarantined for 14 days upon arrival.
The Army quarantine system has evolved since the end of January when a few dozen troops who had been to mainland China holed up in a barracks with heating problems to the current iteration equipped with Wi-Fi.
"It's a team-based effort," said Lt. Col. Martyn Crighton, a spokesman for the 2nd Infantry Division. "At the beginning of this we had bumps and lumps and bruises, but it took us a few weeks and everything was sorted out and it was pretty streamlined."
What to expect The Army has the capacity to quarantine 900 people at a time on Camp Humphreys, the main U.S. military base south of Seoul; Camp Casey to the north of the capital; and Army Garrison Daegu in the south, officials said.
The Air Force also runs quarantine facilities at Osan Air Base.
Stars and Stripes took a tour last week of one of the main Army buildings on Camp Humphreys — a newly constructed, nine-story barracks that was quickly repurposed as a quarantine center for about 300 people.
Occupants enter through one side of the building and exit through the other to avoid cross-contamination.
Newcomers are provided with linens, a trash bag, snacks, bottles of water, toilet paper, disinfectant wipes, hand soap and paper towels.
Hot meals are served three times per day from the military dining facility, and snacks are available. Food can also be ordered for delivery from on-base restaurants, and units may bring care packages.
Travelers should pack towels and toiletries, medication, clothes and other necessities for two weeks.
However, the post exchange and the commissary recently began delivering to the quarantine facilities, officials said.
"It's super helpful for people coming on-pen who maybe didn't bring a shower towel or something like that, or need more socks," said 2nd Lt. Hannah Shiflet of the 630th Clearance Company, 12th Engineers Brigade, 2nd Infantry Division.
Each suite has two rooms equipped with twin beds and other basic furniture as well as a shared kitchenette and bathroom.
People being quarantined may use laundry rooms in buildings that have them, while Army quartermaster units have begun providing laundry capabilities to those that do not, Crighton said.
Unaccompanied service members sharing a suite must take turns entering the common areas, although families may mingle.
Counselors and chaplains also are allowed to make in-person visits for behavioral health needs while wearing protective gear.
Occupants also may be escorted outside in a carefully controlled process, Shiflet said, adding that staff is available around the clock if occupants need anything.
Pets may stay with their owners for the time-being and will have opportunities to be taken outside, said Sgt. 1st Class Alexander Pagel, also with the 630th Clearance Company.
"We're working on getting the pet situation figured out," he said. "We're also working on getting cribs for any infants."
Learning firsthand Shiflet's platoon began doing security at the initial quarantine facility in building 577 in late February and has helped develop the system that exists today.
"We've gotten a lot of experiencing in opening up new buildings," she said. "It's definitely been improving weekly. We make improvements all the time."
Shiflet learned firsthand about being quarantined when she was placed in her own facility last month after being spotted on closed-circuit TV in the same store as a confirmed case during the trace investigation into their whereabouts.
"I was just picking up something real quick before heading over to my shift and I happened to come in contact with someone who later tested positive for COVID-19 in the shoppette," she said. "It was really actually very beneficial. I got to see the whole process that the occupants go through."
Shiflet changed some rules after the experience, including allowing occupants to place their trash out for removal at any time instead of waiting for the bag to be full.
"You're stuck in this room and it gets smelly," she said.
Her advice for newcomers is to stick to a schedule. Shiflet said she made her bed every day after waking up, got a lot of work done and caught up with family.
She even managed to run six miles around the room. Less ambitious occupants get a list of workout tips and may borrow weights and other equipment that is sterilized after each use.
Shiflet said one hard rule is that occupants must stay in their rooms or face the possibility of having to start over.
"Typically, when I tell them that they stay in their room," she said.
Work in progress The military is working on resolving other issues to accommodate newcomers, including a plan to enable people to start the paperwork and other requirements to join their unit while in quarantine.
"We will experience a large changeover. It'll be mostly people coming from off-pen," Crighton said. "In-processing is a work in progress, but there's absolutely an effort to make as much of that as possible virtual."
Officials declined to provide numbers due to the uncertainty surrounding the coronavirus and the stop-move order.
Some 28,500 service members are stationed in South Korea.
Most troops arrive at Osan Air Base on the government-chartered Patriot Express flight and will be taken to quarantine facilities from there.
USFK and the South Korean government also have agreed that any U.S. military-affiliated individual who lands at Incheon Airport will be taken to Camp Humphreys or Osan Air Base for testing and quarantine.
Some contractors and civilian employees, however, may have to use government-designated facilities depending on availability, said USFK spokesman Col. Lee Peters.
"The on-base facilities are being prioritized for service members and their families," he said.
"USFK service components are currently analyzing data now to make an informed decision for the number of expected USFK-affiliated personnel who will arrive and depart this summer," he added. "As of now, we are assessing contractors will have to quarantine off-base, but this is still under review."
gamel.kim@stripes.com Twitter: @kimgamel