Pandemic pause is over for popular Friendship Festival at US air base in Tokyo
By
Stars and Stripes
May 23, 2022
---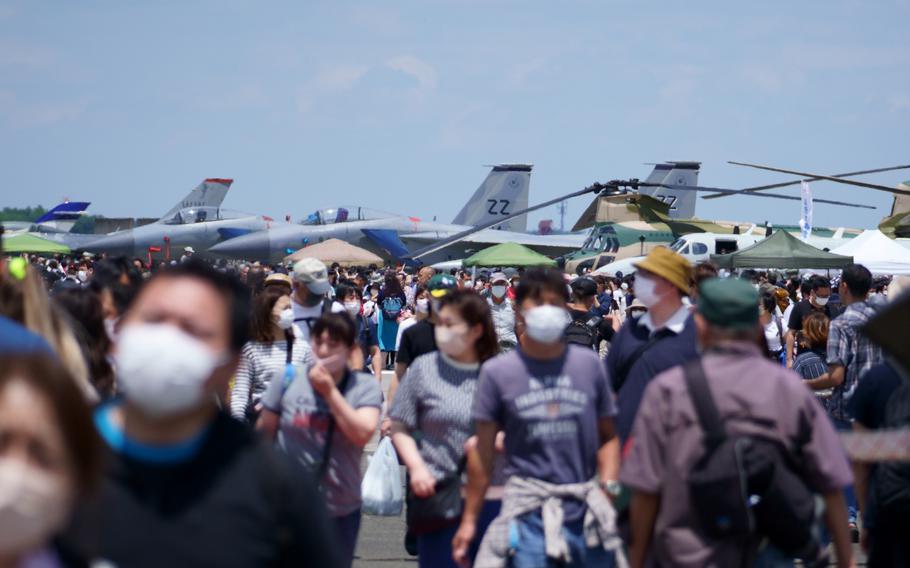 Stars and Stripes is making stories on the coronavirus pandemic available free of charge. See more stories here. Sign up for our daily coronavirus newsletter here. Please support our journalism with a subscription.
YOKOTA AIR BASE, Japan — The Friendship Festival, a two-day open house at this U.S. airlift hub in western Tokyo, resumed over the weekend where it left off nearly three years ago before the coronavirus pandemic.
More than 110,000 people lined the sidewalks outside Yokota's gates on Saturday and Sunday to gain entrance to the event, which was capped off this year with the arrival of President Joe Biden aboard Air Force One on Sunday afternoon.
The festival provides a once-a-year opportunity for Japanese citizens to peruse Yokota's flight line, inspect military aircraft and mingle with the U.S. population at souvenir stands, music stages and food stalls.
Senior Airman Anthon Williams, 25, and Airman Preston Taylor, 21, both firefighters, spent hours posing with Japanese visitors on Sunday. The pair helped children and adults in and out of their oversized, heavy protective coats and helmets.
"These are people we haven't met before who show their appreciation by standing out here with us," Williams said.
Taylor said the children reminded him of himself at a young age, hoping someday to become a firefighter.
"It brings me back, and humbles you in a way," he said.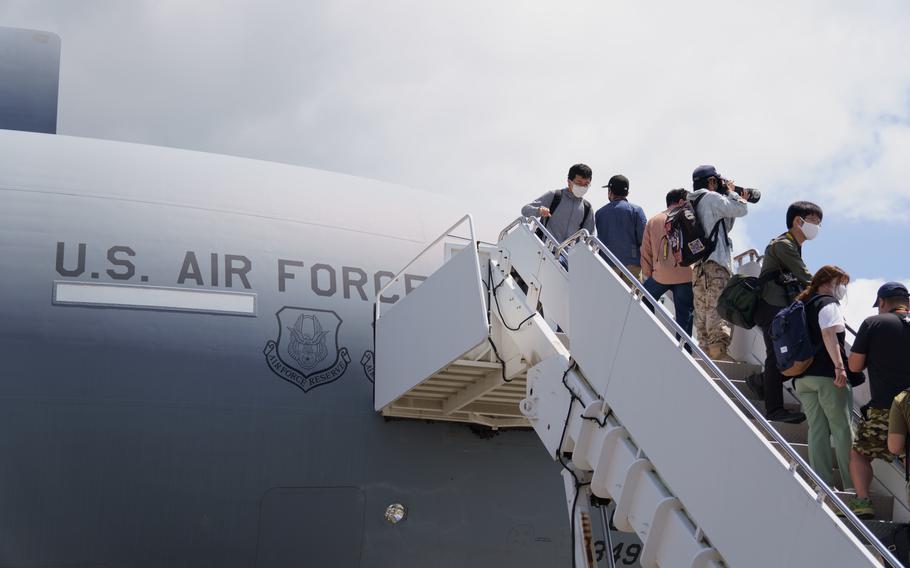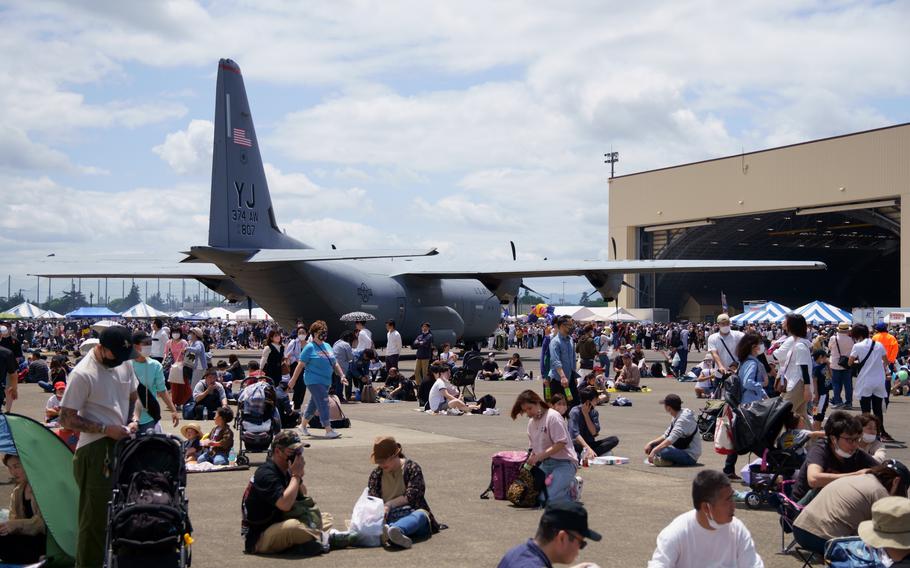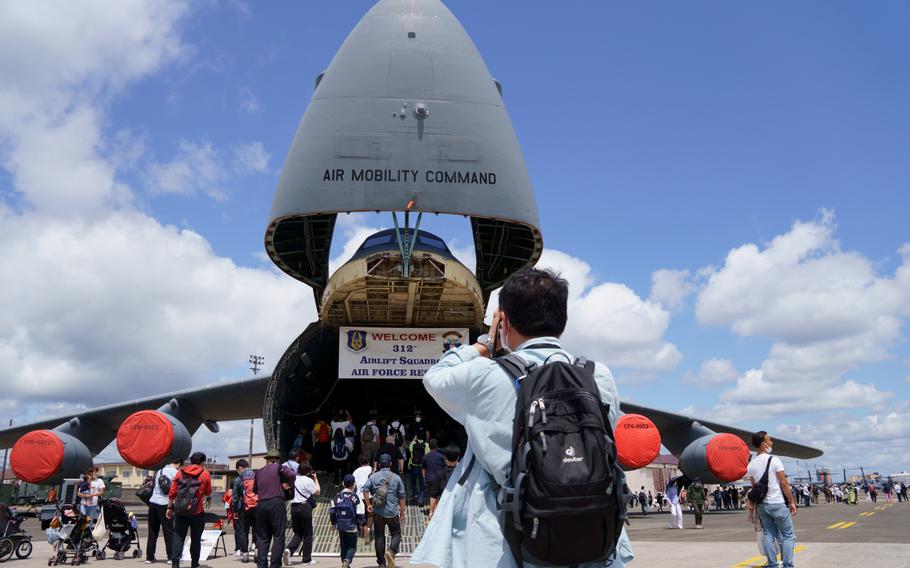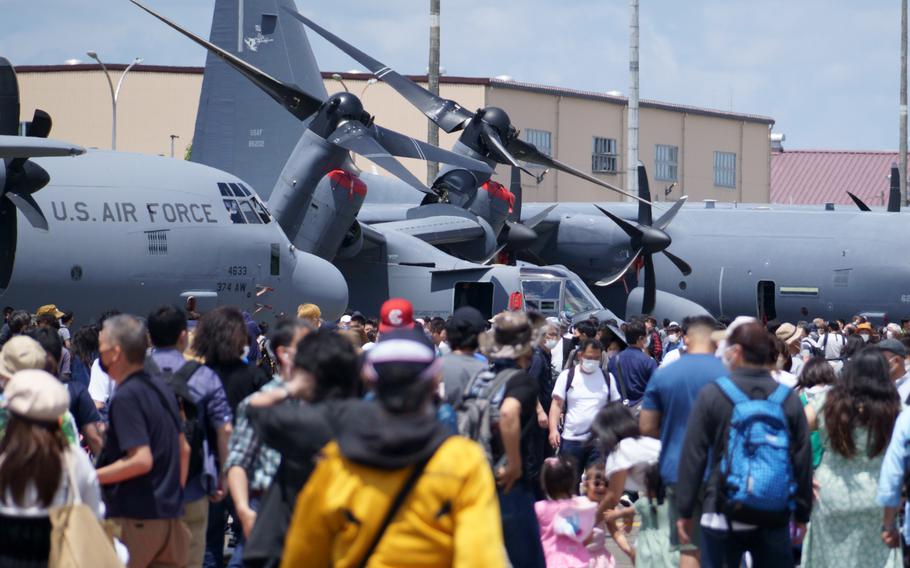 Thirty examples of American, Japanese and civilian aircraft on display drew steady streams of onlookers. Fighter jets, including F-15 Eagles, an F-16 Fighting Falcon and two of Japan's F-35 Lightning II stealth aircraft, shared the flight line with a C-17 Globemaster, a C-5 Galaxy and a C-130J Super Hercules.
The festival is not an air show, but aircraft, including a Fighting Falcon, a Super Hercules and a CV22-Osprey tiltrotor from Yokota's 21st Special Operations Squadron made flight demonstrations around the airfield. Photographers lined the taxiway shoulder to shoulder for close-up images that many wait all year to acquire.
An Air Force UH-1 Iroquois utility helicopter, known as the Huey, maintained a permanent knot of visitors who lined up to sit in the cockpit of the legendary aircraft and chat with its crew.
Huey pilot Capt. Spencer Snow, 32, said the aircraft are a crucial part the festival because they give people a chance to see the machines up-close.
"It is important to have these displays because there are thousands of people that come visit for the festival and they normally don't get the opportunity to do this," he said. "They see us flying around but rarely do they have the chance to come up, touch and sit in the helicopter."
A food village occupied the south end, where more than 75 booths sold a variety of cuisine, from steaks and funnel cakes to hamburgers, chicken and waffles and Filipino specialties. Challenge coins, squadron patches, T-shirts and other souvenirs were for sale, part of an annual fundraising opportunity for base associations.
Yutaka Mizukami, 48, was on his first visit to the base Saturday, and planned on sampling some American food.
"When I think of America, I think of meats," he said through an interpreter, "so I really want to try an American-style steak today."
The Yokota Latin American Association sold beef and chicken empanadas, virgin pina coladas and T-shirts while a Latin beat pulsed from the booth. Proceeds help the association stage events during Hispanic Heritage Month in the fall, association president Staff Sgt. Elene Lacen told Stars and Stripes.
Without a festival the past two years, the organization had a hard time raising funds, said Lacen, a health care administrator for the 374th Medical Group.
"We decided to have a booth because once COVID hit, our funds started getting low," she said. "We oversee Hispanic Heritage Month and use a majority of our funds for that event. We want to be able to bring in dancers from off base and purchase items to make food."
Stars and Stripes reporter Joseph Ditzler contributed to this report.
---
---
---
---