UN motion to reinforce North Korean sanctions fails on Russia, China vetoes
By
Stars and Stripes
May 27, 2022
---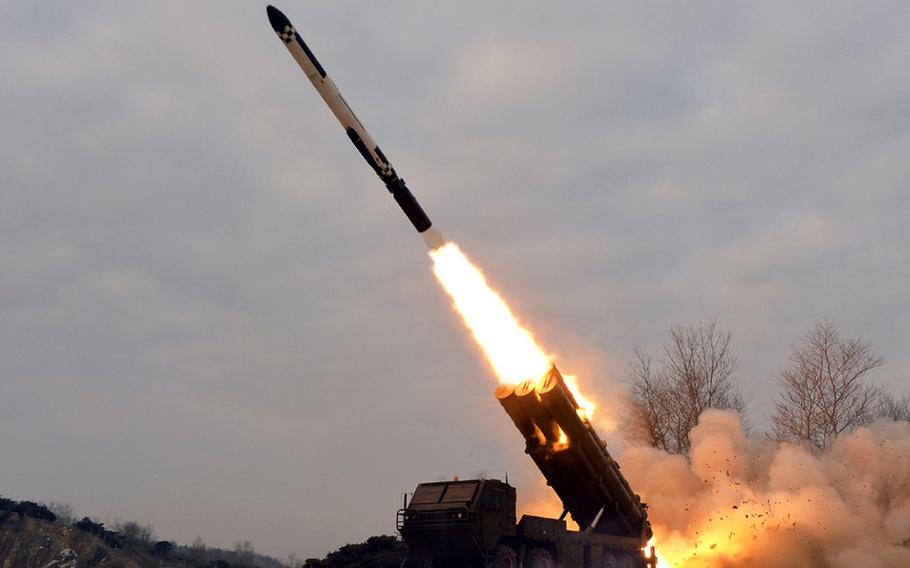 The U.N. Security Council on Thursday failed to pass a U.S.-led resolution to reinforce sanctions against North Korea following its 16 rounds of missile tests so far this year.
China and Russia, two of the five permanent member states on the Security Council, sank the resolution with their veto power. The council's 13 other members voted in favor.
"I am beyond disappointed that the Security Council has not been able to unify in opposition to North Korea's unlawful [weapons of mass destruction] and ballistic missile programs," U.S. Ambassador to the U.N. Linda Thomas-Greenfield tweeted Friday. "That failure rests on China and Russia alone."
North Korea last conducted a weapons test on Wednesday, firing three missiles shortly after President Joe Biden left Japan for the United States following his five-day tour of Asia.
Thomas-Greenfield urged the council not to "normalize these unlawful and destabilizing actions."
Russian Ambassador to the U.N. Vassily Nebenzia in his argument described the sanctions as "restrictive measures" and "hostile activities" against North Korea's 26 million people.
China's ambassador, Zhang Jun, blamed the U.S. for North Korea's behavior and claimed the Biden administration was developing "other plans deep down" for the Korean Peninsula.
South Korea's Ministry of Foreign Affairs released a statement after the veto saying the results will "greatly damage the global community's trust" in the Security Council. The ministry also urged its members "to play responsible roles to respond to [North Korea's] violations."
"We express our deep regret at the outcome that it was not adopted by the UNSC despite the majority of UNSC members consenting to the resolution," said the ministry's statement.
The Security Council in 2006 unanimously voted to sanction North Korea after its first nuclear test and ordered it to suspend all ballistic missile and nuclear tests.
The North continued its testing and the Security Council imposed additional sanctions against the regime.
North Korea last conducted a nuclear test, its sixth, in 2017 and is believed by U.S., South Korean and Japanese intelligence agencies to be preparing for another test.
The most recent set of sanctions against North Korea was imposed in December 2017 after the regime fired an intercontinental ballistic missile. Those sanctions required member countries to expel North Korean employees and compelled them to seize, inspect and impound ships suspected of smuggling goods for the regime.
Experts widely believe North Korea has been skirting existing sanctions. It continues to smuggle natural resources, such as coal and oil, through "elaborate black-market networks" and ship-to-ship transfers, according to the State Department press releases.
Meanwhile, the U.S. Treasury Department targeted several companies and individuals believed to have supported North Korea's weapons program.
In January, the Treasury Department's Office of Foreign Assets Control sanctioned five North Koreans — one in Russia and four in China, for providing material aid to the regime.
---
---
---
---