Some motorists drive off base for gas as AAFES' prices soar in the Pacific
By
Stars and Stripes
May 20, 2022
---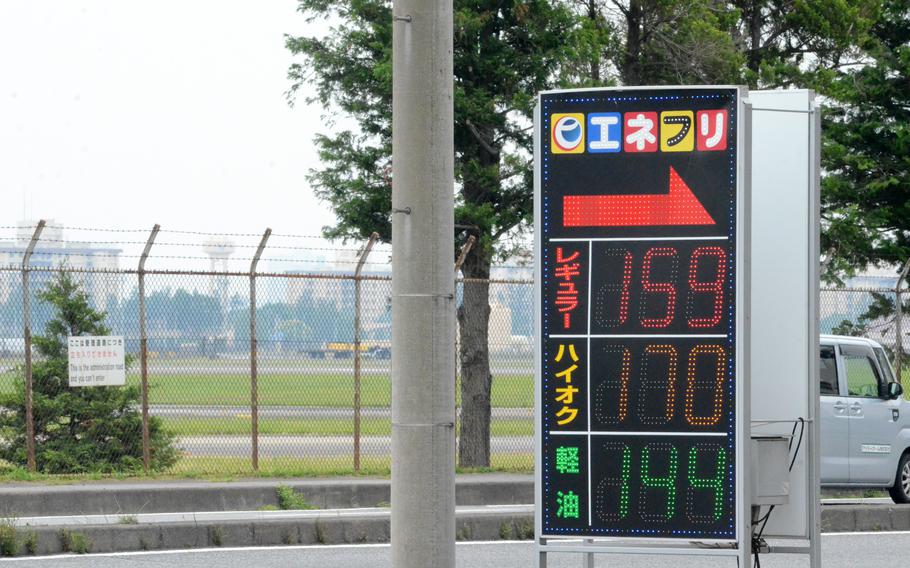 YOKOTA AIR BASE, Japan – Gas prices on U.S. bases in Japan have climbed so high that some military motorists are shopping around for bargains on the economy.
Army and Air Force Exchange Service fuel prices in the Pacific, which topped $5 a gallon for premium in March, are due to rise again Saturday, according to the weekly price update provided by the exchange.
AAFES customers in South Korea and on Guam will pay $5.32 a gallon for premium, up from $5.15 a gallon, according to exchange figures.
At Yokota, the headquarters of U.S. Forces Japan in western Tokyo, AAFES customers will pay $5.31 a gallon for premium, up from $5.14. The same price hike will take effect at all other U.S. bases in mainland Japan and on Okinawa.
Meanwhile, a Shell service station just up the street from Yokota's main gate was selling high octane for 170 yen a liter, or about $5.04 a gallon, on Friday. The gas station was also selling regular, not available at Yokota, for 159 yen a liter or about $4.71 a gallon.
AAFES prices for regular are rising from $4.39 to $4.56 a gallon at Camp Zama and on Okinawa and from $4.41 to $4.57 a gallon in South Korea and Guam, according to exchange data.
AAFES diesel prices have bucked the trend and will fall from $5.69 a gallon to $5.68 in Japan, including Okinawa, and from $5.70 to $5.69 in South Korea, the data show.
Sean Sullivan, a civilian worker at USFJ, posted about off-base gas deals on a local Facebook group May 11. The strong dollar, now worth almost 128 yen, makes Japanese gas prices more attractive, he told Stars and Stripes by phone the next day.
"I buy gas off base for my motorcycle," he said. "I normally buy petrol for my car on base, but next time I fill up I will go off base."
Gasoline prices at U.S. bases in Japan have more than doubled in two years. In March 2020, just as the World Health Organization declared the coronavirus pandemic, a gallon of regular cost about $2.30.
However, the average price per gallon of regular fuel at exchange gas stations in the Pacific, as of May 11, was 13.8% lower than the Japanese national average, AAFES spokesman Chris Ward said in an email Thursday.
"Premium fuel at the Exchange was 4.7% lower than the national average," he said, adding that fuel dispensed at exchange gas stations in Japan does not contain ethanol.
The exchange sets overseas pump prices based on the U.S. Department of Energy's weekly average for each grade of gasoline in the continental U.S., plus the unique, incremental costs the exchange incurs in each overseas market, Ward said.
"These bona fide incremental costs include labor costs, excess depreciation and other unique expenses associated with providing gasoline to authorized drivers overseas," he said.
Japanese government subsidies factor into local fuel prices. The government has been subsidizing wholesale gasoline to limit retail price increases since January, according to Agency for Natural Resources and Energy website.
Gasoline prices have gone up due to the war in Ukraine, Japanese Prime Minister Fumio Kishida told reporters April 26. The government has allocated about 1.5 trillion yen, or $11.7 billion, for the subsidy system over five months, he said.
"No matter what, we must not allow soaring crude oil and commodity prices to hinder the recovery of our socioeconomic activities from the crushing COVID-19 situation," Kishida said.
Crude oil futures traded Friday at $110.85 per barrel, according to the Wall Street Journal.
Even if the international crude oil market price increases to $150 per barrel, the Japanese government would cover half of the price rise to limit domestic price increases, Kishida said.
Stars and Stripes reporter Hana Kusumoto contributed to this report.
---
---
---
---