Gas prices surge past $5 per gallon at US military bases across the Pacific
By
Stars and Stripes
March 18, 2022
---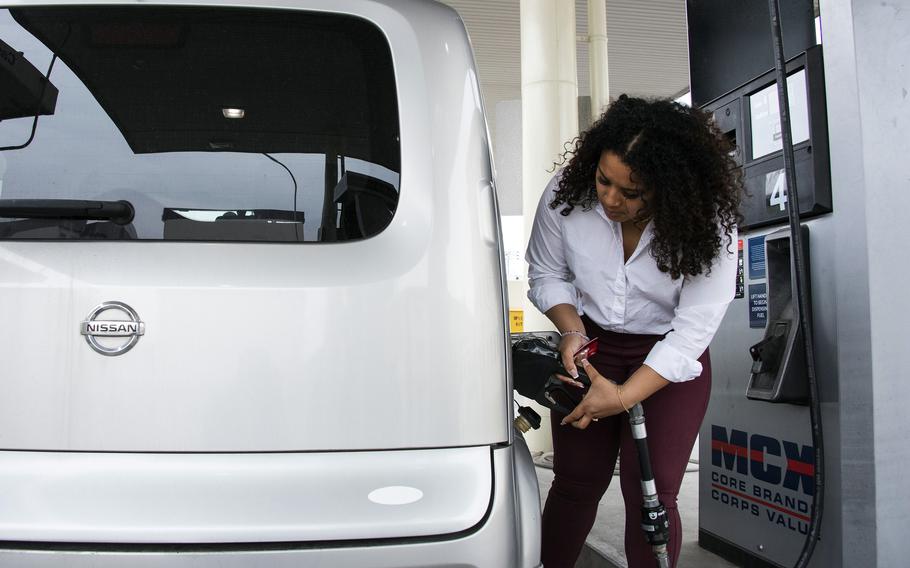 YOKOTA AIR BASE, Japan — A gallon of premium gas rose above $5 on Saturday at U.S. military bases in Japan, South Korea and Guam, according to the Army and Air Force Exchange Service.
At the two AAFES stations at Yokota, the U.S. airlift hub in western Tokyo, premium costs $5.09, or 24 cents more per gallon, according to an AAFES gas price update on Thursday. Diesel is $5.31 a gallon, up from $4.91.
The same hike applies at other U.S. bases throughout Japan, including Camp Zama southwest of Tokyo, the headquarters of U.S. Army Japan, Misawa Air Base in northeastern Japan and installations on Okinawa, according to AAFES.
Premium at U.S. bases in South Korea rose even higher, to $5.11 per gallon, with regular going to $4.38, hikes of 24 cents and 21 cents, respectively, according to the AAFES price guide. Guam drivers now pay $5.10 for premium and $4.38 for regular.
A spokeswoman for Navy Exchange Service Command, Courtney Williams, told Stars and Stripes in an email Friday she was seeking information about NEX fuel prices.
At Yokota, Air Force Staff Sgt. Kaylee Allen, 24, topped off her Toyota Ractis on Friday, ahead of the price hike. She blamed the rise in the cost of gas on Russian President Vladimir Putin's now three-week-old invasion of Ukraine.
"If this is what it has to be then I'm going to pay the gas prices until I have to ride a bike," she said. "I'm going to do what I need to get to work." 
In the U.S., consumers passed the $5 mark ahead of service members and their families overseas, according to AAFES. Drivers stateside paid an average $5.04 for premium and $4.31 for regular as of March 14.
Gasoline prices at U.S. bases in Japan have about doubled in two years. In March 2020, just as the World Health Organization declared the coronavirus pandemic, a gallon of regular cost about $2.30.
"It's ridiculous," said civilian aircraft maintainer Christopher Bash, 54, as he gassed up at Yokota on Friday morning. 
Service members deserve relief at the pump, he said.
"They sacrifice a lot and most of them overseas have a car because they want to learn about the country they are in," Bash said. "They shouldn't be gouged out for gas."
Air Force spouse Miquisha Dauenbaugh, 27, filling up her Nissan Cube at Yokota, wasn't too concerned about the high prices.
"I hear a lot of people talking about it," she said. "I don't drive very much."
---
---
---
---