Gas prices surge well past $5 per gallon at US bases in Germany
By
Stars and Stripes
March 11, 2022
---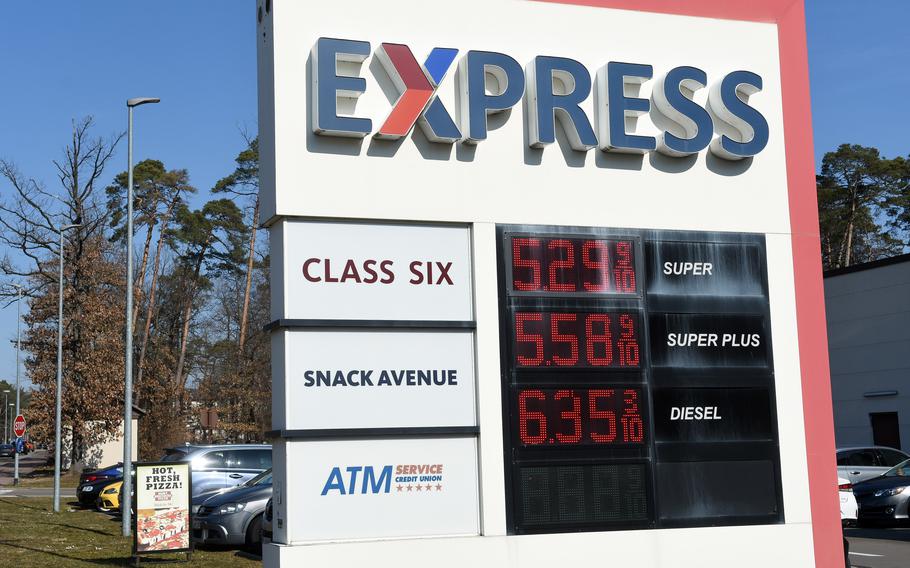 RAMSTEIN AIR BASE, Germany — American personnel overseas are paying a lot more for gas amid record-high prices across much of the U.S. in the wake of Russia's invasion of Ukraine.
The cost of gas at U.S. bases in Germany soared by more than $1 a gallon Friday, following an Army and Air Force Exchange Service announcement that fuel prices may be adjusted as often as daily instead of weekly.
A gallon of super unleaded at the Ramstein shoppette cost $5.29, up from $4.29 a week ago. Super plus was up to $5.58, compared with $4.56 last week, and diesel skyrocketed from $4.36 to $6.35 a gallon.
"Pump prices will largely reflect current costs to provide uninterrupted fuel services at overseas installations," said the AAFES statement, which was shared Friday morning on social media pages in several European commands.
The measure, AAFES said, will allow it to adjust prices more quickly "as market conditions improve," while also "protecting dividends" generated for quality-of-life programs for service members and their families.
A portion of the company's earnings supplements Morale, Welfare and Recreation programs on U.S. bases.
AAFES typically releases a price update for its gas stations in Europe every Thursday. This week's message instead read: "Due to the recent volatility in the global markets, The Exchange is unable to provide weekly updates regarding fuel pricing."
Fuel prices had steadily been rising over the last month in Europe but only incrementally.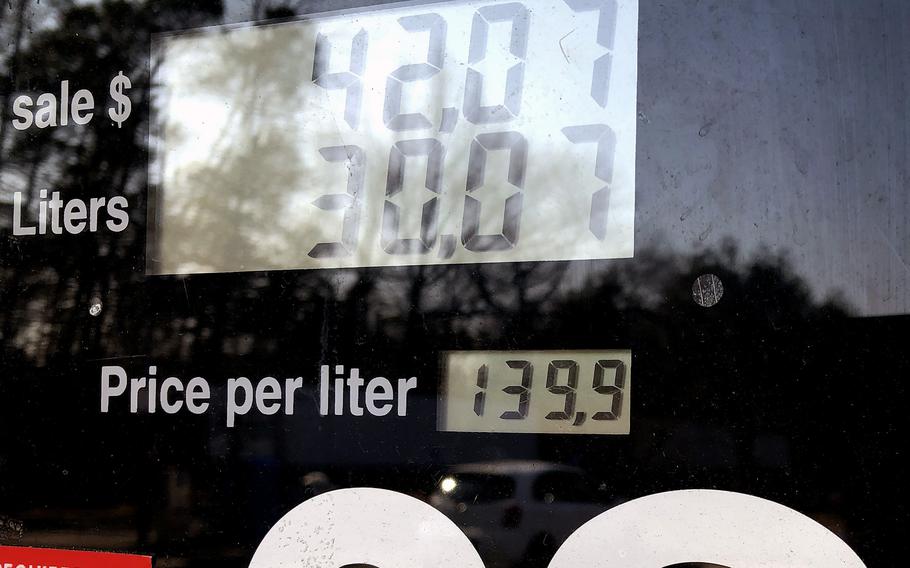 AAFES bases its overseas fuel prices on the U.S. Energy Department's weekly average for each grade of gas in the continental United States. "Unique incremental costs" incurred in each overseas market are added to the average, according to AAFES.
While gas stations in Germany are affected now, prices in other countries are being reviewed and will adjust as the market requires, said Julie Mitchell, AAFES vice president of marketing and customer engagement.
The company purchases fuel daily as deliveries come in, up to three times a day in some locations, Mitchell said.
"The Exchange is providing fuel services at cost and purely as a community service at locations requiring daily price updates," she said.
Auto club AAA said this week that the war in Ukraine is causing crude oil prices to soar, leading to higher pump prices. The national average for a gallon of unleaded Monday was $4.06, 45 cents higher than the cost a week ago and 62 cents higher than the cost a month ago.
At Ramstein on Friday, civilian spouse and retired service member Rick Roberts paid $60 for half a tank of gas, about twice as much as he typically pays, he said.
"Since we don't buy gas from Russia, I don't know why our gas prices are going up so much," he said.
Analysts say the reduction in global supply from sanctions on the Russian energy sector is driving up prices worldwide.
Roberts has no immediate plans to curtail driving, though.
"We're going on a road trip" this weekend, he said.
At Wiesbaden, Chief Warrant Officer 2 Christopher Fox said he isn't too worried about paying more for gas.
"I really don't even look at the prices," he said with a laugh. "I look at it as a necessary expense."
Even with the increase, gas is still cheaper from AAFES than off base, where prices are also climbing.
In Kaiserslautern, the average price per liter for super unleaded Friday was 2.19 euros, or about $2.41. For a gallon, that equates to about $9.12.
Stars and Stripes reporters David Edge and Michael Abrams contributed to this report.
---
---
---
---