Japanese troops disarm unexploded WWII bomb at Nagoya construction site
By
Stars and Stripes
April 25, 2022
---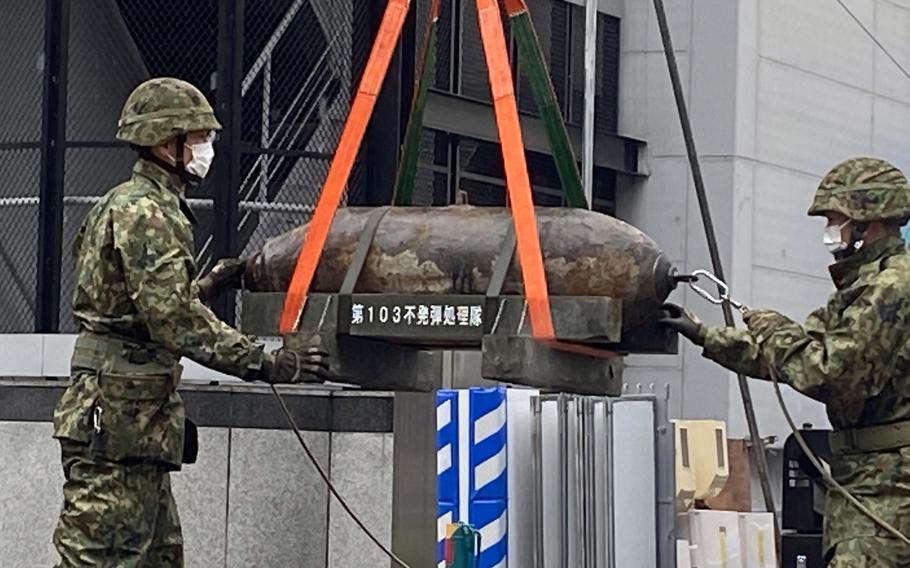 An unexploded bomb from World War II was safely defused over the weekend by members of the Japan Ground Self-Defense Force, according to the city of Nagoya.
The fuse of a 550-pound incendiary bomb, believed to be American-made, was removed around 11:30 a.m. Sunday at a construction site near Nagoya Station, according to a city news release that day.
The bomb, about 4 feet long and 14 inches in diameter, was found on March 17, the release stated.
An area 1,312 feet in diameter was sealed off, and 951 people were evacuated Sunday morning while the bomb was disarmed, according to the release. Roads and expressways were sealed off and 38 public buses were detoured.
Ordnance from World War II is frequently found in Japan. More than 600 unexploded munitions uncovered on Okinawa during dredging of Naha Port last year were disposed of by the Japan Maritime Self-Defense Force in December and January.
During the war, 9,783 tons of mostly incendiary bombs were dropped on Nagoya, a major industrial center at the time, according to the Nagoya International Center website.
Nagoya, with about 2.3 million people, is the fourth largest city in Japan. Only Tokyo, 220 miles to the east, was more heavily bombed than Nagoya by U.S. air forces during World War II.
---
---
---
---