VIDEO | Hundreds of American-made munitions from WWII are detonated off Okinawa
By
Stars and Stripes
January 26, 2022
---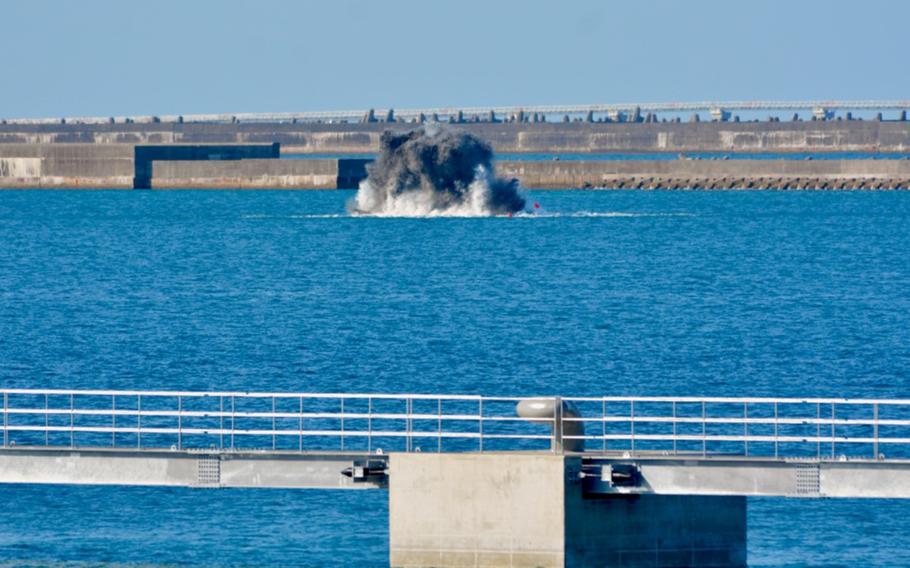 NAHA, Okinawa — Hundreds of unexploded munitions from World War II uncovered on Okinawa last year were detonated underwater Wednesday by the Japan Maritime Self-Defense Force.
The service blew up 315 artillery shells, bullets and grenades at 10:20 a.m., about a half-mile offshore from Naha Port's Shinko Wharf.
A total of 634 munitions were discovered during a dredging of Naha Port between March and November, a Naha city spokesman told Stars and Stripes by phone Tuesday. The first 319 items were detonated in a similar manner Dec. 14.
The munitions are believed to be American-made leftovers from the Battle of Okinawa in 1945.
A handful of Japan Maritime Self-Defense Force personnel, city firefighters and Naha city officials, including deputy mayor Satoru Chinen, gathered to observe the detonation from the second floor of the municipal waste disposal facility Naha Eco Island. At 10:20 a.m., a whooshing sound was followed unceremoniously by a rush of water shooting into the sky.
The disposal was successful, Chinen told those in attendance a half-hour later.
Approximately 20 tons of unexploded ordnance are found and disposed of every year in Okinawa prefecture, a spokesman from the prefecture's disaster prevention and crisis management division said by phone Wednesday. It's customary in Japan for some government officials to speak to the media on condition of anonymity.
"We used to find more in the past, but it was only 14.4 tons last year," he said. "I think it is a good thing that we are finding less and less every year."
---
---
---
---