Hundreds of munitions left over from WWII have been detonated underwater off Okinawa
By
Matthew M. Burke and Mari Higa
Stars and Stripes
December 16, 2021
---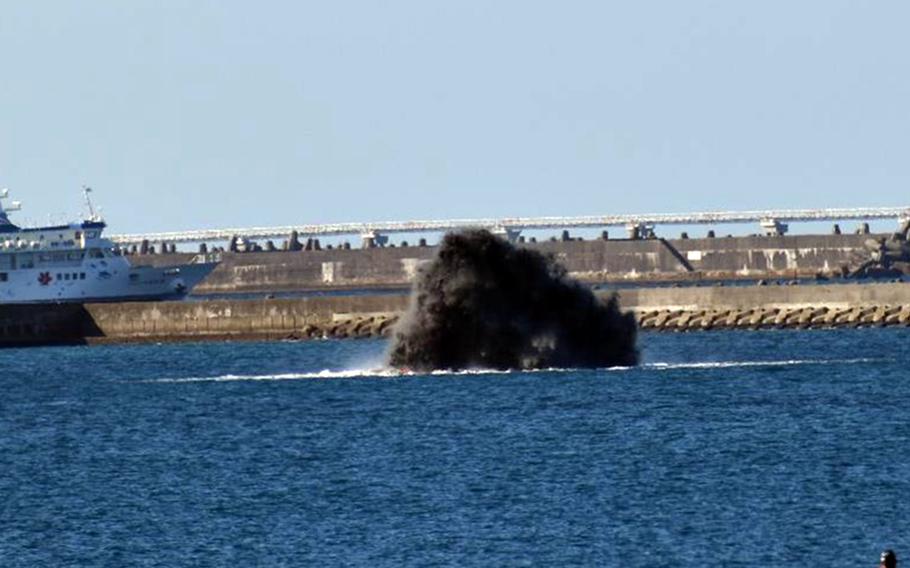 CAMP FOSTER, Okinawa — The first of more than 600 unexploded munitions uncovered on Okinawa this year were detonated underwater this week by the Japan Maritime Self-Defense Force.
The service blew up 319 items, including bullets and grenades, at 10:15 a.m. Tuesday, about a half-mile offshore from Naha Port's Shinko Wharf, a Naha city spokesman told Stars and Stripes by phone Thursday.
The ordnance was uncovered during the dredging of Naha Port between March and November. They are believed to be American-made and dropped during the pivotal Battle of Okinawa that lasted from April 1 to June 22, 1945, the city spokesman said.
"The disposal was conducted as planned and without any trouble," he said. It was the largest amount of recovered munitions detonated at one time since 1995.
The remaining 315 items will be disposed of on Jan. 26, the city spokesman said.
Since 1972, when Okinawa was returned to Japanese control, 2,094 tons of unexploded ordnance have been found and detonated in Okinawa prefecture, a spokesman from the prefecture's Disaster Prevention and Crisis Management Division said by phone Thursday.
"The number of unexploded ordnance found in Okinawa is decreasing," he said. Last year, only 14.5 tons were uncovered and disposed of.
---
---
---
---