Japanese soldiers disarm 550-pound bomb leftover from World War II
By
Stars and Stripes
February 24, 2022
---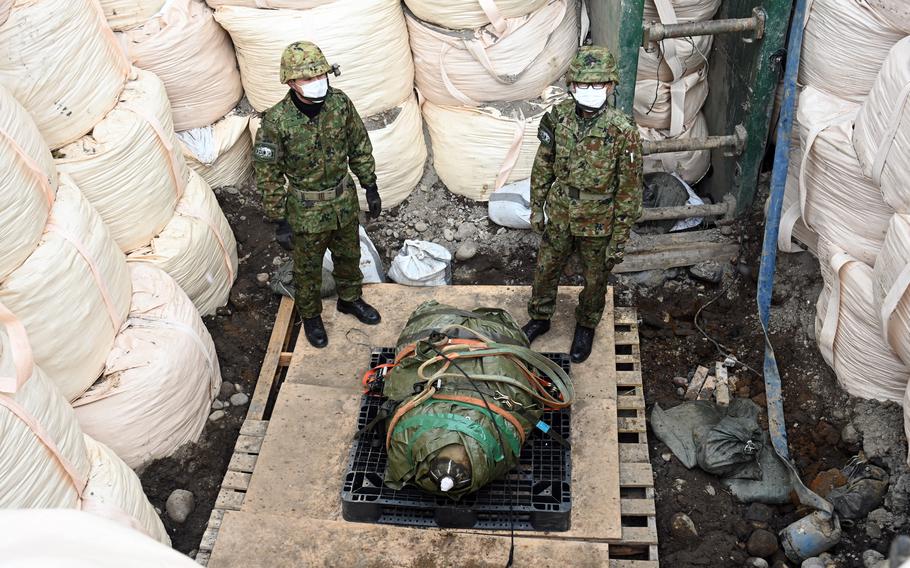 An unexploded World War II bomb found in a southern Japanese city was safely defused this week by the Japan Ground Self-Defense Force.
The 550-pound explosive, believed to be American-made, was disarmed at 10:34 a.m. Monday in Usa city, Oita prefecture, according to a news release on the city's website.
The bomb, with a fuse in its nose, was found buried nearly 8 feet in the ground during sewage work in Usa last month, the release stated.
An area of about 1,300-feet radius was sealed off and residents were evacuated around 9 a.m., according to the release. Mayor Shuji Korenaga declared the area safe around 11 a.m. after the Ground Self-Defense Force explosives ordnance disposal unit defused the bomb.
The area is close to the former site of a Japanese Imperial Navy base that was bombed by the U.S. military in the final days of the war, according to the city's crisis management division.
Ordnance from World War II is frequently found in Japan. More than 600 unexploded munitions uncovered on Okinawa during dredging of Naha Port last year were disposed of by the Japan Maritime Self-Defense Force in December.
---
---
---
---