North Korea mum on missile launch that reportedly failed and rained debris on Pyongyang
By
Stars and Stripes
March 17, 2022
---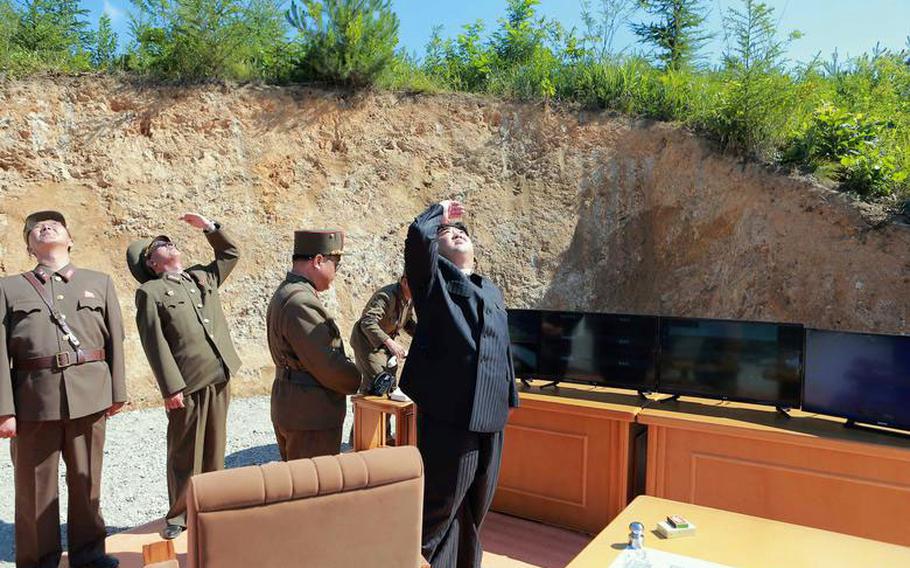 North Korean media organizations were silent Thursday in the wake of reports that the communist regime's 10th missile test this year had failed the previous morning.
The North fired what military observers in South Korea and Japan deemed a ballistic missile test on Wednesday. The launch from Sunan Airport at around 9:30 a.m. "failed immediately," South Korea's Joint Chiefs of Staff said in a message to reporters.
The Japanese Ministry of Defense also announced the launch of a "possible ballistic missile" that morning, according to public broadcaster NHK.
U.S. Indo-Pacific Command was aware of the launch and "consulting closely" with regional allies, it said in a statement Wednesday.
"The United States condemns these actions and calls on [North Korea] to refrain from further destabilizing acts," the statement said.
The suspected missile exploded at an altitude below 12.4 miles, according to news reports citing South Korean military officials.
Photos from Pyongyang indicated debris from the projectile had fallen on the capital city, NK News reported Wednesday.
The suspected missile went unreported in North Korea's state-run news organizations. Propaganda outlets such as the Korean Central News Agency and Uriminzokkiri, or With Our People, typically trumpet missile launches the day after they occur.
KCNA, for example, said North Korea had tested a reconnaissance satellite on March 5, the ninth missile launch and last successful test this year. It issued a similar report following a test Feb. 27.
The absence of North Korean propaganda coverage does not necessarily mean the launch was a complete failure, said Yang Uk, an associate research fellow at the Asan Institute for Policy Studies in Seoul. The regime learns from its mishaps, he told Stars and Stripes by phone Thursday.
"They will launch, eventually," Yang said. "I don't know if it'll be a week, two weeks, or a month, but they will launch."
Historically, North Korea conducts its weapons tests on significant anniversaries and birthdays of its leaders, Yang said, adding that one of the most important holidays is less than a month away.
Day of the Sun on April 15 marks the birthday of Kim Il Sung, the country's founder. The event is celebrated with vast military parades and the unveiling of new weapons.
---
---
---
---