South Korea's next president is 'welcomed news' for US foreign policy, experts say
By
Stars and Stripes
March 11, 2022
---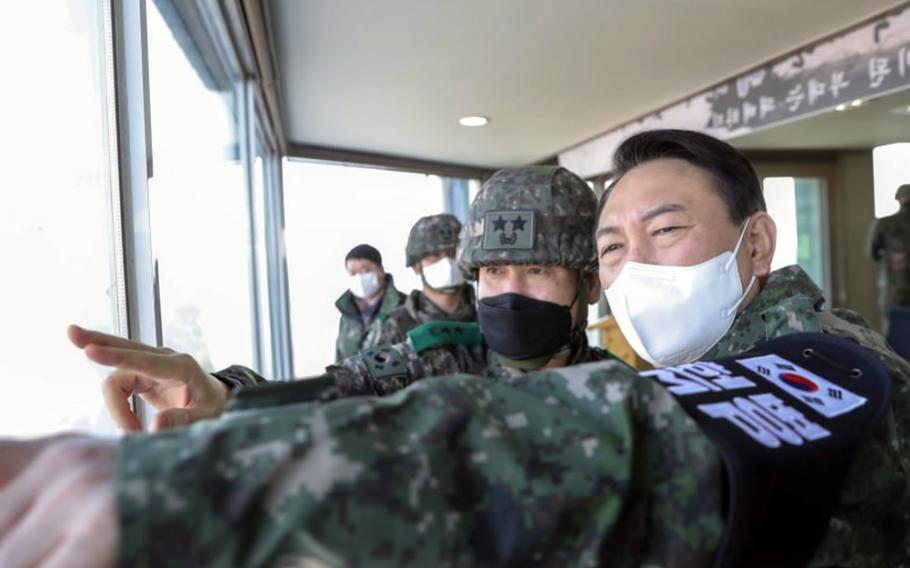 South Korean president-elect Yoon Seok-youl has had a relatively short career in politics, but his policy vision sheds some light on how military relations with the United States may shape up during his five-year term.
Yoon, a former chief prosecutor, defeated Lee Jae-myung, the ruling Democratic Party's candidate, by a scant 0.73 percentage points, or around 247,000 votes, in Wednesday's election to become South Korea's 20th president. He takes office May 10.
As the conservative People Power Party candidate, Yoon voiced support for closer U.S. ties and a tougher stance against neighboring North Korea.
The president-elect said in a statement Thursday he "will deal sternly with North Korea's unlawful and irrational behavior by principle," but at the same time "open the door of inter-Korean dialogue anytime."
"We will rebuild the [South Korea]-U.S. alliance and boost the comprehensive strategic alliance, sharing liberal democracy, a market economy, the key value of human rights," he said.
Yoon has voiced willingness to resume large-scale military drills with the United States. Those exercises were suspended in 2018 and replaced with low-key computer simulations after President Donald Trump and South Korean President Moon Jae-in described them as costly and an impediment to lowering tensions on the Korean Peninsula.
North Korea opposes the U.S-South Korea military drills and in state-run news reports has described them as a precursor to a full-scale invasion.
Yoon, in a February column in Foreign Affairs magazine, also suggested deploying another U.S.-made Terminal High Altitude Area Defense, or THAAD, missile defense system as "South Korea's sovereign right to protect its people."
In the U.S., diplomats "are breathing a sigh of relief at Yoon's victory," according to professor Sung-Yoon Lee, a scholar of Korean and East Asian studies and a specialist on North Korea at the Fletcher School at Tufts University in Massachusetts.
"Yoon's foreign policy platform coincides far better with America's interests than Mr. Lee's," Sung-Yoon Lee told Stars and Stripes by phone Friday. The president-elect's comments indicate he will "mend fences" and develop closer relations with Japan, the professor said.
Historical differences between Seoul and Tokyo, such as the comfort women issue and an ongoing dispute over the ownership of islands known as Dokdo in South Korea and Takeshima in Japan, have often derailed U.S. efforts to develop a more structured security umbrella in East Asia.
But Japan's role, for instance, in detecting and analyzing North Korea's missile tests have been used in conjunction with South Korean and U.S. intelligence assets to develop a fuller picture of Pyongyang's weapons program.
"Usually, the conservatives are the people who value Japan's role in the U.S.-led alliance structure," Sung-Yoon Lee said. "To the United States, this ongoing spat between the two democracies in the region … to hear from Yoon that he will reach out to Japan and be more pragmatic, that's welcomed news."
Yoon's policies would place a heavy emphasis on reinforcing the alliance between the U.S. and South Korea, according to Hahm Sung Deuk, dean of Kyonggi University's Graduate School of Political Studies in Seoul.
Rather than unilaterally trying to develop closer ties with Pyongyang, Yoon would "emphasize the sound and good relationship with South Korea and the United States, first," Hahm said by phone Friday.
The Moon administration views the U.S. as an "obstacle" to inter-Korean relations, Hahm said. In contrast, the Yoon administration would likely believe "the U.S. is a critically important country to make new relations" with Pyongyang.
In addition to scrapping joint military drills, Moon's administration detracted from his conservative predecessors' hardline approach in dealing with North Korea's provocations. Moon spearheaded a so-far unsuccessful effort to formally end the 1950-53 Korean War with North Korea, which, he said in September would "make irreversible progress in denuclearization and usher in an era of complete peace."
Moon's critics say tensions on the Korean Peninsula are no less today than when he took office, particularly after North Korea conducted nine rounds of missile tests so far this year.
The communist regime on Jan. 30 tested an intermediate-range ballistic missile capable of reaching the U.S. territory of Guam, and recent satellite photos have indicated "very early signs of activity" at a North Korean nuclear testing facility, according to analysts.
"Under President Moon Jae-in, however, dialogue with the North has become an end in itself," Yoon wrote in the magazine column. "Meanwhile, as U.S.-Chinese tensions have grown, South Korea has failed to adapt, maintaining an approach of strategic ambiguity without stating a principled position."
---
---
---
---