In a nation of veterans, South Korea's presidential front-runners lack military service
By
Stars and Stripes
March 9, 2022
---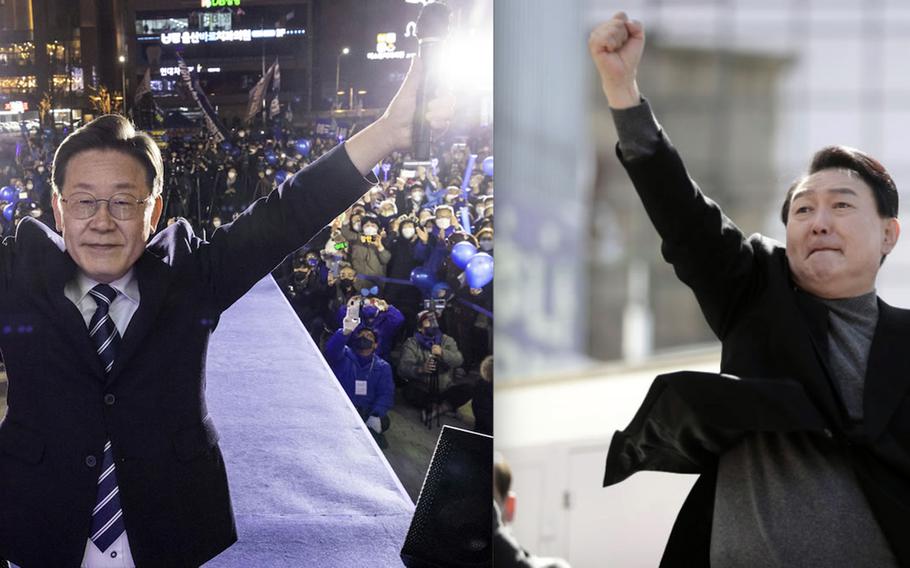 The two front-runners in South Korea's presidential election came head-to-head on Wednesday, after months of campaigning on resumes that, unlike most of their countrymen, lack military experience.
South Korean men are required by law to serve in the armed forces for about two years by their 28th birthday. Exceptions to this policy are rarely granted by the government and require many of its recognizable male citizens, such as Tottenham Hotspur forward Son Heung-min and musician Psy, to answer their nation's call.
However, both of this year's presidential front-runners received medical exemptions from military service.
Yoon Seok-youl, the conservative People Power Party's nominee and a former chief prosecutor, was exempted in 1982 due to an anisometropia diagnosis, a rare condition that affects the refractive power of the eyes.
Yoon, speaking to lawmakers in June 2019, said he was unable to obtain a driver's license because of his vision.
His opponent Lee Jae-myung, the ruling Democratic Party's candidate and the former governor of Gyeonggi province, was exempted on account of a childhood injury from a machine press, according to a co-written biography, "Lee Jae-myung's Bent Arms."
The race was too close to call as of 9 p.m. Wednesday. Exit polls by major TV networks KBS, MBC and SBS all had Yoon in the lead with 48.4% of votes. Lee had 47.8%.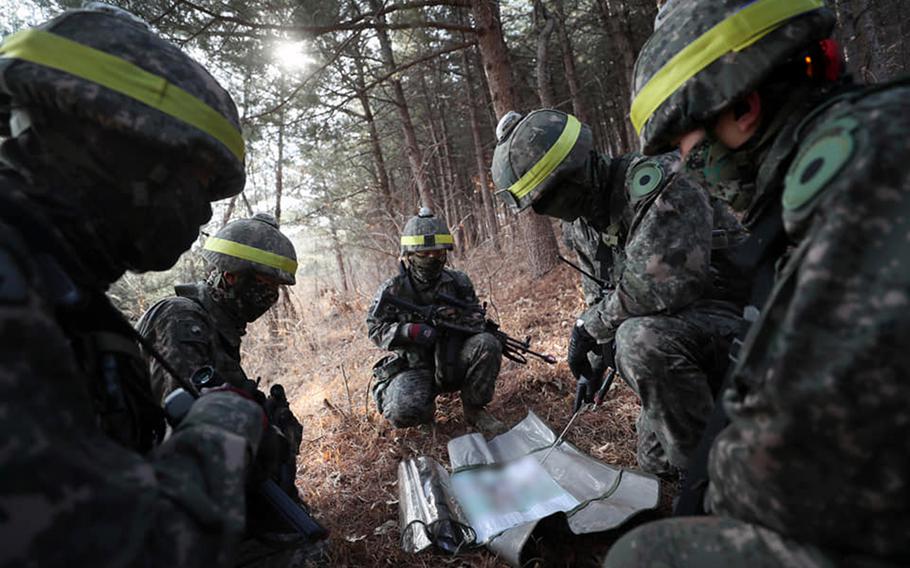 Yoon and Lee's supporters have taken aim at each candidates' medical exemptions. South Korea media scrutinized Lee's television appearances, in which he was seen using his hands while surfing and fishing.
Likewise, Democratic Party lawmakers have referenced Yoon's medical records and alleged he did not meet the requirements for an exemption.
Ahn Cheol-soo, the minor opposition People's Party candidate and an antivirus software developer, noted the discrepancy before dropping out of the race and endorsing Yoon. Ahn served as a medical officer in the South Korean navy.
"I have experience making a company and money and paying employees — I'm the only candidate who can understand science and technology," Ahn said during a BBS radio interview on Nov. 12. "Come to think of it, I'm the only candidate who served in the military, aren't I?"
Other South Korean presidents have not served in the military. Park Geun-hye, president from 2013 until her impeachment in 2017, as a woman was exempt from service. Lee Myung-bak, president from 2008 to 2013, received a medical exemption for bronchitis and breathing difficulties.
South Korean presidential candidates have scrutinized their adversaries' military records in the past; however, Yoon and Lee's efforts to criticize each other's lack of service in this election appear to have fallen flat.
Military service has historically been "a very important factor" during past elections, but the current race is somewhat of a political anomaly, said Hahm Sung Deuk, dean of Kyonggi University's Graduate School of Political Studies.
"The most important reason is that the two primary candidates did not serve," Hahm told Stars and Stripes by phone earlier this month. "Both did not serve in the military so no one can attack each other."
Hahm recalled South Korea's presidential election in 2007, when the conservative party's Lee Myung-bak ran against progressive Chung Dong-young.
Chung, a former Unification Minister who served in the military, launched several attacks against Lee's military exemption that were "not effective at all" during the campaign due to voters' sentiment against then-President Roh Moo-hyun's progressive administration.
Yoon and Lee, critics of South Korean President Moon Jae-in's administration, gained standing and popularity in their respective parties as outsiders, Hahm said.
Yoon's background in governance is limited, and his career has mostly focused on the legal field. Despite having been tapped by Moon to serve as prosecutor general, Yoon opposed the administration's efforts to limit prosecutorial powers in high profile cases. In 2021, he resigned from the position with four months remaining in his two-year term.
Lee is similarly considered to be an outsider in political circles. Because of his efforts to implement a universal basic income, news outlets often compare him to U.S. Sen. Bernie Sanders. Lee, who belongs to the same party as Moon, openly criticized the president for failing to address the rising real estate costs in the country.
The appeal of being a political outsider may eclipse other qualifications, like military service, Hahm added.
Former President Donald Trump, who was diagnosed with bone spurs during the Vietnam War, received five deferments during the Vietnam War for his medical condition and college attendance, according to a New York Times report in 2016.
Trump's military deferments were scrutinized before his presidency, but his status as a political outsider and the lack of widespread appeal by his challenger, former Secretary of State Hillary Clinton, outweighed those concerns during the 2016 U.S. presidential election.
"Regardless of [Trump's] military service, fake news or not, it doesn't matter because he was, at that time, an outsider," Hahm said.
---
---
---
---