North Korean projectile 'failed immediately' after launch, South's military says
By
Stars and Stripes
March 16, 2022
---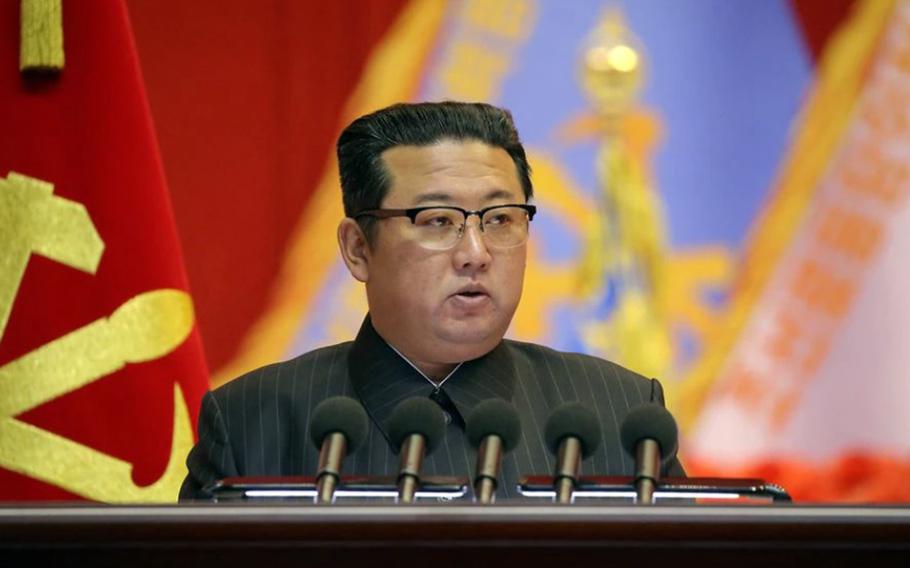 North Korea fired a projectile Wednesday that appeared to have "failed immediately" after it was launched, according to South Korea's Joint Chiefs of Staff.
The projectile was fired at around 9:30 a.m., the South Korean military said in a text message to reporters.
Japan's Ministry of Defense also announced the launch of a "possible ballistic missile," according to public broadcaster NHK.
"The Ministry of Defense is collecting information on whether it will affect Japan," said the report, which cited an unnamed ministry official.
If confirmed, Wednesday's launch would mark North Korea's 10th missile test so far this year. On March 9, the communist regime fired what it claimed to be a reconnaissance satellite.
North Korea indicated several times it would conduct another launch in the days leading up to Wednesday.
Pentagon press secretary John Kirby said in a statement March 10 that North Korea would likely be "conducting a test at full range in the future."
North Korea's previous launches on Feb. 26 and March 5, which the communist regime claimed were related to its satellite program, involved "a new intercontinental ballistic missile system," Kirby said.
"The United States strongly condemns these launches, which are a brazen violation of multiple United Nations Security Council resolutions, needlessly raise tensions and risk destabilizing the security situation in the region," Kirby said.
South Korea's military echoed Kirby's remarks in its statement Friday and said North Korea's latest tests appear to be a trial run of a future test "disguised" as a space launch.
The state-run Korean Central News Agency reported Friday that regime leader Kim Jong Un inspected a satellite testing site and called for the expansion and modernization of nearby facilities.
North Korea has also shown signs it is revamping its underground nuclear testing facility. Commercial satellite images analyzed by U.S.-based analysts indicate North Korea was improving the Punggye-ri site, which was supposedly destroyed while Pyongyang and Seoul held peace talks in 2018.
"The construction and repair work indicate that North Korea has made some decision about the status of the test site," analysts from the James Martin Center for Nonproliferation Studies at the Middlebury Institute of International Studies said in a report published on March 8. "One possibility is that North Korea plans to bring the test site back to a state of readiness to resume nuclear explosive testing."
Wednesday's launch comes one day after U.S. Forces Korea issued a news release about its air defense training. The command said the 35th Air Defense Artillery Brigade "increased the intensity of their certification exercise recently to demonstrate USFK's capabilities and commitment to defend the [South Korea] against any threat or adversary."
USFK, which is responsible for roughly 28,500 troops on the peninsula, cited North Korea's "recent increase of missile launch frequency" and U.S. Indo-Pacific Command's directive for the "increased intensity" of its routine training.
On Tuesday, INDOPACOM announced it had conducted a "carrier-based air demonstration" in the Yellow Sea in response to North Korea's "significantly increased … pace and scale of ballistic missile launches."
The demonstration included the USS Abraham Lincoln and Air Force aircraft, according to a news release.
The Treasury Department on Saturday announced additional sanctions against two Russians and three corporate entities for aiding North Korea's "ongoing development of its weapons of mass destruction and ballistic missile programs."
"Today's actions respond to this threat by targeting a network of Russia-based individuals and entities complicit in helping [North Korea] procure components for its unlawful ballistic missile systems," Brian Nelson, undersecretary for terrorism and financial intelligence, said in a news release.
Stars and Stripes reporter Hana Kusumoto contributed to this report.
---
---
---
---