Experts spot early signs of life at North Korea's dismantled nuclear testing site
By
Stars and Stripes
March 8, 2022
---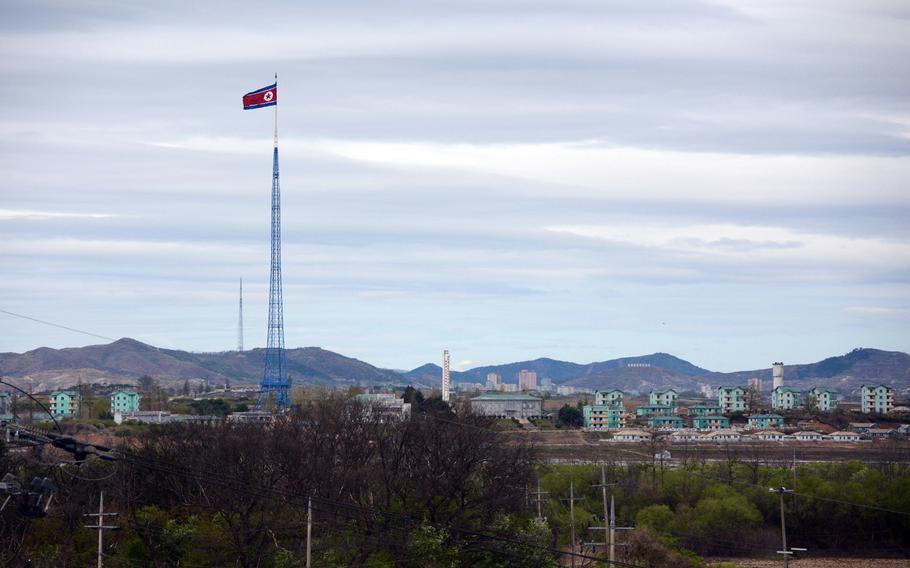 CAMP HUMPHREYS, South Korea — North Korea appears to have launched a construction project at the site of a nuclear testing facility dismantled during inter-Korean negotiations in 2018, according to commercial satellite imagery seen by U.S.-based analysts.
Two analysts from the James Martin Center for Nonproliferation Studies at the Middlebury Institute of International Studies saw "very early signs of activity" at the Punggye-ri site, including "construction of a new building, repair of another building, and what is possibly some lumber and sawdust," according to the report published Monday.
"The construction and repair work indicate that North Korea has made some decision about the status of the test site," Jeffrey Lewis, director of the center's East Asia Nonproliferation Program, and Dave Schmerler, a senior research associate, wrote in the report. "One possibility is that North Korea plans to bring the test site back to a state of readiness to resume nuclear explosive testing."
Punggye-ri is in the mountains of northeast North Korea, where Pyongyang has conducted six known nuclear tests since 2006. The communist regime conducted its last and largest nuclear test on Sept. 3, 2017, in what it claimed was a successful hydrogen bomb test. It triggered a 6.3-magnitude earthquake as measured by the U.S. Geological Survey.
Punggye-ri was supposedly dismantled by North Korea following the inter-Korean summits in 2018. South Korean President Moon Jae-in and North Korean leader Kim Jong Un met for the first time at the border of the two countries on April 27, 2018, rekindling hopes of warmer ties and lowered tensions on the Korean Peninsula.
In the following month, North Korea's state-run news agency claimed the country invited international journalists to observe as it blew up the Punggye-ri site. Although journalists documented the explosion, experts were not invited to observe and assess whether the site was permanently disabled.
North Korea in January indicated it would resume its tests of long-range ballistic missiles and nuclear weapons. On Jan. 19, the state-run Korean Central News Agency called for "immediately bolstering more powerful physical means" to address "hostile moves" from the United States.
The KCNA article mentioned the possibility of restarting suspended activities, a reference many experts believe alluded to North Korea's five-year moratorium on nuclear weapons testing.
In the same article, North Korea's Political Bureau of the Party Central Committee "unanimously recognized that we should make more thorough preparation for a long-term confrontation with the U.S. imperialists."
The researchers note that the test site is "many months, if not years" from being able to conduct nuclear tests and that North Korea may still conduct its testing "at another location."
North Korea is banned by the U.N. Security Council from conducting nuclear and ballistic missile tests. The communist regime has conducted nine missile tests so far this year, including an intermediate-range missile capable of reaching the U.S. territory of Guam.
The U.S. slapped additional sanctions against the regime as recently as January. The Treasury Department imposed sanctions against six North Koreans, a Russian and a Russian company for aiding Pyongyang's weapons program.
---
---
---
---