Japan complains to Russia after two groups of warships pass north and south of Hokkaido
By
Stars and Stripes
March 15, 2022
---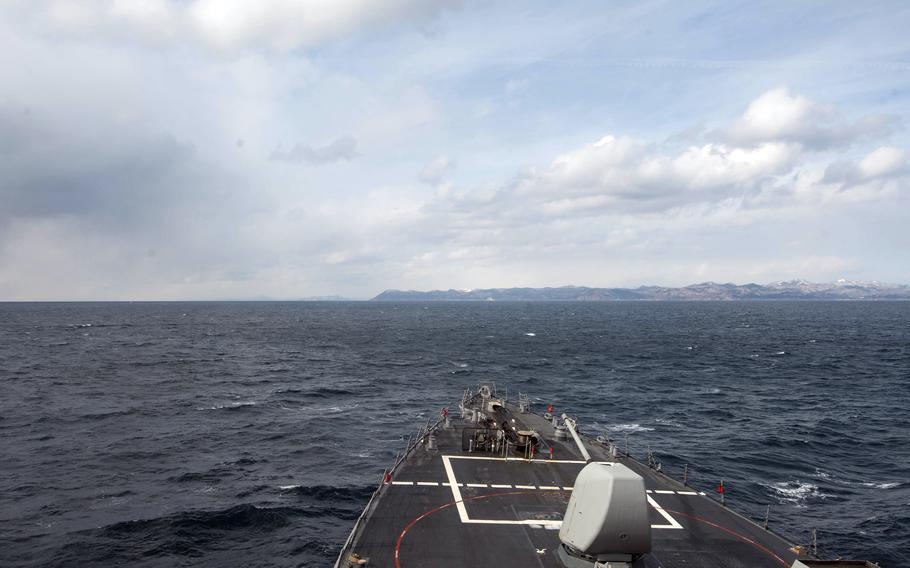 TOKYO — Six Russian warships passed through Soya Strait, which separates Japan's northern island of Hokkaido and Russia's Sakhalin Island, early Monday, according to the Japanese government.
The Russian surface vessels and submarines were about 80 miles southeast of Soya Cape heading northwest, Japan's Joint Staff said in a statement that day.
The vessels included an Udaloy-class destroyer, three Kilo-class submarines, a Marshal Nedelin-class tracking ship and a Goryn-class tugboat, the statement said.
The flotilla moved from the Pacific Ocean to the Sea of Japan/East Sea while monitored by the JS Makinami, a Japan Maritime Self-Defense Force destroyer, according to the statement. The strait at its narrowest is about 30 miles wide.
Ten Russian vessels were spotted at around 2 a.m. Thursday about 112 miles east-northeast of Cape Erimo on Hokkaido's southern coast, the Joint Staff said in a statement Friday. That flotilla, which included an Udaloy-class destroyer and a Steregushchiy-class frigate, traveled westward through Tsugaru Strait.
The Russian military has been conducting large-scale exercises in Sea of Okhotsk since February that correspond to its invasion of Ukraine, and the vessels may have been participating, Chief Cabinet Secretary Hirokazu Matsuno told reporters Tuesday.
Japan has complained to Russia about the ship movements and exercises through diplomatic channels, Matsuno said.
"We protested that we are observing closely with great concern that the Russian military is increasing its activities around our country in the midst of the Ukraine situation," he said.
Japan will remain alert and continue to monitor the situation, Matsuno said.
Japan, in concert with the United States and other countries, has imposed sanctions targeting Russian banks and oligarchs in response to the war in Ukraine. Tokyo has also committed more than $200 million in support for Ukraine, sent bulletproof vests to Kyiv and announced it would accept Ukrainian refugees.
The Russian flotillas are a show of force designed to warn Japan against imposing further sanctions, according to James Brown, an international affairs expert at Temple University's Japan campus.
"Russia promised a response to Japan's decision to join international sanctions and we're now beginning to see it," he told Stars and Stripes in an email Tuesday.
The recent violation of Japanese airspace by a Russian helicopter and live-fire drills of the S-300 missile system on Iturup can be seen as part of this behavior, Brown said.
"As Japan imposes further sanctions, we can expect to see more of this," he said.
Stars and Stripes reporter Seth Robson contributed to this report.
---
---
---
---