South Korea's presidential candidates speak out on Ukraine as nation condemns Russian invasion
By
Stars and Stripes
February 25, 2022
---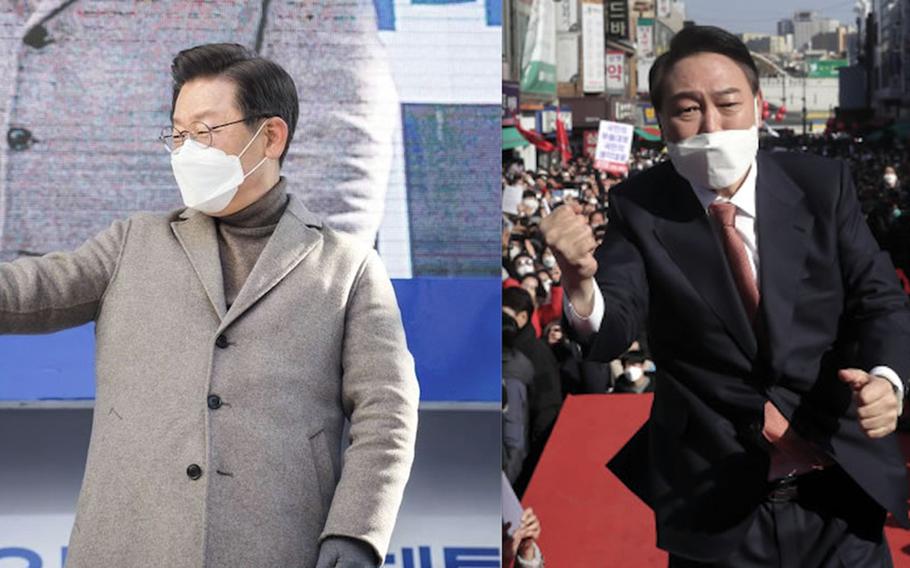 CAMP HUMPHREYS, South Korea — The two front-runners in South Korea's presidential election on Thursday condemned Russian President Vladimir Putin's military operations in Ukraine and took separate paths in outlining solutions to resolve the conflict.
Yoon Seok-youl, the conservative People Power Party's nominee and a former chief prosecutor, condemned the "full-scale invasion" and warned "the situation in Ukraine is by no means irrelevant to us."
"To write it off as a problem of some country on the other side of the world reflects a lack of proper understanding of international relations in the 21st century," Yoon said in a press release Thursday. He added that the war in Ukraine reflects the "diplomatic sorrow of a 'non-allied' nation without an ally."
Yoon, who opposes South Korean President Moon Jae-in's efforts to declare a formal end to the 1950-53 Korean War, cautioned that "memoranda between nations can become mere scraps of paper." Only a strong alliance between Washington, D.C., and Seoul "can enable us to decide our own fate," he said.
Meanwhile, Lee Jae-myung, the ruling Democratic Party's candidate and the former governor of Gyeonggi province, made two seemingly different characterizations about South Korea's policy toward Ukraine.
In a nationally televised speech at a campaign stop in Wonju City on Thursday, Lee described the invasion as "being on the other side of the Earth and having nothing to do with us" but warned of economic consequences to South Korea during times of instability.
"What must not be done by political leaders is to raise a war crisis," he said. "What must be done by political leaders is to keep peace, my fellow Koreans."
Following a meeting with his staff on Thursday night, Lee in a campaign statement expressed "strong regret to Russia's invasion of Ukraine," and said, "the sovereignty of Ukraine must be respected."
The candidates' comments come less than two weeks before South Korea's presidential election on March 9.
Russian forces launched a land, air and sea assault against Ukraine early Thursday after weeks of staging thousands of military troops on their shared border.
Putin has justified the attack as a defensive measure for the pro-Russian separatists in eastern Ukraine. Ukrainian President Volodymyr Zelenskyy and NATO member states dismiss that notion.
U.N. Secretary-General António Guterres on Thursday condemned the invasion. "It is wrong," he said in a speech to reporters at the United Nations in New York, N.Y.
South Korea "strongly condemns" Russia's invasion of Ukraine and "the use of force that causes innocent casualties cannot be justified under any circumstances," according to a Foreign Ministry statement on Friday.
"Ukraine's sovereignty, territorial integrity and independence should be respected," the statement said.
South Korea will take part in efforts to curb Russia's invasion of Ukraine, including taking part in international economic sanctions, according to a statement from President Moon Jae-in on Thursday.
Seoul as of Friday had not specified what sanctions it will impose against the Kremlin. A Foreign Affairs ministry official told Stars and Stripes on Friday by phone that although the government is "looking through details and concrete measures," Seoul is "not yet considering" its own sanctions against Russia.
It's customary in South Korea for some government officials to speak to the media on condition of anonymity.
The U.K. will impose its "most punishing sanctions to inflict maximum and lasting pain" against Putin's inner circle, including Russian oligarchs and financial institutions, Foreign Secretary Liz Truss said in a press release on Thursday.
President Joe Biden also announced additional sanctions Thursday, freezing U.S. assets held in Russian banks and blocking Russia's largest financial institutions, according to a press release and on the White House website.
Stars and Stripes reporter Yoo Kyong Chang contributed to this report.
---
---
---
---