Military housing residents in Hawaii file first claims over Navy's tainted water
By
Stars and Stripes
February 23, 2022
---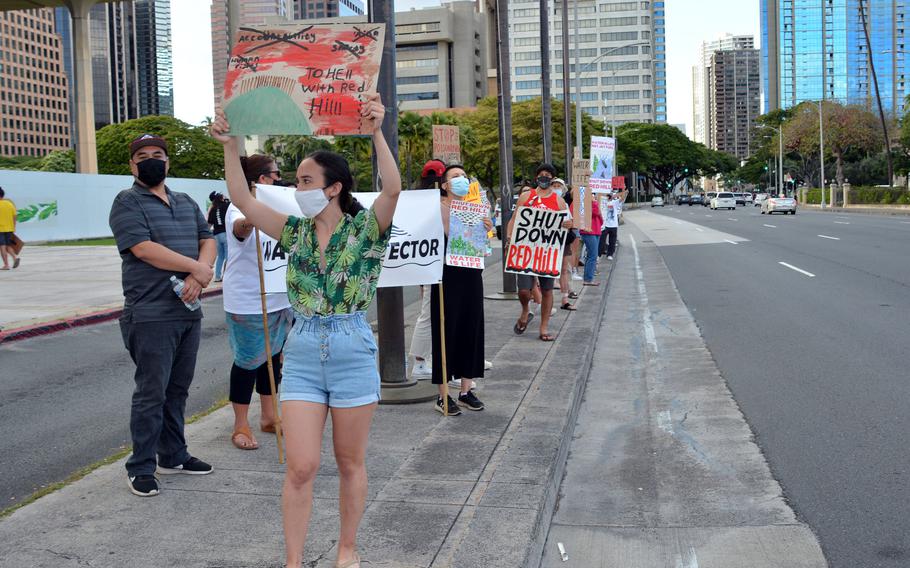 FORT SHAFTER, Hawaii – More than a dozen people claiming they were injured by petroleum contamination in the Navy's water system in Hawaii filed claims with the service Tuesday seeking compensation, their attorneys said in a news release that day.
The claims by 15 individuals, who allege a host of health issues as a result of the contamination, are a prerequisite to filing a lawsuit under the Federal Tort Claims Act in federal court, according to the release by Just Well Law of Austin, Texas, and Hosoda Law Group, of Honolulu, the firms representing them.
The attorneys contend that military medical facilities denied even the most basic care to residents suffering from symptoms, failing to run standard toxicology lab tests to check, for example, liver and kidney function.
The crisis, now in its fourth month, has displaced thousands of military families from their homes on and near Joint Base Pearl Harbor-Hickam. The Navy has said its Red Hill well is contaminated with jet fuel.
"My message to the Navy is, here are the first claims — we have hundreds more to come," attorney Kristina Baehr, of Just Well Law, told Stars and Stripes by phone on Tuesday.
"It's an opportunity for them to make it right," she said. "They have six months from the date of this filing to pay out on the claim."
During this six-month administrative process, the Navy and law firms will negotiate over an agreement on how much compensation would be adequate, Baehr said.
"They need to compensate the families for the harm done," she said.
The Navy's chief of information, Rear Adm. Charlie Brown, said in a statement Tuesday that the Navy "has no comment regarding any potential future legal actions."
Many of those affected by the contamination "continue to suffer a wide range of illnesses and are at risk for conditions such as acute leukemia, respiratory disorders, immune and hematological disorders, neurological effects, visual and hearing disorders, renal and hepatic diseases, cardiovascular conditions, gastrointestinal disorders, genotoxic and metabolic effects," the law firms' news release said.
In a letter to the Navy's judge advocate general, Vice Adm. Darse Crandall, that accompanied the filings, the attorneys wrote that they represent "hundreds of clients who were poisoned by the negligence of federal operators" of the Red Hill Bulk Fuel Facility, a World War II-era underground complex.
"On (at least) two occasions, May 6 and November 20, 2021, United States personnel at Red Hill Bulk Fuel Facility made negligent errors that released tens of thousands of gallons of jet fuel and other contaminants directly into our client's drinking water," the letter stated.
"Because government personnel then failed to disclose those leaks, our clients ingested contaminated water and became sick from that exposure."
The letter outlines the health issues experienced by several of the families. Two children in one family exhibited symptoms of "dehydration, projectile vomiting, abdominal pain and neurological disorders" but were "denied basic testing when they presented at Tripler Medical Center with acute reactions to the contamination," the letter said.
"One of the things that we're asking for is testing for all these families for just a basic toxicology blood lab," Baehr told Stars and Stripes. "The Navy and military facilities should be providing these labs as a matter of course."
Baehr maintains that Navy Secretary Carlos Del Toro's statements that the Navy takes responsibility for the contaminated water should be enough to move the service ahead in compensating those affected.
"The Navy admitted its own wrongdoing, and we hope we can resolve these claims through the administrative process and give [the Navy] a chance to make it right," she said.
olson.wyatt@stripes.com Twitter: @WyattWOlson
---
---
---
---