Small businesses, beleaguered by curfews, get a break amid major COVID-19 surge in South Korea
By
Stars and Stripes
February 18, 2022
---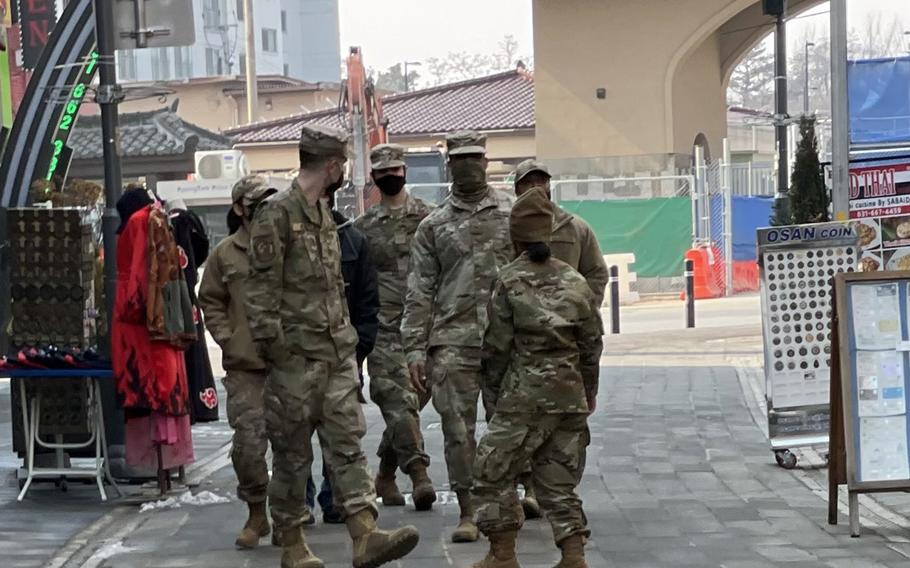 Stars and Stripes is making stories on the coronavirus pandemic available free of charge. See more stories here. Sign up for our daily coronavirus newsletter here. Please support our journalism with a subscription.
CAMP HUMPHREYS, South Korea — South Korean health authorities relaxed social distancing restrictions on Friday despite a recent COVID-19 surge that produced nearly 110,000 new cases the previous day.
The updated restrictions extend business hours in some cases by one hour. They take effect Saturday and end March 13, according to the Ministry of Health and Welfare.
A limit of six people at private gatherings in South Korea is unchanged. The limit applies to vaccinated and unvaccinated people.
However, restaurants, cafes, karaoke clubs, gyms and bathhouses may operate until 10 p.m.
Private classes, internet cafes, movie theaters, casinos and massage salons must also close by 10 p.m.
Large events and rallies that include unvaccinated individuals will be capped at 49 people; events limited to fully vaccinated individuals may admit up to 299 people.
South Korea reported 109,831 new cases Thursday, nearly 16,700 more than the previous day's count.
The nation's most populous province, Gyeonggi, accounted for about 36,500 new cases, the majority of those reported Thursday. Seoul, the capital city, reported 25,651, the second-highest number of new infections that day.
Over 87% of the population of 51 million received the first dose of a COVID-19 vaccine as of Thursday, and more than 86% are fully vaccinated. Nearly 59% of the population received a booster shot.
The social distancing policy update appears to address concerns from small business owners who complained about the nationwide curfew during the pandemic.
The extended curfew has caused a "desperate" situation for businesses, President Moon Jae-in in a statement on Friday. He had urged financial aid for small business owners to "lessen their difficulties as soon as possible," according to a statement from the presidential Blue House on Feb. 8.
Although the country's medical infrastructure is "stable," predicting when the current phase of the pandemic will peak is difficult, an official with the Central Disaster and Safety Countermeasure Headquarters said Friday.
"If we see confirmed cases excessively soar, it may cause trouble to the maintenance of our society's health care systems or essential social functions," Lee Gi-il said at a press briefing.
The roughly 28,500 U.S. troops in South Korea are required to follow the Health Ministry's regulations, according to U.S. Forces Korea. The command's policy bans travel to Seoul except for official duties or visits to the military-run hotel at Yongsan Garrison. Bars, clubs, bathhouses and karaoke clubs are still off-limits.
Unit commanders may apply further restrictions for their troops, such as off-post curfews and travel restrictions.
Despite the record-breaking COVID-19 infections in South Korea, USFK marked four consecutive weeks of declining infections until Feb. 7. The command counted 162 new cases in its latest weekly update on Feb. 15, just nine more cases than the prior week.
---
---
---
---