South Korea posts over 85,100 new COVID-19 infections as CDC tightens travel warning
By
Stars and Stripes
February 15, 2022
---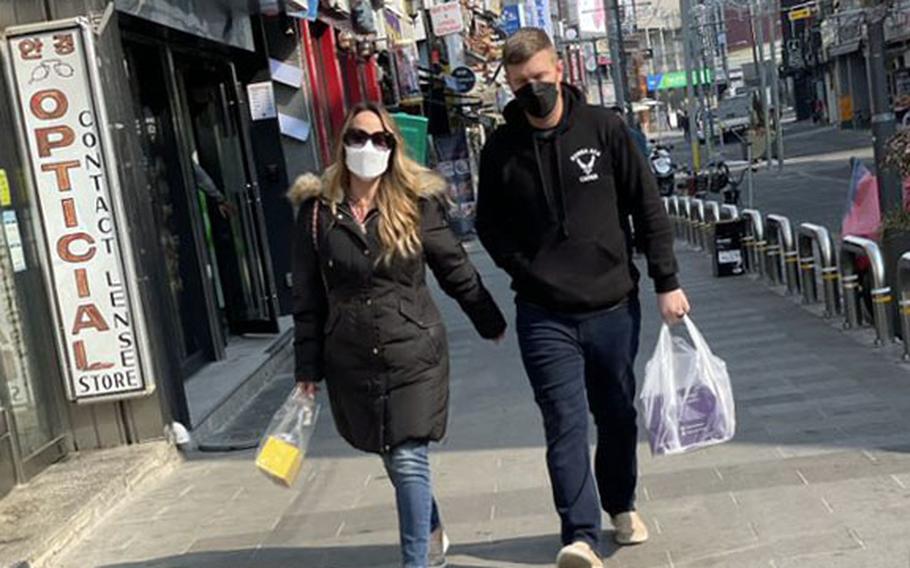 Stars and Stripes is making stories on the coronavirus pandemic available free of charge. See more stories here. Sign up for our daily coronavirus newsletter here. Please support our journalism with a subscription.
CAMP HUMPHREYS, South Korea — Local government health officials in South Korea counted at least 85,114 new COVID-19 infections on Tuesday, a one-day pandemic high surpassing the previous record by nearly 28,000 cases, according to a major media outlet.
Tuesday's figure, released by local health officials at 9 p.m. according to the Yonhap News Agency, is the third in a string of record-setting pandemic days.
The Korea Disease Control and Prevention Agency confirmed 57,177 cases on Monday and 56,428 on Saturday.
Meanwhile, the U.S. Centers for Disease Control and Prevention on Tuesday advised against travel to South Korea after the country posted record-high infections the previous day.
The CDC changed its travel advisory to South Korea from level 3 to level 4, its highest category, due to the "very high" number of cases in the country. The agency advises those who must travel to the country to be vaccinated and wear well-fitting face masks. All overseas visitors, regardless of their country of origin or vaccination status, are required to quarantine for seven days upon entry.
However, 90% of COVID-19 patients in South Korea show few or no symptoms, an official with the Central Disaster Management Headquarters said Tuesday. She urged residents to get vaccinated.
"With all its might, the government will do its best for the settlement of new preventive measures against COVID-19 and its medical treatment system and to try to ensure the people go forward to their normal life again," Park Hyang, head of the General Epidemic Prevention Office, said in a public briefing.
South Korea's medical care system "is in a stable condition," Park added.
Over 87% of the country's 51 million people received the first dose of a COVID-19 vaccine and nearly 58% received a booster shot as of Tuesday, according to the KDCA.
U.S. Forces Korea, the military command responsible for roughly 28,500 troops, reported 162 new infections over a seven-day period ending Monday. That figure is just nine more cases than recorded between Feb. 1 and Feb. 7 but far fewer than the command's record high of 1,599 cases between Jan. 4 and 10.
USFK, after four consecutive weeks of declining infections, loosened its social distancing policies on Friday to allow American troops and their families to dine indoors at local restaurants. The command still limits travel to Seoul to official duties or visits to the Dragon Hill Lodge, a hotel at Yongsan Garrison, and still bans trips to bars, clubs, bathhouses and karaoke clubs.
"Over the last four weeks, USFK has seen a downward trend to our confirmed cases, and we applaud everyone for their continued efforts," USFK spokesman Army Col. Lee Peters told Armed Forces Network Pacific on Friday.
More than 90% of the command's population is fully vaccinated and 40% of the community received a booster shot, Dr. Douglas Lougee, an Army colonel and USFK's command surgeon, told AFN Pacific.
"Don't let the talk about omicron being milder fool you," he said, referring to the dominant variant of the coronavirus. "This is still a serious disease."
---
---
---
---