Emanuel touts US-Japan relationship as 'bedrock' of Indo-Pacific alliances
By
Stars and Stripes
February 17, 2022
---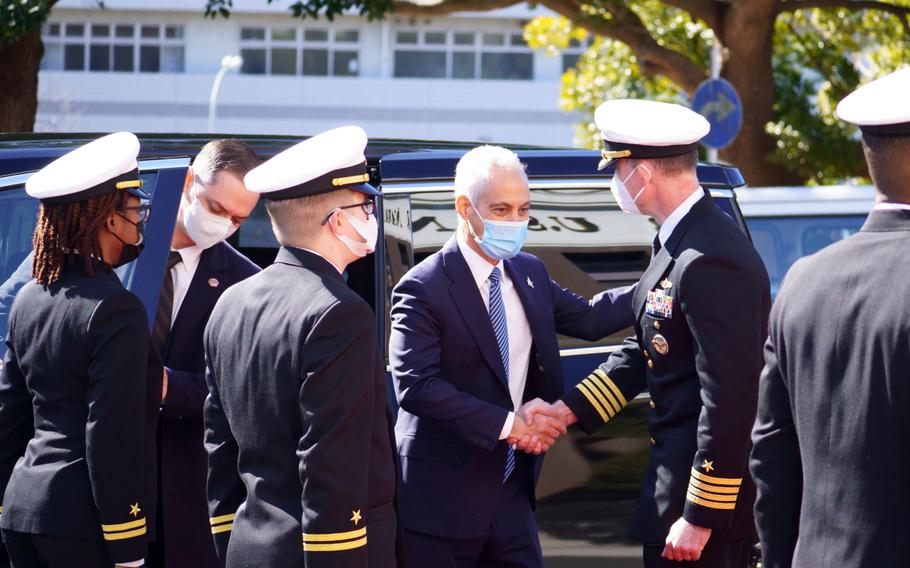 YOKOSUKA NAVAL BASE, Japan — The new U.S. ambassador to Japan arrived on the morning commuter train Thursday at the homeport of the U.S. 7th Fleet, where he contrasted the U.S. and its partners in Asia with their regional contenders.
But first, Ambassador Rahm Emanuel met with Japanese government and U.S. Navy officials and attended a naturalization ceremony for sailors and military spouses aboard the aircraft carrier USS Ronald Reagan.
Then he spoke to the U.S.-Japan relationship and tensions with China, Russia and North Korea.
"We have three individual countries who don't share any ideals, values or principles that the United States and Japan share," he told Stars and Stripes in an interview.
China, specifically, has stifled dissent in Hong Kong, used its coast guard to harass Philippine fishermen and its troops have provoked violence along the border with India, Emanuel said.
On the opposite side, countries such as Australia, Thailand, New Zealand, India and South Korea share values and alliances with the U.S. and Japan that the others lack, he said.
"The one thing that Beijing, Moscow and North Korea do not share or do not have is alliances, and what scares them is that we have a shared set of goals with collective countries that collectively has a force and act with a unified mission," Emanuel said.
The relationship between the U.S. and Japan is the "bedrock" of those alliances, he said. The mission of the U.S. military in Japan is to build that relationship so the U.S. can project both military power and the "power of our ideas and values."
The relationship between U.S. forces in Japan and the Japanese government has been strained at times due to the coronavirus pandemic.
In January, Japanese Foreign Minister Yoshimasa Hayashi called on Secretary of State Antony Blinken to limit travel by U.S. personnel in Japan after U.S. commanders acknowledged that many military travelers returning from the U.S. had tested positive for COVID-19. The U.S. military population spent three weeks under a stay-at-home order that month.
Emanuel said he believed that U.S. military forces have been a "really good neighbor" by vaccinating both their own personnel and Japanese workers employed on bases.
"It's a good neighbor policy," he told Stars and Stripes. "We're working on some ideas through the government right now to continue that good neighbor policy in a way that I think creates its own goodwill."
Emanuel arrived in Japan on Jan. 23, just a month after being sworn in as the 31st U.S. ambassador to Japan. He succeeds William Hagerty, who resigned in 2019 to run for the U.S. Senate.
Ahead of his appointment as ambassador, Emanuel was outspoken about conflict in the region and specifically singled out China in an October statement to the Senate.
"China aims to conquer through division," he said. "America's strategy is security through unity. That regional unity is built on the U.S.-Japan alliance."
---
---
---
---