From Chicago to Tokyo: Rahm Emanuel takes embassy post in Japan
By
Stars and Stripes
January 24, 2022
---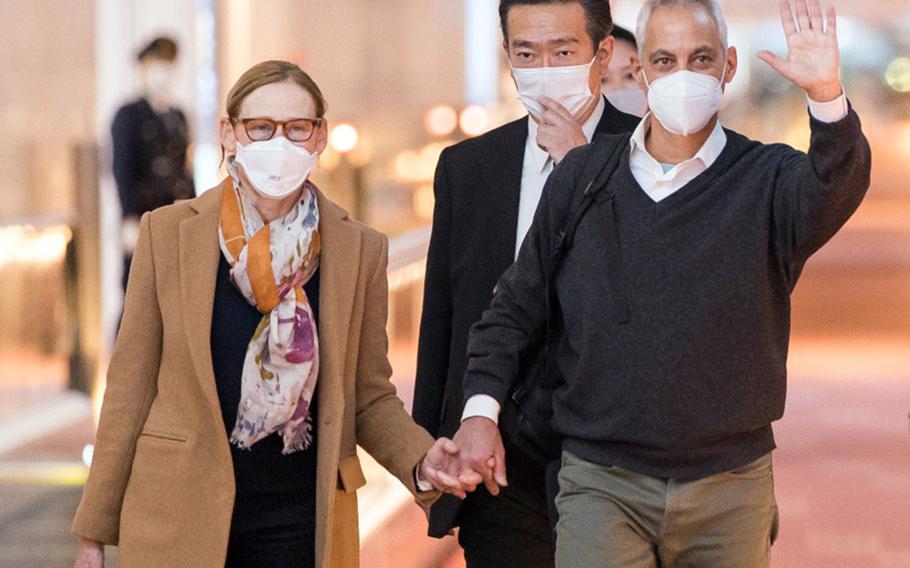 The new U.S. ambassador to Japan arrived quietly in Tokyo on Sunday, filling a diplomatic post that has been vacant more than two years.
Rahm Emanuel, 62, landed at Haneda International Airport with little fanfare and without a news conference due to ongoing COVID-19 restrictions, according to a news release the same day from the U.S. Embassy in Tokyo.
Emanuel, along with his wife, Amy Rule, also announced their arrival on Twitter.
"Amy and I are excited to have arrived in Japan and are eager to meet the people of Japan as we travel throughout the country," Emanuel tweeted Sunday.
The U.S. Senate confirmed Emanuel's appointment on Dec. 18 and he was sworn in Dec. 22 as the 31st ambassador to Japan, according to the embassy. He succeeds William Hagerty, who resigned in 2019 to return to Tennessee and run for U.S. Senate. Hagerty, a Republican, won that election and took office in January 2021.
In an October statement to the U.S. Senate Foreign Relations Committee, Emanuel said his top priority as ambassador would be to strengthen U.S. ties with Japan, which he called the "cornerstone of peace and prosperity" in the Indo-Pacific.
He also singled out China in the statement. Tensions between the U.S.-Japan alliance and Beijing have continued to escalate in recent years, particularly over the South China Sea and Taiwan.
"China aims to conquer through division. America's strategy is security through unity. That regional unity is built on the U.S.-Japan alliance," Emanuel said.
Emanuel, in a Jan. 5 interview with Japan's Yomiuri newspaper, said it will be necessary to constantly strengthen that alliance, especially in the face of security threats from China and North Korea.
A Chicago native, Emanuel has had a lengthy history in public service. He began his career in the federal government as a senior adviser to former President Bill Clinton between 1993 and 1998. He was later elected to the House of Representatives, serving from 2002 to 2008.
Resigning as a member of Congress, Emanuel accepted an appointment as the White House Chief of Staff for former President Barack Obama in 2008. He served in that capacity for a little over a year before leaving to run for mayor of Chicago.
Emanuel served as mayor from 2011 to 2019, having been reelected in 2015. While leading in the polls for the 2019 election, he dropped out early to pursue the "next chapter" of his life, according to a 2018 Chicago Tribune report.
---
---
---
---