Japan Coast Guard issues salvage alert for South China Sea days after US Navy F-35 crash
By
Stars and Stripes
February 1, 2022
---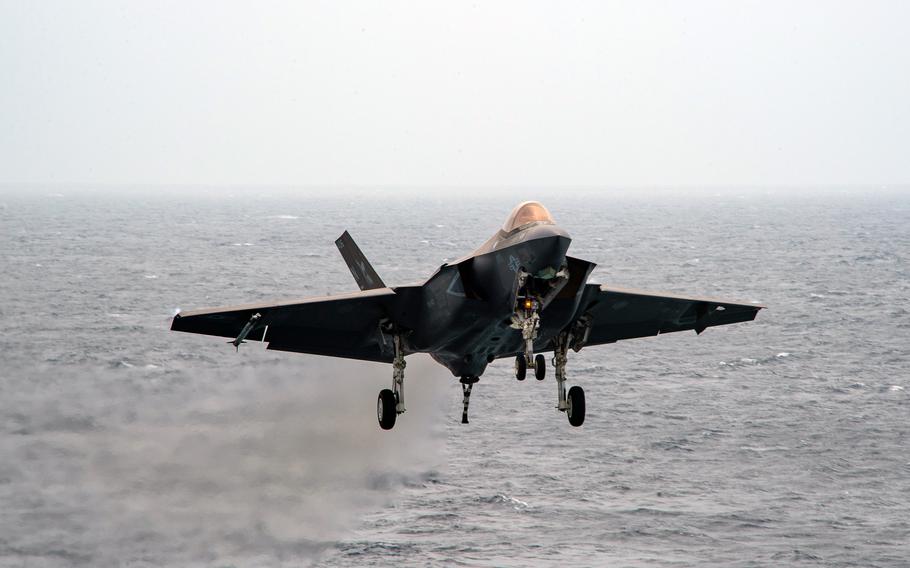 The Japan Coast Guard issued a maritime navigational alert for salvage operations in the South China Sea over the weekend, indicating the U.S. Navy may be starting its effort to recover a stealth fighter that sank in the ocean last week.
An F-35C Lightning II crashed on Jan. 24 while attempting to land on the aircraft carrier USS Carl Vinson. The U.S. 7th Fleet plans to salvage the aircraft, it said last week.
Saturday's navigational alert, issued by the coast guard's Hydrographic and Oceanographic Department, specifies that salvage operations are taking place "until further notice" approximately 300 miles northeast of the Paracel Islands and 170 miles off the western coast of the Philippines.
However, 7th Fleet spokeswoman Cmdr. Hayley Sims would not comment on whether the navigational alert was related to the Navy's salvage plans.
"The U.S. Navy is making recovery operations arrangements for the F-35C aircraft involved in the crash aboard USS Carl Vinson in the South China Sea," she said Tuesday by phone.
The Navy will attempt to recover the aircraft while keeping safety and national security interests in mind, Pentagon press secretary John F. Kirby said Thursday.
"We're certainly mindful of the value of an F-35 in every respect of what value means," he said at a media briefing.
The "C" variant of the fifth-generation fighter is configured for carrier landings and costs approximately $103 million per aircraft, according to manufacturer Lockheed Martin, but its value also includes classified technology.
The aircraft crashed into the deck of the Carl Vinson during a landing attempt, then fell into the water, the Navy said last week. The pilot ejected and was picked up by a rescue helicopter, and six other sailors were injured in the crash.
Three were flown to a hospital in Manila, the Philippines; the remaining four were treated aboard the Carl Vinson.
Sims said the three sailors who were hospitalized have since been released. She said the incident is under investigation and no further details are available.
In March, the Navy broke its depth record for the recovery of a sunken aircraft when it fished an MH-60s Seahawk from 3.6 miles beneath the surface of the Philippine Sea after it crashed the previous year.
---
---
---
---