Navy plans to recover F-35 from South China Sea after carrier's fifth aircraft mishap in recent months
By
Stars and Stripes
January 26, 2022
---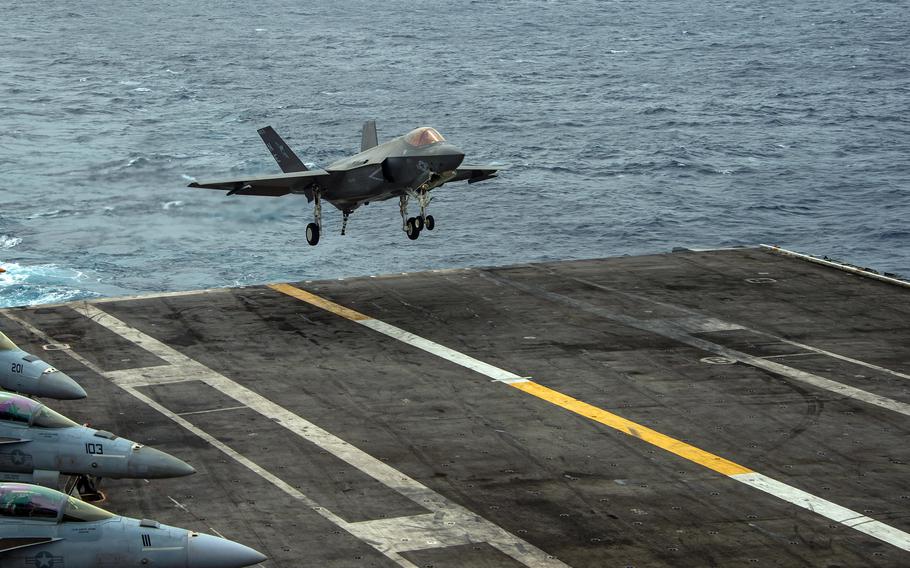 The U.S. Navy is planning to recover an F-35C stealth fighter that fell into the South China Sea after crash-landing on the USS Carl Vinson earlier this week, according to a Navy official.
The incident is the fifth in a series of Class-A mishaps involving the Carl Vinson's aircraft contingent, Carrier Air Wing 2, in recent months.
The F-35C Lightning II was attempting to land aboard the aircraft carrier during routine flight operations on Monday. The jet struck the flight deck before falling into the water, 7th Fleet spokeswoman Cmdr. Hayley Sims told Stars and Stripes by phone Wednesday.
"The U.S. Navy is making recovery operations arrangements for the F-35 aircraft to be recovered, but I don't have any details past that," she said.
The pilot ejected and was picked up by a rescue helicopter, the Navy said Monday. Six other sailors were injured in the crash. Three were flown to a hospital in Manila, the Philippines; the remaining four were treated aboard the Carl Vinson.
All seven were in stable condition Wednesday afternoon, Sims said.
The cause of the crash is still under investigation, and no additional details were immediately available, Sims said. The "C" variant of the fifth-generation fighter is configured for carrier landings and costs approximately $103 million per aircraft, according to manufacturer Lockheed Martin.
The Carl Vinson was taking part in a dual-carrier training operation that began Sunday and included the USS Abraham Lincoln and their respective carrier strike groups.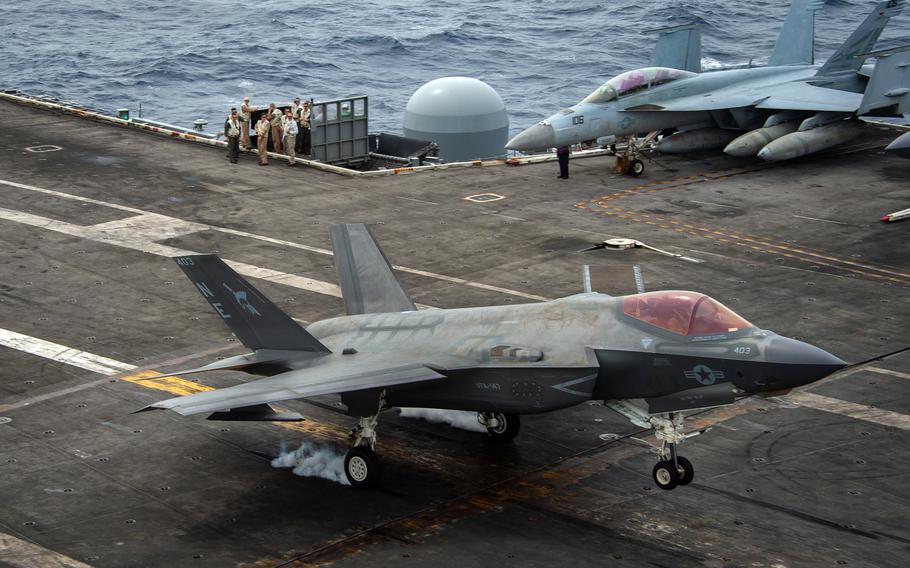 Sims verified that four Class A mishaps involving aircraft assigned to the carrier occurred between Nov. 22 and Dec. 31. The Navy defines a Class A mishap as either involving loss of life or permanent disability, or the complete loss of an aircraft or property damage of $2.5 million or more.
The first mishap occurred Nov. 22, when an F/A-18E Super Hornet's starboard engine caught fire mid-flight. The fighter jet landed safely, and no one was injured, according to the Naval Safety Center.
Two days later, an MH-60R Seahawk's dipping sonar equipment "unexpectedly detached" from the helicopter during an anti-submarine warfare training exercise, according to a Dec. 2 report from Navy Times.
On Nov. 29, another Super Hornet suffered a system failure while airborne. The aircraft was recovered safely without injuries, but subsequent inspections revealed what appeared to be Class A damage to the fighter's structure, according to the Naval Safety Center.
Two days later, a CMV-22B Osprey tiltrotor aircraft's starboard engine caught fire on the Carl Vinson's flight deck. No injuries were reported.
All five incidents remain under investigation, said Sims, who couldn't "speak to any pattern or any kind of speculation" on them until the investigations are concluded.
---
---
---
---