Photos leaked of F-35 fighter jet that crashed into South China Sea
By
New York Daily News
January 28, 2022
---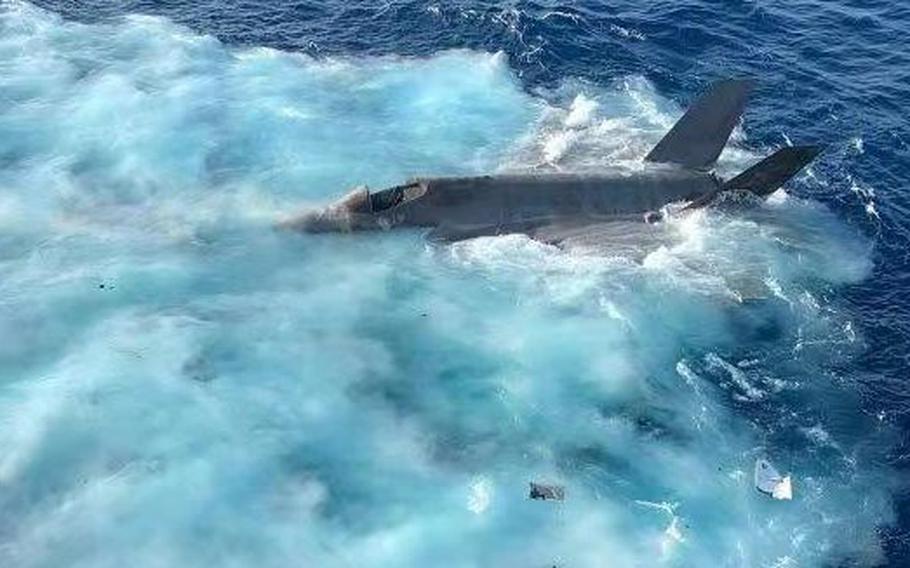 (Tribune News Service) — Photos and video have surfaced of an F-35C stealth fighter that crash-landed in the South China Sea on Monday.
The F-35 was approaching the USS Carl Vinson aircraft carrier, but it came in too fast, hit the deck of the ship and skittered into the ocean, CNN reported.
Seven people, including the pilot were injured. The pilot was able to eject in time, and all sailors were in stable condition by Friday, according to CNN.
A spokesperson for the US Navy's 7th Fleet told CNN on Friday that an investigation into the incident is continuing while confirming images that have emerged on social media since the crash are genuine.
"The ship has assessed that the video and photo covered by media today were taken onboard USS Carl Vinson ... during the crash," Cmdr. Hayley Sims, public affairs officer for the 7th Fleet told CNN.
A video, also confirmed as real, showed the plane approaching the ship before disappearing from view behind a cloud of smoke, with a crash heard shortly after.
The F-35C is the military's newest stealth fighter and each one reportedly costs $100 million. While the photos have surfaced, the plane has not, and the Navy is hoping to recover it from the South China Sea floor. Officials said they don't want it to fall into China's hands. China claimed to be indifferent.
"We have no interest in their aircraft," China foreign ministry spokesman Zhao Lijian said Thursday. "We urge the country concerned to do things that are conducive to regional peace and stability, rather than flex muscles in the region."
©2022 New York Daily News.
Visit nydailynews.com.
Distributed by Tribune Content Agency, LLC.
---
---
---
---