Coronavirus wave builds in Japan while US military's case count holds steady
by
Joseph Ditzler
Stars and Stripes
January 13, 2022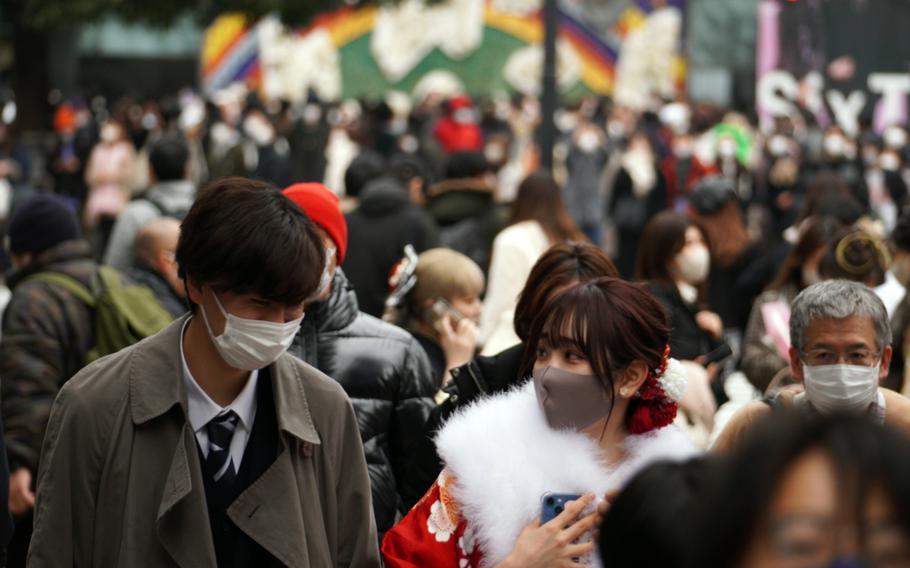 TOKYO — The sixth wave of the coronavirus pandemic in Japan has pushed the country's new case numbers to heights not seen in four months.
Tokyo confirmed another 3,124 people tested positive for the virus on Thursday, five times the number a week prior and the most on one day since 3,097 on Sept. 2, according to public broadcaster NHK and metro government data.
Japan reported 13,044 individuals tested positive on Wednesday, according to the Johns Hopkins Coronavirus Resource Center. That's twice the previous day's number but half the one-day record of 25,992 new cases on Aug. 10.
U.S. Forces Japan, in a daily summary begun this week, reported 250 new cases at 12 U.S. bases Thursday and another 147 pending confirmation. Data from five installations was not available, according to the update.
On Wednesday, the command reported 692 new cases at 17 bases and 118 pending confirmation.
No one with the U.S. military is hospitalized with COVID-19 or considered seriously ill, according to the daily summaries.
About 98% of the U.S. military in Japan is vaccinated and nearly 40% have received booster shots, USFJ spokesman Air Force Maj. Thomas Barger told Stars and Stripes by phone Thursday.
The U.S. military population is nearing the end of its first week under a two-week order to remain on base or in their off-base homes, with some exceptions, to curb the coronavirus' spread. USFJ imposed the order by agreement with the Japanese government, which expressed concern that Americans arriving in Japan for military duty or returning from holiday leave were bringing COVID-19 into Japanese communities.
It's too early to say whether the stay-at-home order may be extended beyond its Jan. 24 deadline, Barger said. He said numbers may tell early next week whether the surge has peaked.
Despite pandemic fatigue, people have complied with the order, Barger said.
Camp Hansen, a Marine Corps base on Okinawa, accounted for 109 new cases on Wednesday but 55 on Thursday. Yokota Air Base in western Tokyo, the headquarters of USFJ, also reported 55 cases Thursday, up from 46 the previous day. The base fitness center closed until Thursday due to the increase in coronavirus cases, according to a statement from the center.
Kadena Air Base, also on Okinawa, reported 88 cases on Wednesday but just four Thursday, according to USFJ. The 18th Wing has postponed physical fitness testing until the threat of severe coronavirus infections is passed, according to a statement emailed Thursday to Stars and Stripes.
Yokosuka Naval Base south of Tokyo reported 86 cases on Wednesday but did not report on Thursday, according to USFJ. Another 118 were awaiting confirmation but were included in the USFJ total.
Naval Air Facility Atsugi, about 25 miles southwest of Tokyo, had 32 people turn up positive Thursday, bringing the base total to 180, base spokesman Sam Samuelson said by phone to Stars and Stripes. Of those, 124 contracted the virus locally and 56 tested positive upon arrival in Japan.
Sasebo Naval Base on Kyushu Island had 18 individuals test positive, according to a post on the base Facebook page Thursday. Fifteen had fallen ill and three were found during medical screenings. The base has 148 active cases.
At Marine Corps Air Station Iwakuni, 25 miles south of Hiroshima, 29 people tested positive on Wednesday, according to a base news release Thursday. The base was a hotspot for COVID-19 and on Jan. 6 reported a peak of 529 active cases.
---
---
---
---