COVID-19 cases rise quickly in Okinawa and Tokyo while US numbers hold steady
by
Joseph Ditzler
Stars and Stripes
January 12, 2022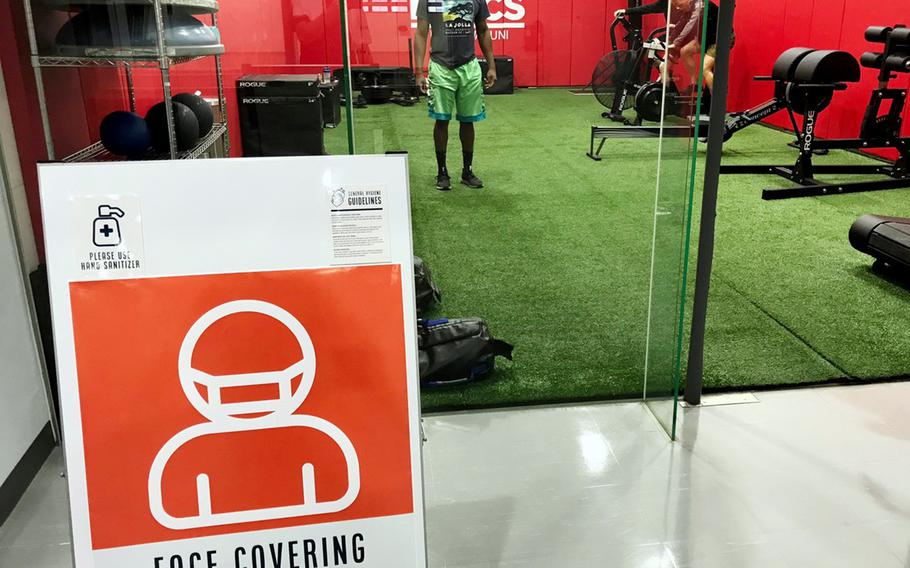 Stars and Stripes is making stories on the coronavirus pandemic available free of charge. See more stories here. Sign up for our daily coronavirus newsletter here. Please support our journalism with a subscription.
TOKYO – New coronavirus case numbers multiplied again Wednesday in Japan's capital city, where 2,198 people tested positive, according to public broadcaster NHK.
More than twice as many people in Tokyo tested positive Wednesday as the previous day and five times as many as one week prior. Not since Sept. 4, on the tail end of the last coronavirus surge, has Tokyo reported more than 2,000 new cases, according to metropolitan government data.
On U.S. military bases in Japan, more than 400 people tested positive for COVID-19, the coronavirus respiratory disease, on Tuesday and Wednesday, according to military and Japanese reports.
In Tokyo, data from the metropolitan government on Tuesday showed that while case numbers are growing, the effects of this wave are less severe, so far, than the previous one in summer and fall. About 12% of hospital beds were occupied with COVID-19 patients as of Tuesday. Of those, four are severely ill and occupy less than 1% of the 510 beds set aside for those infections.
However, this latest wave is still gaining strength in the capital city. The running seven-day average of new COVID-19 cases has steadily increased from 60.1 people on Jan. 1 to 890.4 on Tuesday, according to metro data.
The U.S. military on Wednesday said another 472 people had contracted COVID-19 in the past week.
The bulk of them, 102 individuals, are with U.S. Army Japan, headquartered at Camp Zama southwest of central Tokyo. All tested positive since Jan. 5, according to a news release.
Airport testing by Japanese officials discovered 11, and five tested positive while in post-travel restriction of movement. Another 39 were already isolated as close contacts, 44 had fallen ill with symptoms of the respiratory disease and three were discovered by pre-travel tests, according to the Army.
Also Wednesday, the U.S. military population passed a third day largely confined to their homes and installations, except for work-related travel and essential services. U.S. Forces Japan and the Japanese government agreed over the weekend to keep U.S. personnel out of local communities to curb the virus' spread.
Japanese authorities were alarmed at the number of new cases on military bases brought into the country by Americans reporting to new duty stations or returning from holiday leave. Three prefectures – Okinawa, Hiroshima and Yamaguchi – are under a "quasi-emergency" because of rising coronavirus numbers. Restaurants there are urged to close early, and sales of alcohol are discouraged.
Okinawa and Yamaguchi are home to U.S. bases. Hiroshima is adjacent to Yamaguchi.
Okinawa prefecture, home to the bulk of U.S. forces in Japan, said Wednesday another 1,644 people on the island had tested positive, the second highest daily total after 1,759 reported Saturday, according to the prefectural Department of Public Health and Medical Care.
However, only 3.2% of active cases on the island are hospitalized and none are considered severely ill, the daily Public Health update said.
The department also reported 295 new cases among the U.S. military community on the island Wednesday. U.S. commands on Okinawa have reduced their public reports of new cases to weekly summaries or none at all in some cases.
Marine Corps Installations Pacific has 1,659 active cases among its Okinawa population, according to an email Wednesday to Stars and Stripes from command spokeswoman 1st Lt. Ashleigh Fairow.
At MCAS Iwakuni in Yamaguchi prefecture, another 34 people turned up positive on Tuesday, according to a base news release on Wednesday. New case numbers at the air station, where Navy and Marine fighter squadrons are based, have fallen since a one-day high of 182 on Jan. 4.
Sasebo Naval Base on Kyushu Island reported 30 cases Wednesday, according to a post on the installation's Facebook page. Six were discovered during medical screenings and 24 fell ill with symptoms of the disease. The base has 144 active cases.
Naval Air Facility Atsugi, about 25 miles southwest of Tokyo, reported 13 new cases Tuesday, according to a post Wednesday on the official base Facebook page. The air station has 151 active cases, 52 of them are new arrivals to Japan and 99 acquired their infections locally.
Stars and Stripes reporters Mari Higa and Matthew M. Burke contributed to this report.
---
---
---
---