Two-week stoppage puts remainder of DODEA-Pacific winter sports season in doubt
by
Dave Ornauer
Stars and Stripes
January 11, 2022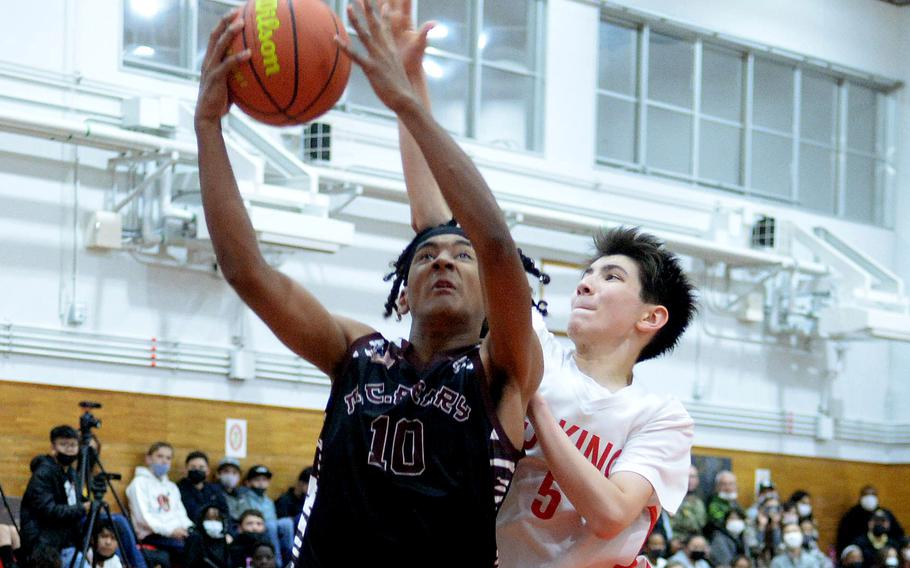 Stars and Stripes is making stories on the coronavirus pandemic available free of charge. See more stories here. Sign up for our daily coronavirus newsletter here. Please support our journalism with a subscription.
Basketball and wrestling competitions at Defense Department schools in Japan, South Korea, Okinawa and Guam have been put on hold for two weeks amid an uptick in coronavirus cases.
Teams may continue to practice and scrimmage, Department of Defense Education Activity-Pacific officials said Tuesday. But basketball games and wrestling meets will have to wait until after Jan. 24, when officials will reconvene to discuss the matter.
The pause comes as U.S. Forces Korea has implemented health protection condition bravo-plus until further notice and U.S. Forces Japan entered health protection condition bravo until at least Jan. 24, DODEA-Pacific chief of staff Todd Schlitz said.
The following events were postponed:
* DODEA-Korea's wrestling tri-meets Saturday at Humphreys and Jan. 22 at Osan; three boys basketball games Saturday at Daegu and Jan. 22 at Humphreys; and girls basketball Saturday at Osan and Jan. 22 at Daegu.
* DODEA-Okinawa wrestling Friday at Kadena and Jan. 19 at Kubasaki; and basketball Thursday and Jan. 21, the latter ending the regular season on the current schedule.
And for DODEA-Japan, four wrestling tri-meets slated over the next two weekends were called off, as were three dual meets on Jan. 19.
Long-haul bus trips for basketball this weekend at Matthew C. Perry and Robert D. Edgren and Jan. 21-22 at Zama American and Nile C. Kinnick were scratched as well.
Though the DODEA-Pacific winter sports season is scheduled to end the second weekend of February, the intent is to make up as many games and meets as possible, officials said.
"It depends on whether they can fit in" what competitions are left in the season, DODEA-Pacific athletics coordinator Tom McKinney said. "We'll try to make them up, move them around. We're going to do everything we can to make them up."
He said it's not yet known whether the pause will affect DODEA-Japan's postseason tournaments Feb. 10-12: boys basketball at Yokota, girls at Zama and wrestling at Kinnick.
While DODEA schools in South Korea and Okinawa compete only with each other, those in Japan also play against international schools. It's unknown whether those games can proceed, McKinney said. Guam High is the only DODEA school on the island and competes against private and public schools.
Yokota, Zama, Kinnick and Edgren were also planning to participate in the American School in Japan Kanto Classic, scheduled for Jan. 28-29.
Event director Timmy Jacobsson said the tournament is still a go for now. But whether the DODEA schools can participate remains a question.
DODEA-Japan community superintendent Ronald Knight was traveling from the U.S. to Japan and unavailable for comment Tuesday.
While coaches and players expressed disappointment, they also said they understand.
"We're putting player safety first," said Eddie Rozzi, girls basketball coach at Humphreys, whose team didn't have a season last school year. "I feel for all our seniors who have been here and not had basketball. (But) they didn't have much choice."
Yokota's boys and girls teams were scheduled to travel to play at Perry this weekend.
"We have to stay cautious about COVID and hope for the best, that the whole season isn't canceled," Perry senior Shion Fleming said.
Competitions weren't the only team events taken off the table. Edgren's basketball teams were gearing up for their senior celebration Friday, athletic director Andre Thibert said. The plan now is to move it to Feb. 4, he said.
"We're just waiting to see what happens," Thibert said. "We can't really control it. It would be nice if we could."
---
---
---
---