DODEA-Korea cancels another week of sports. Japan next?
by
Dave Ornauer
Stars and Stripes
January 10, 2022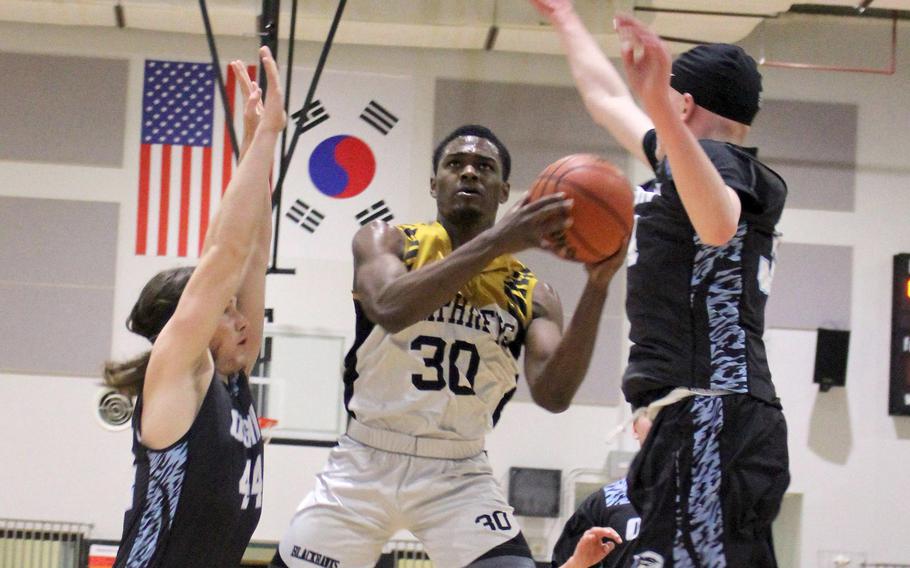 Stars and Stripes is making stories on the coronavirus pandemic available free of charge. See more stories here. Sign up for our daily coronavirus newsletter here. Please support our journalism with a subscription.
Bailee McCollum is in her first year of playing basketball for Osan's girls team, and says she has been enjoying learning about a new sport – until last Saturday, when her team's three scheduled games were called off due to coronavirus concerns.
The same thing is happening this week – Saturday's wrestling tri-meet at Humphreys, three boys basketball games at Daegu and four girls basketball games at Osan have been scratched, according to DODEA-Korea administration officials.
"It's hard to get our hopes up each week, then have it canceled," McCollum said. "I understand COVID is contagious and that the school is trying their best to protect us. But it's still bad."
U.S. Forces Korea on Saturday upgraded to Health Protection Condition Bravo-Plus, one step away from HPCON Charlie, which would shutter schools and cancel all sports. On Monday, USFK extended its Public Health Emergency for all bases for 90 days.
And Humphreys High School's official Facebook page has been reporting undetermined numbers of students testing positive for COVID.
Thus, "after consulting with the commanders in Osan (Air Base), Daegu and (Camp) Humphreys, we will need to cancel our sports events (including practices) during the week of Jan. 10," DODEA-Korea community superintendent Helen Bailey said in an email to Stripes.
In addition to the rise in COVID cases, DODEA officials said, some coaches have yet to return from holidays in the States. Some who have are in quarantine. Some students and coaches are awaiting COVID test results. And parents are concerned about letting their children travel under current conditions.
It's not just Korea where high school athletics have been pushed to the back burner due to COVID concerns.
U.S. Forces Japan on Monday implemented HPCON Bravo and has restricted Status of Forces personnel, active duty and civilian, to essential activities off base through Jan. 24.
DODEA-Pacific officials said a meeting of district superintendents and area office representatives will take place Tuesday to discuss the situation. But the handwriting appears to be on the wall for at least the next two weeks regarding sports in Japan and Okinawa.
Bailey in her email said: "We anticipate being able to resume our activities" next Tuesday.
"That would be amazing," McCollum said. "I'm glad they haven't canceled it (winter sports season) completely."
DODEA-Korea's next scheduled competitions are Jan. 22: wrestling at Osan, boys basketball at Humphreys and girls at Daegu.
---
---
---
---