Thanks, omicron: Japan cancels popular Tokyo-Okinawa flights for returning US military travelers
by
Joseph Ditzler
Stars and Stripes
December 1, 2021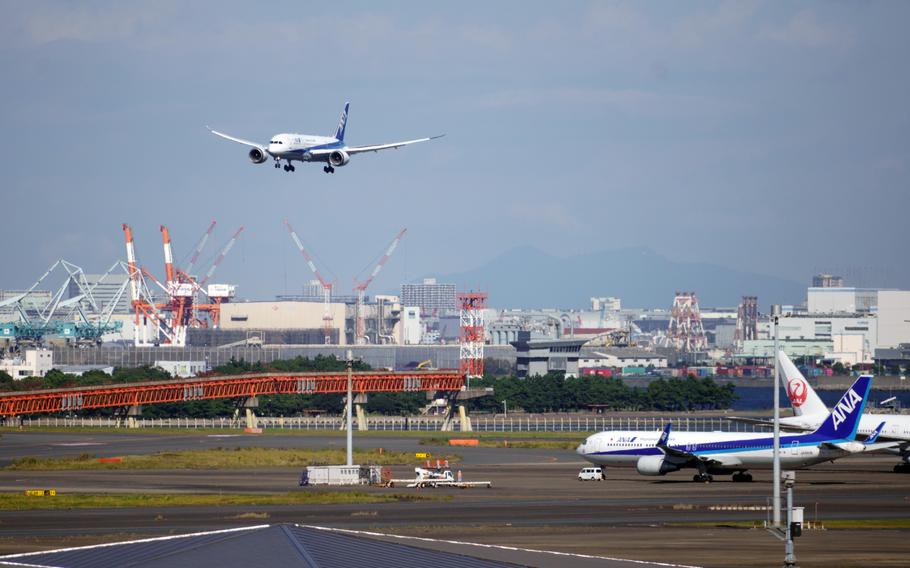 TOKYO — A short-lived program that allowed U.S. military members returning to Okinawa to fly directly from a Tokyo airport after eight hours between flights has been canceled.
The program's cancellation follows Japan's decision to close its borders Tuesday to most new incoming foreign travelers through the end of December as a precaution against the spreading omicron variant of the coronavirus.
The Okinawa Domestic Connection Program reduced the lodging costs for 10 days of mandatory coronavirus quarantine, or restricted movement, in the Tokyo area that many service members, Defense Department employees and their families found costly.
The program allowed them to travel from Haneda International Airport to Naha, Okinawa, after a minimum eight hours between flights in approved lodging. They were required to complete their restriction of movement, or ROM, at their destination.
"It pains me to pass on that [the government of Japan] has made the decision to cancel the Okinawa Domestic Connection Program" as of Thursday, according to an email Wednesday to participating travelers from the program coordinator, Marine Maj. Denver Edick. "I know many of you were using this program to get back from visiting with family or bringing family out here to Okinawa for the holidays."
The program provided 15 seats across two flights each day, Monday through Friday, on a first come, first served basis to Americans covered by the status of forces agreement. SOFA outlines the rights and responsibilities of U.S. military and DOD civilians in the host country.
The program accepted applications, approved eligible travelers and booked seats on All Nippon Airways flights between Haneda and Naha. The program started in mid-November as a 30-day trial with five seats each day.
SOFA travelers responded eagerly to the program, Edick told Stars and Stripes on Monday. Available seats were booked into February. Before the new Japanese entry restrictions were announced, Edick said he expected the program would be extended beyond its original 30 days.
Instead, it ends with a flight on Thursday, unless U.S. Forces Japan manages to shortcut the cancellation, Edick said in his message to clients.
"If USFJ is able to get the suspension of the program changed or lifted (unlikely at this time), I will pass that information immediately," he wrote.
A spokesman for USFJ did not respond Wednesday to questions from Stars and Stripes about the status of two other programs announced last week for SOFA travelers to Japan: travel aboard the Patriot Express and a shortened, three-day ROM for SOFA members.
---
---
---
---