DODEA-Europe cancels basketball and wrestling in December due to COVID-19 concerns
by
Kent Harris
Stars and Stripes
December 1, 2021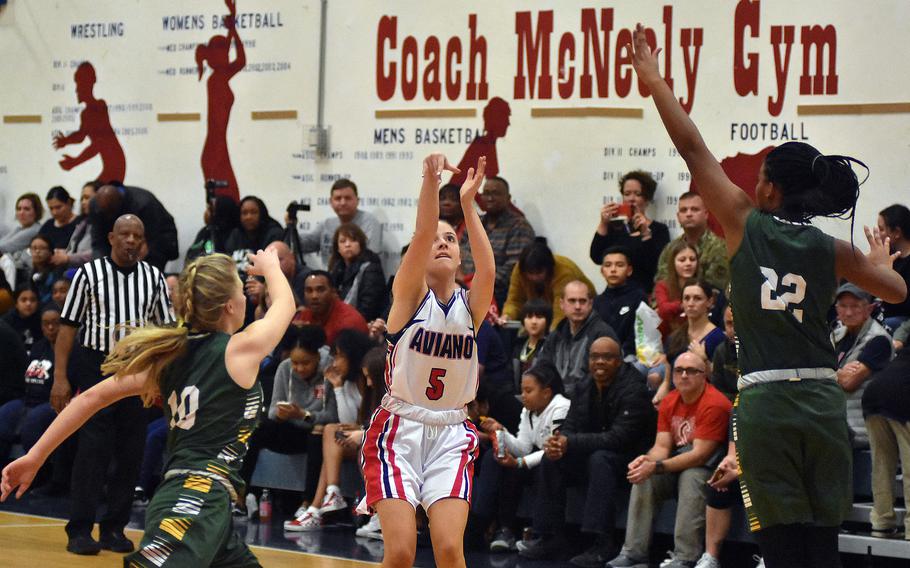 AVIANO AIR BASE, Italy — Less than four days before schools were set to roll out wrestling mats and light up basketball scoreboards again, DODEA-Europe has canceled all interschool activities.
"In coordination with our military and public health partners, the decision has been made to cancel all DoDEA-Europe athletic competitions through the month of December," Acting DODEA-Europe Director Charles Kelker said in a statement issued Tuesday afternoon. "This decision is based on the recent sharp rise in COVID-19 numbers across the Region."
One sport will continue: marksmanship. That sport can be conducted remotely at each location. That was the case during the 2020-2021 winter sports season, where marksmanship was the only traditional sport in DODEA-Europe.
Eleven schools are set to compete in the first meet on Dec. 11, then resume competition after the winter break. The finals are set for Feb. 5.
Whether there will be any finals for basketball or wrestling — or any competition at all — remains to be determined. An addendum to the statement, which referred to the move as "pausing," said DODEA leadership will decide that in the first week of January. Events scheduled for the first two weekends of December will not be made up.
In the meantime, teams can continue to practice.
DODEA-Europe Athletic Director Kathy Clemmons said Wednesday she is optimistic that at least some basketball and wrestling will go on. The sports were scheduled to conclude in late February and that timeframe probably won't be extended because of the impact on spring sports.
"Once we are able to compete again, we hope we can resume our schedule," Clemmons said.
Clemmons said she is not aware of any student-athletes contracting the coronavirus from fall sports competition, when football and volleyball were introduced after a year's absence.
She said that unlike volleyball, basketball players and wrestlers were not set to wear masks while they were competing. She also said she's not aware of any discussion to require student-athletes to be vaccinated in order to compete.
The decision is for DODEA-Europe only. DODEA-Pacific activities are currently going ahead, according to DODEA-Pacific Athletic Director Tom McKinney.
Teams started to play last week in DODEA-Japan, where DODEA teams are also competing against international schools. Competition began Wednesday on Okinawa, though DODEA's two schools there and the three in Korea are only currently scheduled to compete against each other.
Wrestling was not held at all during the 2020-2021 season at DODEA schools overseas and basketball was limited to only DODEA-Korea.
---
---
---
---