South Korea postpones plan to ease restrictions as coronavirus cases set another record
by
David Choi
Stars and Stripes
December 1, 2021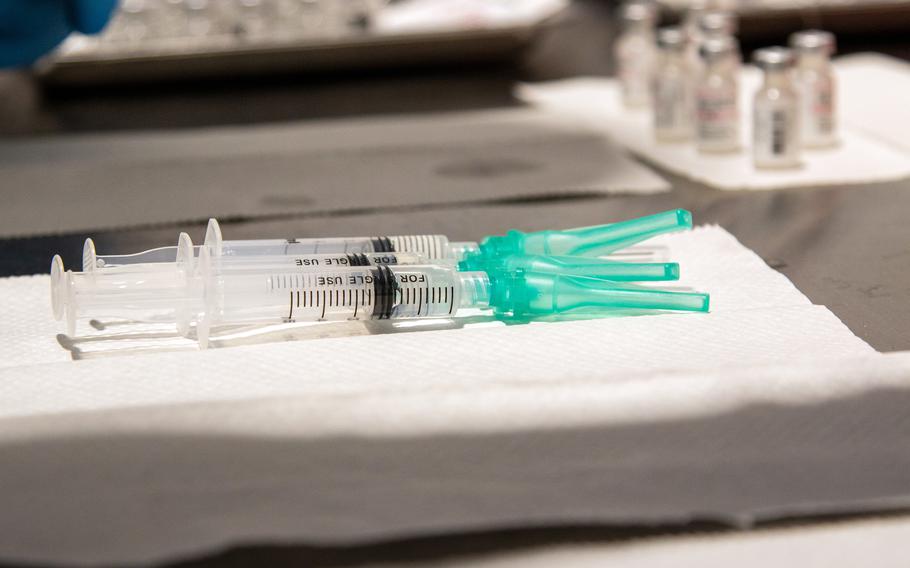 CAMP HUMPHREYS, South Korea — South Korean health officials reported a new daily high of 5,123 coronavirus cases Wednesday, two days after the government nixed tentative plans to loosen social distancing restrictions.
The government had planned to gradually ease restrictions by extending business hours and increasing limits on public gatherings, for example, over three, four-week phases and a separate two-week evaluation period.
Those plans were reassessed during the first four-week period, which began in November, after Prime Minister Kim Boo-kyum told reporters Nov. 24 that Seoul was in "an urgent situation."
The capital city accounted for nearly half, 43%, of the new cases reported Wednesday, according to the Korea Disease Control and Prevention Agency. Geyonggi province, which surrounds Seoul and is home to Camp Humphreys and Osan Air Base, accounted for another 30%.
South Korean President Moon Jae-in on Monday announced the first phase would be extended in addition to implementing "special anti-epidemic measures over the next four weeks."
"We are now facing yet another critical juncture on a level unlike any before," Moon said during a public meeting. "If this challenging moment cannot be overcome, we will end up confronting an even greater crisis — the failure of our phased return to normalcy. As this may turn out to be an unprecedented crisis, a more concerted response and a state of alert higher than ever before are required."
The previous record of daily COVID-19 cases was 4,116 on Nov. 24, according to KDCA data. Prior to that, the record stood at 3,292 on Nov. 18. As of Wednesday, the country has recorded 452,350 cases since the beginning of the pandemic in March 2020.
Nearly 83% of South Korea's 51 million people received the first dose of a vaccine and about 80% are fully vaccinated, as of Wednesday. Over 3.2 million people have received a vaccine booster shot, an increase of about 1 million people over the span of a week.
Moon also said a third dose of a vaccine "is not supplemental" and described it as an "essential" part of the fight against COVID-19.
"We ask our people to actively participate in the third inoculation, just as they rushed to get their first and second shots, in the belief that vaccination is not complete until after a third dose has been administered," he said.
As of Wednesday afternoon, no cases of the new omicron variant had been detected by the KDCA. The variant, which was first detected Nov. 24, has an "increased risk of reinfection" and transmissibility, according to preliminary evidence from the World Health Organization.
U.S. Forces Korea, responsible for roughly 28,500 troops in South Korea, reported 36 new cases between Nov. 23 and Monday. The command announced earlier this month that 98% of its service members were fully vaccinated ahead of the Dec. 15 deadline for active-duty soldiers.
Stars and Stripes reporter Yoo Kyong Chang contributed to this report.
---
---
---
---